Jameson Irish Whiskey review
Our verdict
For a sweet-flavored and easy-drinking all-rounder, the Jameson brand is always going to deliver. It's the perfect choice for an Irish coffee or as a sweet sherry-like refresher on its own, and it's great value for money.

The longer review
Jameson is arguably Ireland's favorite whiskey, and as there's so many to choose from, that's saying something! It was initially one of the six primary Dublin Irish whiskeys, and today it is distilled in County Cork, at the New Midleton Distillery. It also happens to be the world's best-selling Irish Whiskeys and has been available worldwide for over two hundred years.
It was first distilled in 1780 by John Jameson, who founded his distillery in Dublin in that same year. From very early on, Jameson was aware it would be essential to select only the best barley and casks and to keep the whole operation within a single distillery. The distillery was originally known as the Steins Family Bow Street Distiller. While the name has since changed, the location of the distillery remains the same today.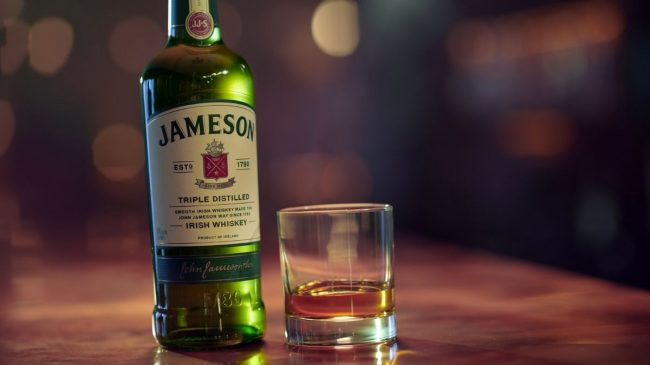 The profile of the Jameson whiskey is indicative of the blending techniques known to other whiskeys aged in various kinds of casks, and that is one reason why it remains such a delicious and popular whiskey for so many people all over the world.
It wasn't until 1968 that Jameson whiskey was sold by the bottle. Before this date, Jameson whiskey was only available by the cask. However, since the 60's, it has been updated and is now known as a bottled whiskey like any other.
There is plenty to love about Jameson, and in this review, we will look at each aspect of the whiskey and what you can expect from it. 
Who Makes Jameson Whiskey?
The answer to this should be fairly apparent by now, but the maker of Jameson whiskey is, of course, Jameson.
As well as Irish whiskey, these days, Jameson also sells several other products, such as the Jameson Caskmates IPA edition, a been made in the same distillery as the famous whiskey. They also sell a stout version of the same Caskmates badge, a Black Barrel whiskey, and even a cold brew - which is especially popular in the warmer months.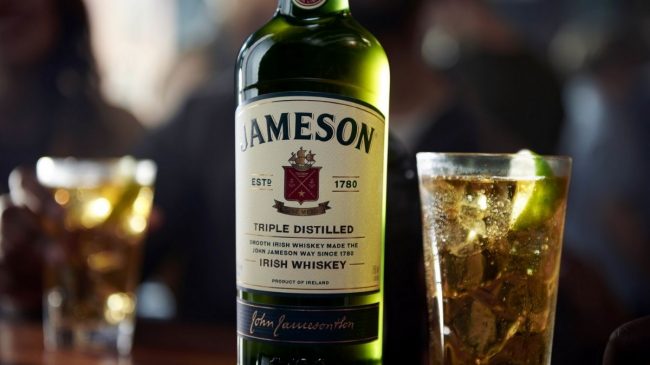 In terms of the creation process of this whiskey, it is a complex one. It is blended, using pot still and fine grain whiskeys, and then triple-distilled. Distilling it three times helps give it the signature smoothness that it is so well known for. The whiskey is then aged in oak casks for at least four years, often longer than that.
It's one of the lengthiest processes for any kind of whiskey in the world, but Jameson claims that it makes all the difference to the taste of the final product, and that's why they do it.

Tasting notes.
What to expect
When you drink Jameson, whether you have it neat or mixed with something else, there are some reliable tasting notes you can expect every time. These include the following:
Smell
Jameson whiskey has a light and floral fragrance to the nose, with just a little touch of something spicy on the edge of it like pepper. It also has an undercurrent of something a little sweeter, too.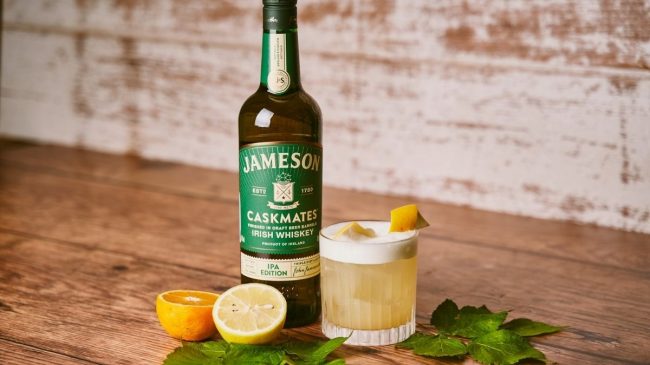 Color
Jameson whiskey is a very pale and clear whiskey, especially when compared to something smokier and peatier. However, don't let the watered-down look fool you. The whiskey remains strong in taste, and just by looking at it, you don't get a sense of all the unique flavors to be found balanced in a glass.
Taste
To taste, the whiskey has a great and unique balance of many different notes, including a hint of spice, something a little nutty, and some vanilla essence in there too. You might even note something a little sherry-like, and the whole thing is very smooth and easy-drinking.
How To Drink Jameson Irish Whiskey?
If you are keen to try for yourself or simply want to know more, it can help to know the best way to enjoy a Jameson Irish whiskey. The good news is that Jameson is a very flexible whiskey, meaning you can use it in various ways. It tastes excellent neat without extra added, or it is also often used in shots and cocktails.
Finally, you can famously use Jameson whiskey as part of a so-called Irish coffee, which is where you add the whiskey to a cup of coffee, or as a float, which is popular in restaurants and bars around the world. It tends to go well with spicy flavors, tangy and citrusy flavors, and even bitter flavors.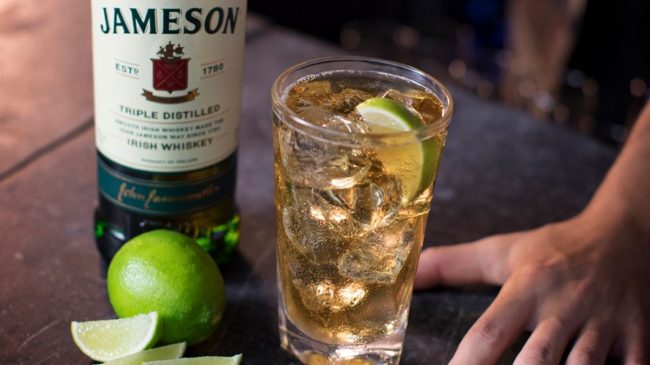 For the full spectrum of flavors, try drinking it neat in a small glass. Alternatively, you could have it on the rocks - generally, one large ice cube per small glass is sufficient for this. Many people enjoy it slightly diluted with a small amount of water, too. If you are drinking it neat, in any of these ways, remember to sip slowly and swirl it around to get the full flavors in every sip.
If you are considering mixing it with other drinks, you might want to try ginger ale for a sweet version or in a coffee. Alternatively, it also goes well with orange juice and syrups in a cocktail known as a Blood Rising - perfect for those wintery nights.
As you can see, Jameson whiskey is exceptionally versatile. No matter how you drink it, you are probably going to love it.
Price Of Jameson Irish Whiskey
To buy a standard 70cl bottle of Jameson Irish whiskey, you are usually looking somewhere in the region of $40-$50, so relatively standard for a bottle of whiskey. If you are drawn to some of their other unique or limited-edition versions, you could often be paying up to $60 instead. 

The Whiskey Rocks verdict.
Is it good?
Overall, this is a very easy-drinking and altogether sweet-toned whiskey, and one which is notable largely for its unique versatility. No matter whether you are hoping to drink it straight, on the rocks, or as part of a mixer, you are going to get a lot of amazing flavors and tastes out of this product.
If you are looking for a whiskey that is going to blow your socks off, this might not be the one for you. However, if you're looking for a versatile bottle, you can stow away for a rainy day, you could do much worse than have a bottle of Jameson in your home.
This post may contain affiliate links.
To help cover the costs to run this site, we include affiliate links to reputable whiskey suppliers at no additional cost to you, from which we may earn a small commission.
The links in question will primarily be found in the price comparison area of our articles. As a value-add, we don't just link. We also use software to find the best available prices.
Full disclosure/privacy policy