Heaven Hill Bourbon Review

Our verdict
Heaven Hill Bourbon is a round, dry medium-to-full-bodied good value-for-money whiskey produced in Bardstown, Kentucky by Heaven Hill Distilleries. This bourbon pays tribute to the earliest days of the Distillery's history when in 1939, it released Heaven Hill Bottled-in-Bond. This quickly became the number one selling bourbon in the state of Kentucky.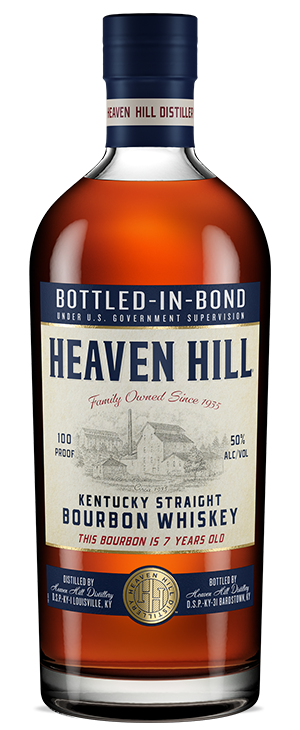 The longer review
To date, the craftsmanship poured into this bottle by the founding family meets the standards set in the Bottled-in-bond act of 1897 that specifically spells out the requirements of whiskey to be labeled as such.
Heaven Hill Bourbon History
In 1935, Heaven Hill put its first whiskey into barrels, but it wasn't four years later that the original Old Heaven Hill Bottled-in-Bond Bourbon was released. From 1939 until 2019, Heaven Hill released a 6-year-old Bottled-in-Bond bourbon available exclusively in Kentucky. In 2018 when Heaven Hill announced that it would be discontinued, bourbon lovers were sad to hear the news.
On 24th June 2019, Heaven Hill announced the details of the bourbon that would replace the now-retired 6-year-old fan favorite. Aged for an additional year and sporting an updated label, the new Heaven Hill Bottled-in-Bond would become the flagship bourbon for the company after its release in October 2019/. It was made available in California, Texas, New York, Georgia, Florida, Illinois, South Carolina, and Colorado. Kentucky, Heaven Hill's home state and once the only state to obtain the age stated Bottled-in-Bond bourbon, was not included in the initial product release.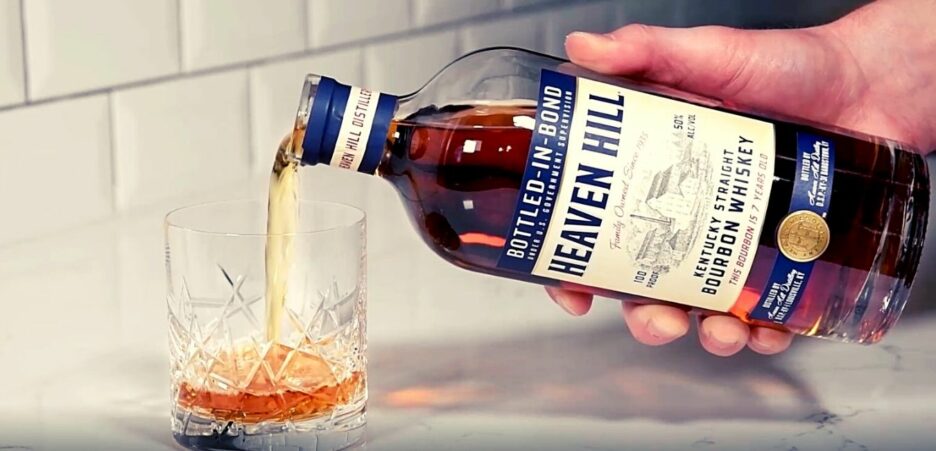 Where is Heaven Hill Bourbon Made?
Heaven Hill Kentucky Straight Bourbon Whiskey is produced at Heaven Hill Distilleries, a private American distillery headquartered in Bardstown, Kentucky. Its current distillery facility, the Heaven Hill Bernheim distillery, is in Louisville, Kentucky.
If bourbon is your thing, the Heaven Hill name should be something you're very familiar with. This legendary Kentucky-based producer has a relatively long history of iconic releases, even if it only dates back to 1935. Heaven Hill Distillery is the 7th largest alcohol supplier in the US, the 2nd largest holder of bourbon whiskey inventory in the world, the largest independent, family-owned, and operated producer and marketer of distilled spirits in the US, and the only large family-owned distillery headquartered in Kentucky.
How is Heaven Hill Bourbon Made?
Heaven Hill Bourbon is made in the same distillation season (no multi-year blends), at the same distillery, and aged in a federally bonded warehouse. It's then bottled at no less than 100 proof. The result is a smooth spirit with warm sweet notes of caramel and honey with a long finish.
Heaven Hill Bourbon Whiskey Variations
Heaven Hill Bourbon produces two variations with particular flavor and age profiles. Each one of the offerings has a unique selling point:
1. Heaven Hill Bottled-in-Bond Kentucky Straight Bourbon Whiskey
This expression pays tribute to the earliest days of Bottled-in-Bond. The name is mercifully shortened as the Heaven Hill Bottled in Bond or B n B. Not only is it relatively available, but it's also damn cheap for what it is and readily available to mere mortals.
This whiskey has aromas of vanilla, caramel, and aged oak with a long cinnamon spice finish and a caramel sweetness in a perfect balance.
2. Heaven Hill Bourbon Blended Whiskey
Unlike the Heaven Hill Bourbon, which is 100% straight and can only be made with uncut natural ingredients i.e, corn, malted barley, and rye, Heaven Hill Blended whisky employs a less expensive and broader range of ingredients and production methods.
It's made up of 20% straight bourbon and 80% neutral grain spirits – these are similar to grain alcohol with no color or smell. Neutral grain spirits can be aged in used oak barrels or not aged at all. On the other hand, Heaven Hill Straight Bourbon MUST be aged a minimum of 2 years in new charred oak barrels.

Tasting notes.
What to expect
This rich and complex bourbon with a warming smoothness is a good taste for the ordinary person.
Smell
Aromatic and flowery - Caramel, candied cherry
Color
Beautiful clear Baltic Amber appearance with a slight red tint to the gold
Taste
A delicious subtle entry with notes of crushed almonds, hazelnut crème, and chocolate mousse with mandarin orange. There's a lingering dried fruit and tobacco finish.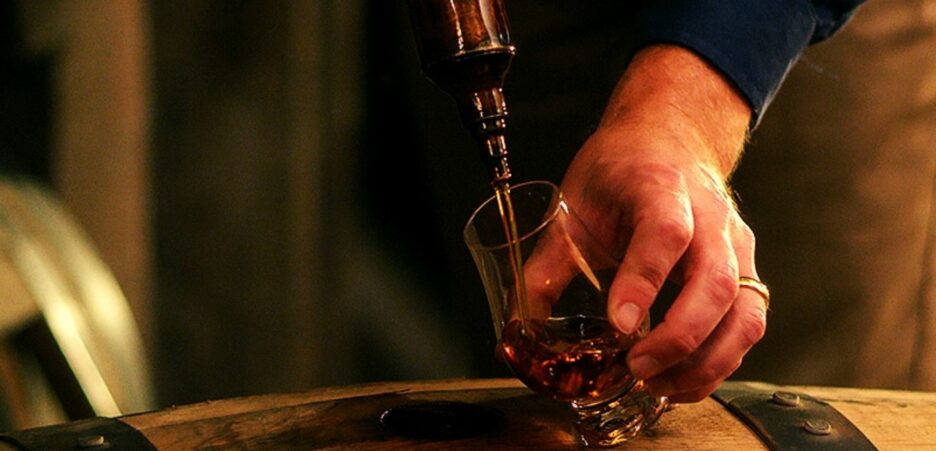 How to drink Heaven Hill Bourbon
Heaven Hill Bourbon is tasty and sweet yet not overwhelming so that it may be enjoyed neat. Drinking Heaven Hill Bourbon neat is not like a Johnnie Walker Blue, but it does not have that harsh charcoal taste that cheaper whiskies have. While Heaven Hill Bourbon is good enough to sip on its own, adding a few drops of water opens it up.
It also mixes exceptionally well. So it's excellent for any whiskey-based cocktails that you throw in such as the Sazerac, Old Fashioned, Whiskey Sour, and Manhattan. In my opinion, if you're looking to make a smooth, potent, and reliable cocktail, use Heaven Hill Bourbon.

The Whiskey Rocks verdict.
Is it good?
The Heaven Hill Bottled-in-Bond Bourbon is enjoyable and unequivocally not basic. It brings new meaning to its namesake Heaven Hill Brand. We feel that the bourbon is quite underrated because it gave the Heaven Hill Distillery its original glory.
The satisfying bold flavors in Heaven Hill Bourbon will charm lovers of strong bourbon.
This post may contain affiliate links.
To help cover the costs to run this site, we include affiliate links to reputable whiskey suppliers at no additional cost to you, from which we may earn a small commission.
The links in question will primarily be found in the price comparison area of our articles. As a value-add, we don't just link. We also use software to find the best available prices.
Full disclosure/privacy policy