Our verdict
Benchmark Bourbon is a rye-recipe bourbon named after the McAfee brothers James, George, and Robert, who surveyed a site just north of Frankfort in the late 1700s. It's yet another label that honors the storied history of the distillery and land it sits on. Benchmark Bourbon is a good kick-around whiskey that you can drink when you're cleaning the house, doing laundry, dishes, etc.

The longer review
Benchmark Bourbon History
The Seagram company started as a Canadian distillery back in 1857 and grew to become one of the biggest spirits companies in Canada. Sometime in the late 1960s, Seagram decided to start a premium brand labeled Benchmark Bourbon. It used to be made at Four Roses back when Seagram owned them.
Between the late 1980s and the eventual dissolution of Seagram (in the early 2000s), the company's various divisions were sold out to larger beverage manufacturers. The mixers division was sold to Coca-Cola, which still produces under the Seagram name. The classic 7 Crown Whiskey was transferred to the UK-based Diageo, who still produce it in their Norwalk, CT plant. Seagram sold Benchmark Bourbon to Sazerac corporation in 1989. Sazerac put the label under their Buffalo Trace brand, creating the whiskey at the same Frankfort, Kentucky distillery as the name brand Buffalo Trace.
The name Benchmark Bourbon was changed to McAfee's Benchmark Old No.8 Bourbon. This was in honor of the McAfee brothers, who surveyed the site of the Buffalo Trace Distillery in 1775, long before it was built.
Where is Benchmark Bourbon Made?
McAfee's Benchmark is a brand of Kentucky Straight Bourbon Whiskey that the Sazerac Company produces. It's made at Buffalo Trace Distillery in Frankfort, Kentucky.
How is Benchmark Bourbon Made?
Benchmark Bourbon is made from the same mash bill as Buffalo Trace, the Staggs, and the Eagle Rare: 75% corn, 10% rye, and 15% barley (for enzymes.) Despite having the number '8' on the label, Benchmark Bourbon is not eight years old. It's aged for about three years and bottled at 40% in a bottle with a plastic screw cap, then shipped.
We'd like to point out that Benchmark is good. It doesn't taste much like bourbon but rather like a fruity corn brandy.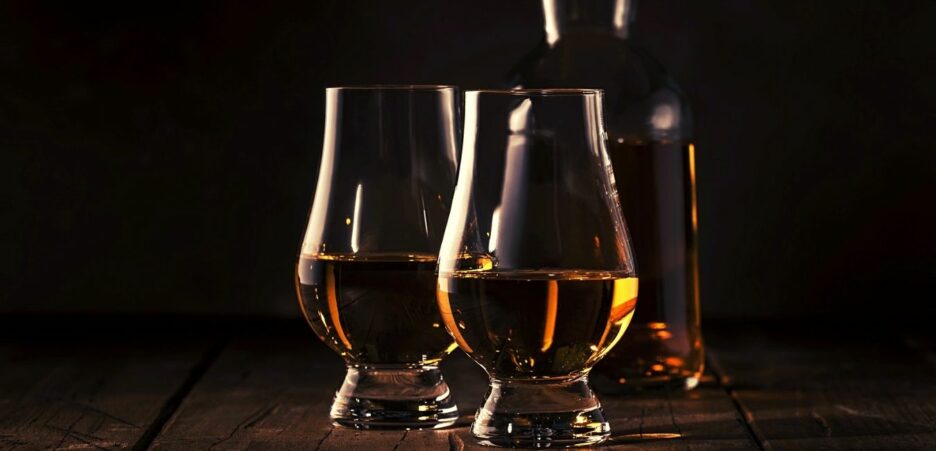 Benchmark Bourbon Whiskey Variations
All the Benchmark Bourbon offerings share some characteristics, but their flavor profiles are distinct. The collection comprises of:
1. Benchmark Kentucky Straight Bourbon Whiskey
This bourbon honors the pioneering spirits of the three McAfee brothers who left Virginia westward to explore the uncharted territory that would later become known as Kentucky.
The bourbon has a robust and sturdy palate with some delicate leather notes mingling with dry tobacco, a touch of oak, and a hint of dried cherries. The nose bears caramel notes with a delicate stone-fruit backdrop.
2. Benchmark Top Floor Kentucky Straight Bourbon Whiskey
Bottled at 86-proof, this top-floor whiskey is smooth and well-rounded to be enjoyed straight, with ice, or in your favorite cocktail. This is because bourbon that matures on the top warehouse floors tends to age faster as heat rises.
It has a subtle sweetness and baking spice followed by flavors of light citrus, butterscotch, and oak.
3. Benchmark Small Batch Kentucky Straight Bourbon Whiskey
Bottled at 90 proof, this bourbon is a testament to quality and craftsmanship. Only select barrels are chosen for this small-batch bourbon by the master distiller.
The aroma of vanilla and oak gives way to delightful hints of caramel, leather, and honey.
4. Benchmark Bonded Kentucky Straight Bourbon Whiskey
This 100-proof Kentucky Straight Bourbon Whiskey is aged for four years to meet the strict standards for bonded whiskey set by the Bottled-In-Bond Act of 1897.
It has a citrus and honey smell followed by a taste of light oak, caramel, and vanilla.
5. Benchmark Full Proof Kentucky Straight Bourbon Whiskey
This 125 proof bold and robust bourbon is bottled at the same proof that it leaves the barrel. It has a scent of deep brown sugar and chocolate followed by the bold taste of caramel and baking spice.
6. Benchmark Single Barrel Kentucky Straight Bourbon Whiskey
Only the best barrels are selected and bottled at 95 proof for this special Kentucky Straight Whiskey. Each of these barrels reflects the utmost standard for the finest taste and most smooth finish with every pour.
The toasted oak and baking spice notes marry perfectly with the complex palate of caramel and citrus undertones.

Tasting notes.
What to expect
McAfee's Benchmark Old No.8 Bourbon is dynamic and presents an exciting experience with its tasting notes.
Smell
Floral, sweet-smelling, sticky toffee pudding, candied pineapple, cotton candy.
Color
Light Caramel
Taste
Fine leather notes mingling with tobacco, sweet corn, a touch of oak, and a hint of dried cherries.
How to drink Benchmark Bourbon
The Benchmark Bourbon is perfectly drinkable and in many forms because it's neither inoffensive nor daring. Here's how you can drink this bourbon that's enjoyable in every way: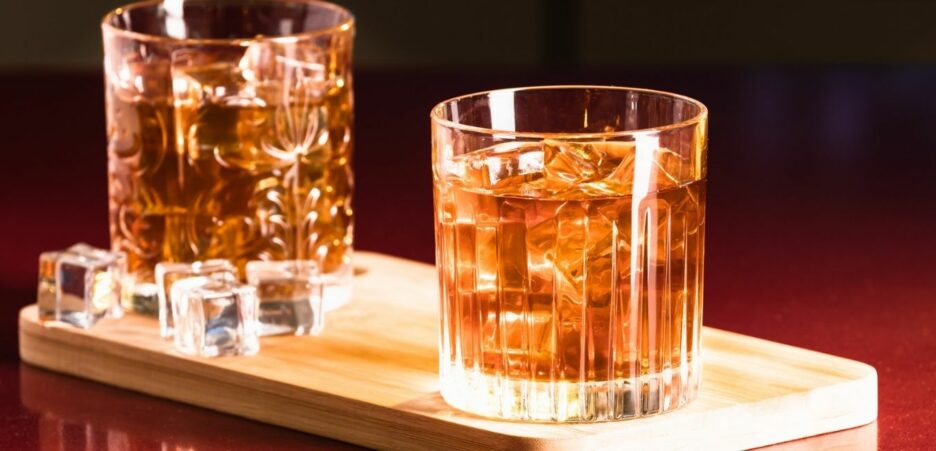 1. Neat
Benchmark Bourbon warrants some attention – it's beloved by many who desire strength in their drink. The first things you get coming off the glass after pouring your drink are very sweet aromas with a bit of earthy hay in the background.
2. On ice
Typically, when ice is added to a whiskey, it dilutes the spirit's flavor and reduces the strength of the stronger elements. But in this case, it doesn't wash away the more delicate flavors.
3. With water
Water intensifies all the fruity notes in the aroma and adds a layer of fresh creamed corn on the palate. It pulls out all the stops to make the experience memorable. If you add too much water, you'll have nothing left; it'll be bland and almost flavorless.
4. Cocktails
Benchmark Bourbon is generally considered a shaper when used in cocktails, thanks to its spicy flavor profile. Some of the cocktails you should use the Benchmark Bourbon in our Manhattan and Old Fashioned.

The Whiskey Rocks verdict.
Is it good?
Benchmark Bourbon is an excellent bourbon at an even better price point. It's a great bargain bourbon for someone looking to get into it without getting hammered by something more intense that will overwhelm them flavors On the contrary, Benchmark Bourbon isn't for you if you're hunting for something with a lot of depth and complexity.
This post may contain affiliate links.
To help cover the costs to run this site, we include affiliate links to reputable whiskey suppliers at no additional cost to you, from which we may earn a small commission.
The links in question will primarily be found in the price comparison area of our articles. As a value-add, we don't just link. We also use software to find the best available prices.
Full disclosure/privacy policy