Our verdict
J&B stands for the names Justerini and Brooks. This bar favorite has a long history that saw it surge in popularity during the mid-20th century. The scotch as we know it today came about in the 1930s, just after the end of Prohibition. J&B Rare is a blended scotch made of a mixture of Scottish malt whiskey and Scottish grain whiskey. There's a total of 40 different whiskies that go into its making. These include Cameronbridge and North British distilleries and malt whiskies from Auchroisk, Benrinnes, Glen Spey, and Strathmill.

The longer review
J&B Scotch History
The history of J&B Scotch starts in 1749 when Giacomo Justerini moved from Bologna, Italy, to London and established a wine and whiskey shop in the upscale Pall Mall with his partner George Johnson. Years later, in 1831, Alfred Brooks bought the business and renamed it Justerini & Brooks. In the 1880s, when Scotch whiskey began to establish itself as a serious alternative to brandy in polite London circles, Justerini & Brooks quickly acquired stocks of old whiskey in Scotland and soon introduced their Club blend. Before Prohibition (1920-1933), Justerini & Brooks had sold modest quantities of whiskey in the US.
During Prohibition, J&B sent Eddie Tatham to the US to evaluate the potential market for their scotch. On his return in 1930, Tatham had concluded that there would be great opportunities for scotch once Prohibition ended. Following the end of Prohibition, Justerini & Brooks created J&B Rare to appeal to the American palate and rival competition from Cutty Sark, Dewars, and Johnnie Walker, hitting the shelves in 1933. By 1963, J&B sold over one million cases, and by 1974, it was the number one selling Scotch in the US. In 2018, J&B Rare was ranked the 6th most popular Scotch Whiskey globally, having sold 3.2 million cases.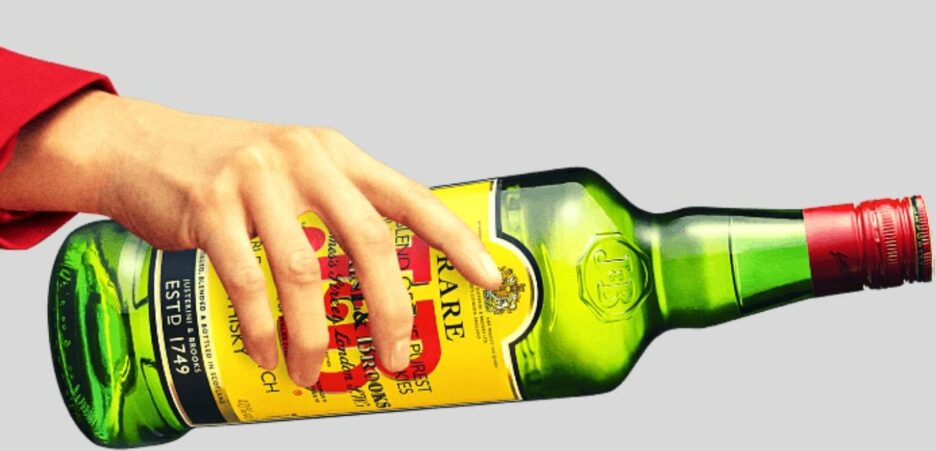 Where is J&B Scotch Made?
1005 of J&B Scotch is distilled in Scotland and matured on-site for no less than three years. It's made at Justerini & Brooks, a fine wine and spirits merchant founded in St. James's in 1749, initially to provide wine and spirits to the aristocratic household of London.
Justerini & Brooks is owned by multinational Diageo plc. It's popularly known for creating and developing its blended house whiskey, J&B Rare. Today, Justerini & Brooks sells to private collectors based in 49 different countries and several hotels and restaurants across the UK.
How is J&B Scotch Made?
J&B Scotch is a whiskey blend of 42 different strains of malt and grain whiskies with a generous portion of Speyside whiskey at the expression's core. This NAS release has a 40% ABV and is the fourth most popular blended Scotch Whiskey globally, thanks to its smooth and complex flavor.
J&B Scotch Whiskey Variations
The J&B brand's tradition explores new creative paths, as reflected in this wide product portfolio. The main releases in the J&B whiskey portfolio include the J&B Rare, J&B Jet, J&B reserve, and J&B Urban Honey Liqueur, etc.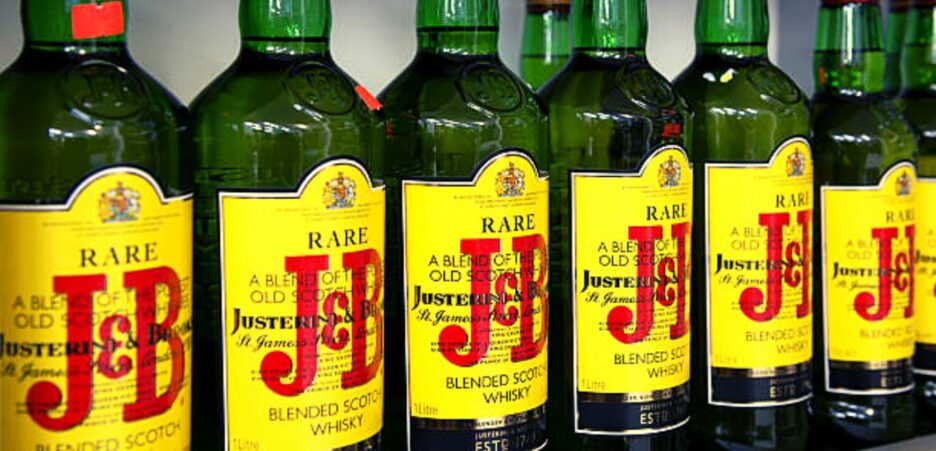 1. J&B Rare Bot. the 1970S
This 40% ABV Scotch is the principal expression in the J&B whiskey expression. It's an old bottle of the world's best-selling J&B blended Scotch whiskey created over a century ago. It is a light-colored and light-bodied whiskey that's grassy and nutty on the nose and has malt, spice, and sweet grain notes.
2. J&B 20-Year-Old Bot.1970s
This 43% blended Scotch whiskey is bottled at 20 years of age. It comes in a dashing square decanter-style bottle, which makes a nice change from the classic J&B bottle with the yellow label.
3. J&B Jet
This smooth whiskey is distinctively packaged in a black bottle at 40% ABV. It's made using a blend of  32 different whiskies, all aged for at least 12 years. Unfortunately, it was discontinued from the esteemed Justerini & Brooks.
4. J&B reserve
This unique offering is aged in oak casks for 15 years to reach the highest peak of perfection. It's malty, elegant, and smooth-tasting with a sweet and fresh wood note.
5. J&B Royal Ages
This 43% ABV antique from the 1970s was part of a private collection. It's a blended Scotch whiskey that's made with well-aged spirits.
6. J&B Ultima
This is yet another fascinating 43% ABV Justerini &Brooks offering that was, unfortunately, discontinued. Ultima contained whiskey from a total of 128 malt and grain distilleries, each of which is listed helpfully on the presentation box.
7. J&B Urban Honey Liqueur
This spirit is infused with honey to create a unique mix of flavor, character, and balance. The drink has a smooth and lighter taste – ideal for looking for something refreshingly different.

Tasting notes.
What to expect
J&B Scotch is a mellow whiskey with a unique taste and distinctive character. These characteristics make it the world's most preferred 'party whiskey.'
Smell
On the nose, J&B Scotch has a nutty character with hints of orange zest, toffee apples, peat smoke, and cedarwood.
Color
Pale Gold
Taste
Hard, but rounded – The flavor is full of malt, lemon, and honey with some gentle wood spices and nuts.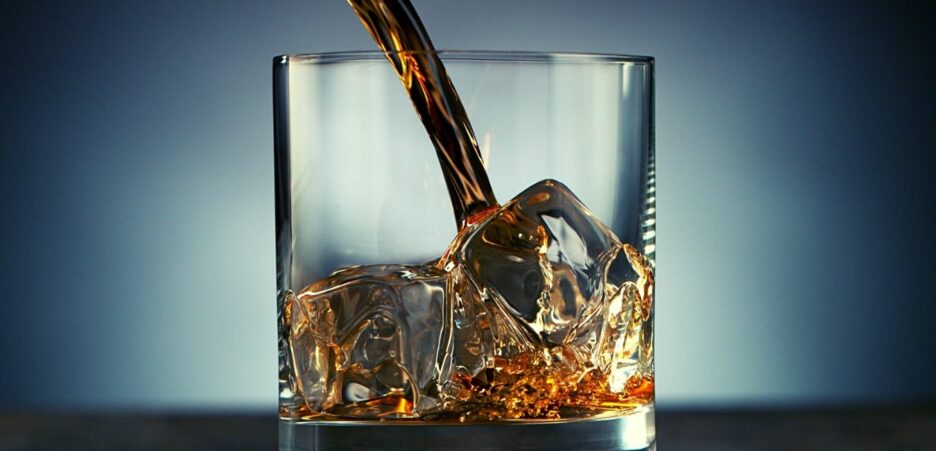 How to drink J&B Scotch
J&B Scotch is a smooth spirit that can be enjoyed neat, on the rocks, or in cocktails, thanks to its buttery and nutty flavor. When taken neat, the flavors are interesting, so much so that you'll keep wanting to come back to the well.
J&B Scotch is a little too sharp to drink neat but works excellent on the rocks. With the addition of some chilled whiskey stones, the drink opens up, and you can taste even the more subtle notes.
J&B Scotch is perfect for mixed drinks and cocktails. However, you need to be careful not to add too much of the mixers – they'll overpower the whiskey, and there'll be no alcohol flavor beyond the mixer.

The Whiskey Rocks verdict.
Is it good?
J&B Scotch is a great value blend, and you will find this green-bottled whiskey with yellow labeling just about anywhere that alcohol is legal.
This Scotch is for you if you're looking for a good blended whiskey with a bit more smoke and malt character. Even though J&B Scotch is without bitterness or any specific bite, the nutty aftertaste might not be for everyone.
This post may contain affiliate links.
To help cover the costs to run this site, we include affiliate links to reputable whiskey suppliers at no additional cost to you, from which we may earn a small commission.
The links in question will primarily be found in the price comparison area of our articles. As a value-add, we don't just link. We also use software to find the best available prices.
Full disclosure/privacy policy