Yellowstone Bourbon Review

Our verdict
Yellowstone Bourbon is a perfectly distilled spirit in the sea of other fine bourbons available in the market. This bourbon offers great viscosity, which makes it a fantastic, almost all-star pour. For this reason and its price point, you ought to make Yellowstone Bourbon your go-to drink.

The longer review
It's about time you switch things up from your regular go-to bourbons for something more exotic. A nicely balanced sip that's easily accessible and at a lower cost is what Yellowstone Bourbon offers. The flavors are more than just enough to be enjoyable – they make you want to go back for a second glass.
Yellowstone Bourbon is, no doubt, of superb quality and hence falls in the premium category of bourbons.
History of Yellowstone Bourbon
The first-ever Yellowstone Bourbon was bottled in 1872 by J.B Dant at his Cold Springs Distillery near Gethsemane. J.B Dant, son to J.W Dant, teamed up with D.H. Taylor and J.T. Williams to found the Yellowstone distillery. The distillery was built in 1854, and ever since, the whiskey has an excellent reputation that propelled its popularity across the American market. Later it was decided that Dant's Bourbon be branded as Yellowstone Bourbon after the newly opened Yellowstone National Park. $1 from each Yellowstone Bourbon bottle goes to a charity that helps the Yellowstone National Park.
Yellowstone Bourbon has gone through many ownership changes over the years. When bottling because economical for distillers, the brand was bottled with a label featuring the waterfall at Yellowstone Park. By 1966, Yellowstone was the most popular brand in Kentucky. In 1972, to celebrate the milestones, the Yellowstone label was changed to feature the Old Faithful geyser instead of the falls in Yellowstone Park. The brand is now under Limestone Branch Distillery, founded in 2010 by Paul and Steve Beam, both descendants of J.W. Dant.
Where is Yellowstone Bourbon made?
Yellowstone Bourbon is produced by Limestone Branch Distillery Inc. in Lebanon, Kentucky. Over the years, the brand moved around from one distillery to another since it was created before settling in Kentucky.
The distillery's location is crucial as it's situated near a local grain and limestone water source.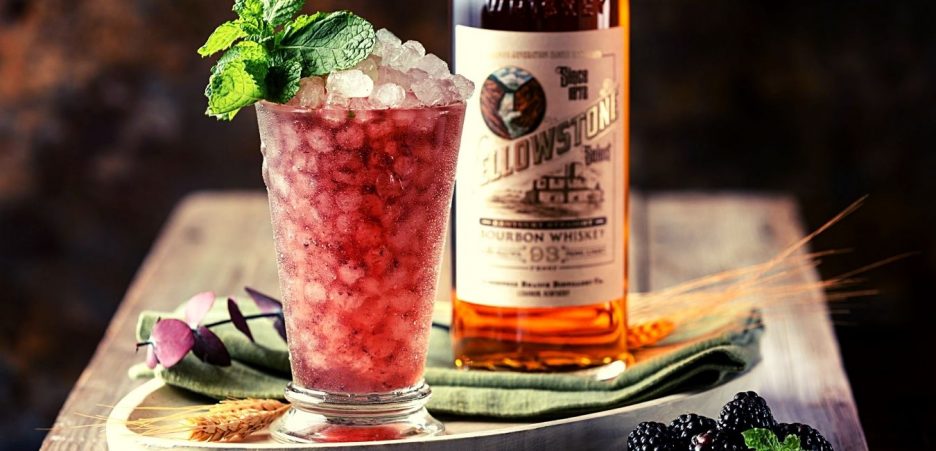 How is Yellowstone Bourbon made?
There is a bit of art and science that goes into making every Yellowstone Bourbon bottle. And, of course, a dash of magic. Here's how the spirit is made at Limestone Branch:
First, the grains are mixed to make the mash bill. For Yellowstone, 75% corn, 13% rye, and 12% malted barley are used. Open-pollinated white heirloom corn is preferred because it gives the spirit a slightly lighter whiskey flavor. The mixture is heated in three stages to break down the starches. A particular strain of yeast is then added to aid with fermentation which goes on for roughly 72hours. After distillation, the distillate is stored in newly charred oak barrels to begin the aging process.
Yellowstone Bourbon variations
There are so many Limited Editions from the Yellowstone range, and they all do not disappoint. The first Limited Edition was released in 2015. The first Limited Edition was released in 2015. With each release, one thing remains constant – the promise of a top-shelf flavor with humble complexities.
The variations are:
Yellowstone Bourbon finished in Amarone Casks Limited Edition 2021. This edition is a blend of 7-year-old, and 15-year-old bourbons finished in Amarone Casks.
Yellowstone Limited Edition 2020 Kentucky Straight Bourbon Whiskey 750ml. This edition features 7-year-old small-batch bourbon finished in French Armagnac barrels. The barrels add onto it notes of toffee, butterscotch, and chocolate which complement the bourbon flavors.
Yellowstone Select Kentucky Straight Bourbon Whiskey 750ml. This drink is a masterful fusion of flavors from seventh-generation distillers Paul and Steve Beam. It features a hand-picked blend of sweet, spicy, and smoky bourbons.
Yellowstone Limited Edition 2019. This edition is made up of 9-12 year aged bourbon.
Yellowstone Limited Edition 2018. This edition is a blend of 4-12-year-old bourbons finished in third use, deeply charred wine casks.
Yellowstone Limited Edition 2017. This edition is a blend of 4,7, and 12-year-old bourbons finished in second use, lightly charred wine casks.
Yellowstone Limited Edition 2016. This edition is a blend of 7, and 12-year aged bourbons finished in toasted wine casks.
Yellowstone Limited Edition 2015. This edition is a blend of 7-year wheated bourbon and 12-year rye bourbon.

Tasting notes.
What to expect
Yellowstone Bourbon ticks most of the boxes of what makes a good daily-sipping bourbon. It features a complex balance between peppery sweet red fruit and charred oak. There's also a nice toasty edge that reminiscent of a hazelnut profile. This would lead one to believe that the liquor contains mature bourbon stocks.
Smell
Relatively light and nutty behind an almost smoky aroma. You'll smell more subtle hints of dry vanilla bean, toasted almonds, and relatively low-key oak notes.
Color
Roasted chestnut
Taste
This delicious bourbon has enough complexity, flavor, and balance. It tastes creamy with lots of vanilla fudge notes and flamed orange zest. The lasting nutmeg heat profile fits quite nicely with the subtle dry oak and smokiness. Taste-wise, there's no strong shift in flavor after you swallow.
How to drink Yellowstone Bourbon
There is no right or wrong way to enjoy this American-aged spirit. Whether you're staying indoor or going out at the club, here are some of the simple ways you can enjoy your bourbon and have a great night ahead:
Neat
This option is ideal for purists who enjoy their alcohol straight with no ice or additives. This ensures that no other elements get in the way of the bourbon's rich flavor.
With ice
Pour Yellowstone Bourbon in a glass and add ice cubes if you can't stand your bourbon served at room temperature. Swirl gently to ensure that all parts are evenly chilled.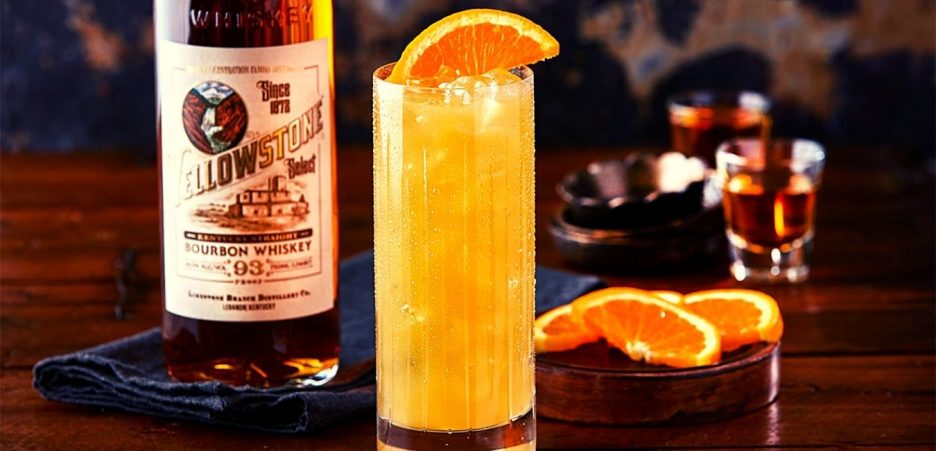 With water
Some people like to add a few drops of water – not to dilute the spirit entirely but to open up the flavors.
In cocktails
Another great way to indulge in partaking Yellowstone Bourbon is using it to make cocktails. Doing so makes it a more enjoyable drinking experience for everyone to enjoy. The good thing about cocktails is that you're free to experiment with different recipes till you figure out what works best for you.

The Whiskey Rocks verdict.
Is it good?
Yes, Yellowstone Bourbon is very delightful. It's an exclusive liquor that celebrates its deep family origins through its taste and aroma. The memorable finish of the creamed corn, oak, and leather keep the taste from drifting down a predictable profile.
Who'd like it?
Yellowstone Bourbon is ideal for all whiskey enthusiasts regardless of their age. Even though the distillers were trying to appeal to a younger demographic, it turns out that it's not just the millennials who love Yellowstone Bourbon as it's incredibly popular among the oldies too.
Who wouldn't like it?
This bourbon is not for you if you don't like the strong flavors of the whiskey. Also, if you've never tried bourbon before, you might not like it for the first time.
This post may contain affiliate links.
To help cover the costs to run this site, we include affiliate links to reputable whiskey suppliers at no additional cost to you, from which we may earn a small commission.
The links in question will primarily be found in the price comparison area of our articles. As a value-add, we don't just link. We also use software to find the best available prices.
Full disclosure/privacy policy