Stranahan's Whiskey Review

Our verdict
This small-batch whiskey is produced in Denver, Colorado, by the same people who brought us Flying Dog Beer. Stranahan's Whiskey was founded by Jess Graber and George Stranahan, after whom the whiskey is named. Each Stranahan's Whiskey bottle is hand-bottled by a rotating crew of volunteers and contains the handwritten date that the whiskey was distilled, whom it was distilled by, and a comment from the person bottling it. The one-off comments are a nice touch that makes each bottle unique.

The longer review
Stranahan's Whiskey History
In 1998, Jess Graber (a volunteer firefighter) met George Stranahan, a local at Woody Creek (founder and owner of Flying Dog Brewery), while fighting a fire at Stranahan's barn. The two men struck up a conversation about whiskey, and six years later, they started a business in Colorado which drew upon George's experience with the alcohol industry.
The first batch of Stranahan's Whiskey was distilled in 2004. The first bottles rolled off production in 2008, and it was an instant hit, being sold in 38 states and seven countries. In 2010, the distillery was sold to Proximo Spirits, a New Jersey-based company, but the operations remained in Colorado. In the next two years, Proximo increased whiskey production from around 12 barrels per week to 30. Since 2011, Rob Dietrich has served as Stranahan's head distiller after taking over from original head distiller Jake Norris.
Where is Stranahan's Whiskey made?
Stranahan's Whiskey is made in Denver, Colorado, by Stranahan's Colorado Whiskey Distillery, owned by Proximo Spirits. Being the state's first-ever micro-distillery, Stranahan's jump-started the Colorado distilling industry.
The distillery uses only the finest ingredients and follows a unique recipe for a peculiarly smooth and flavorful single malt whiskey.
How is Stranahan's Whiskey made?
Stranahan's Whiskey is a straight whiskey that's aged in new charred oak barrels. The grain is 100% malted barley, 80% of which is Colorado-grown barley. The process starts with four exceptional barleys, all grown in the Rockies. They're combined with proprietary yeast, and Rocky Mountain water is used. The mash is filtered and fermented in six days to produce 8% whiskey wash. It's distilled a second time to reduce undesirable alcohols and other impurities for a smoother taste and less of a hangover.
The final whiskey is a blend of 2, 3, and 5-year-old whiskeys. These whiskeys are hand-crafted in small batches to ensure that every bottle represents the state's spirit and ends up in the highest quality possible. The barrels are stored in a temperature and humidity-controlled warehouse, and the whiskey is non-chill-filtered, so you get the full taste.
Before bottling, local water is added to lower its alcohol to 94 proof.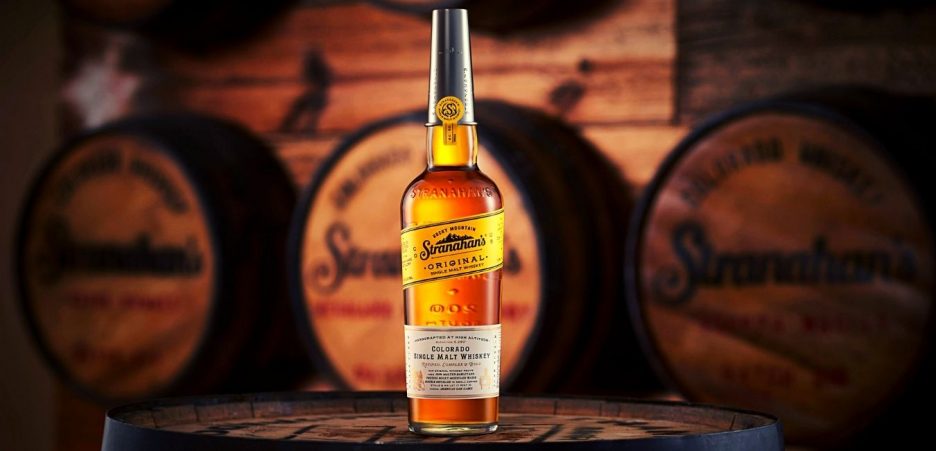 Stranahan's Whiskey Variations
The distillery manufactures three signature Stranahan's Whiskey bottles that have all gained a reputation for top-notch quality:
Stranahan's Whiskey Original
This is the first Rocky Mountain Single Malt. Notes include caramel, vanilla, dark chocolate, and fresh-sawn oak.
Stranahan's Whiskey Diamond Peak
This is selected from the most distinct casks. Notes include dried stone fruits, caramel, freshly sawed wood, espresso, spicy chocolate, and seasoned oak.
Stranahan's Whiskey Snowflake Series
A Winter's bounty. This once-a-year release is made available for purchase only one day of December each year at the Denver distillery. It's so named because each batch is unique, just like a snowflake. Notes include dried stone fruits, caramel, freshly sawed wood, espresso, spicy chocolate, and seasoned oak.
Stranahan's Mountain Angel 10-Year-old Whiskey
This one-time release in 2020 was the brand's oldest, rarest release to date. Less than 500 bottles were made available to consumers.

Tasting notes.
What to expect
Stranahan's is a smooth, malty, and balanced whiskey that is very carefully distilled. You may think that smooth is cliché, but Stranahan's is fine whiskey.
Smell
The nose of Stranahan's Whiskey is a great unique scent profile. You're greeted with a blast of sickly sweet scents of vanilla, fresh marshmallows, and apple butter along with oats, and oddly enough, a hint of creamed corn.
Color
This whiskey is a golden color in its appearance.
Taste
Stranahan's Whiskey is adored for its fire, oak, malted barley, caramel, and citrus flavor notes.
How to drink Stranahan's Whiskey
Each Stranahan's Whiskey bottle comes with a metal cap that can be used to pour a perfect 3-ounce pour. The drink is exactly what you would expect from a 47% alcohol content spirit – it's somewhere halfway between something light in weight and a heavy thick bourbon. This means that you can drink it in several different ways: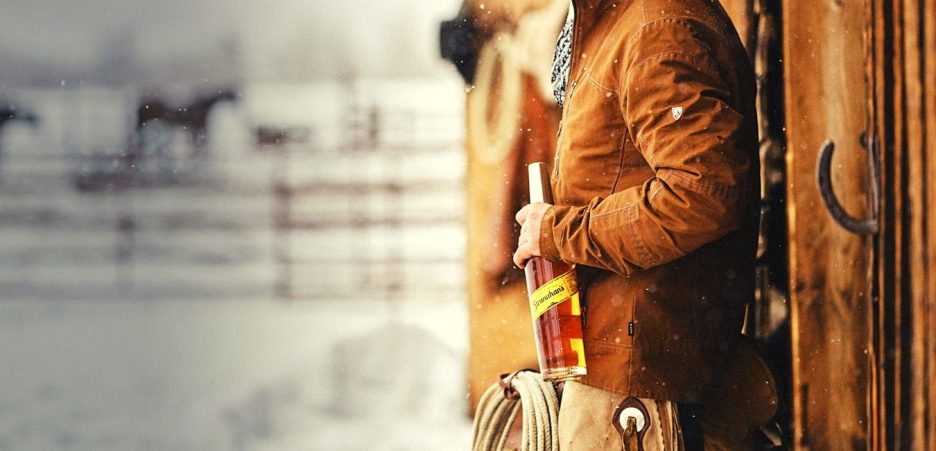 Neat
As soon as you take your first sip, you can tell that something is different from the usual American whiskey. It's more like a scotch whiskey without the peat flavor. The oak barrels impart a good bit of smoke and caramel flavor with some vanilla undertones. The actual taste is delicious – something you'd happily sip all day long.
On Ice
To most people, the spirit is just fine when enjoyed neat but if that smokiness is too much for you, then try with a couple of ice cubes. Adding ice to your drink cools down the robust smoky flavor in the profile to play a supporting role.
Old Fashioned cocktails
Such a spirit with bold flavors is a great main ingredient for old-fashioned drinks. The smoky flavor and the vanilla are strong enough that when you add the orange bitters, they still make themselves known and help to balance out the new flavors.
Mule
Stranahan's Whiskey has bold flavors to still come up even with the ginger beer on top. It makes for a nicely balanced drink that many people like to sip throughout the summer.

The Whiskey Rocks verdict.
Is it good?
Stranahan's Whiskey is an excellent smooth spirit that's unique as compared to other American whiskeys. With the unique distilling approach, the end product could have been disastrous, but, on the contrary, it was pulled off quite nicely.
There's no doubt that this is a different whiskey product than a bourbon or rye drinker would be used to trying. Stay off Stranahan's Whiskey if you don't like 100% malted barley whiskeys; instead, stick to other whiskey variations in the bourbon and rye space. But be sure to try for yourself before making a judgment call.
If you enjoy fresh whiskeys with a funky twist, Stranahan's is worth a shot to seek and try out.
This post may contain affiliate links.
To help cover the costs to run this site, we include affiliate links to reputable whiskey suppliers at no additional cost to you, from which we may earn a small commission.
The links in question will primarily be found in the price comparison area of our articles. As a value-add, we don't just link. We also use software to find the best available prices.
Full disclosure/privacy policy