Shackleton Blended Malt Scotch Whisky Review

Our verdict
The Shackleton Blended Malt Scotch Whisky is a unique blend with a unique story. It is ideal to be tasted with friends around a campfire, and its notes have everything you need to keep thinking about the next adventure. Its amber color, smoky notes, and spiced taste can warm up the body and lift the mind.

The longer review
The Shackleton Blended Malt Scotch Whisky, produced by Whyte & Mackey, has a unique story that merges with myth. Indeed, Master Blender Richard Paterson wanted to leverage the notes, flavors, and hues of the best Scotch blends to capture the essence of explorer and leader Sir Ernest Shackleton.
Whyte & Mackey, which produces one of the most extensive whisky collections you will find out there, wanted to create a whisky that is different and born for the outdoors. And, what's better than taking inspiration from the legend of the 25 cases of Mackinlay's Rare Old Highland found at Shakleton's base camp over 100 years after his expedition?!
Whyte & Mackey's Master Blender Richard Paterson wanted to offer the same experience to all whisky lovers and adventurers today. The Shackleton Blended Malt Scotch Whisky is a unique whisky created from the best Highlands blends designed to be enjoyed in the outdoors, ideally around a campfire and with friends. 
Where is Shackleton Blended Malt Scotch Whisky made?
The Shackleton Blended Malt Scotch Whisky takes its name from Sir Ernest Henry, an Anglo-Irish Antarctic explorer and the Secretary of the Royal Scottish Geographical Society. He led three British expeditions to the Antarctic between 1901 and 1922. 
Before his expedition in 1907, the explorer and leader had ordered 25 cases of Mackinlay's Rare Old Highland Malt Whisky for his team. These cases were then found over 100 years later still buried in the ice beneath Shackleton's base camp.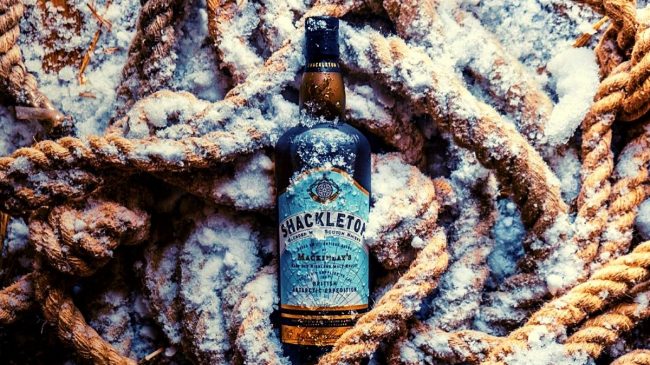 When discovered, the cases were brought back to the UK for examination. Whyte & MacKay, which had acquired Mackinlay, obtained some of the bottles. The company's blender then worked to create a blend that was similar to the lost whisky. 
After the creation of these blends, Whyte & MacKay released two limited editions of the Shackleton whisky - Discovery in 2009 and Journey in 2012.
Instead, the Shackleton Blended Malt Scotch Whisky was released in 2017 and represented a more affordable version than the limited editions. This whisky features a blend of malt whiskies designed to reflect the character of Shackelton himself. 

Tasting notes.
What to expect
Smell
The scent of this whisky is the first aspect you will notice. Undeniably, the most overpowering aromas are those of malted barley and yeast. However, you will also find an earthy undertone that is almost oily or creamy.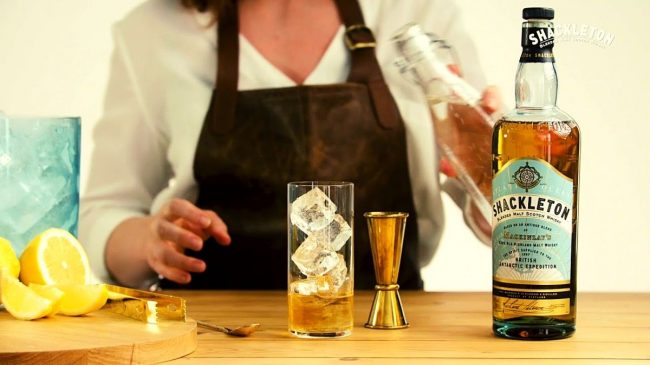 Spices and winter fruits such as toffee, lemon curd, baked apples, and cinnamon are also common notes of Shackelton whisky. However, the overall blend is made much sweeter by the golden syrup, fudge, honey, and vanilla notes. As you would expect, there is still a hint of smoke to complete the bouquet.  
Colour
The amber color of this fairly young whisky is easily recognizable. It does not give away as much as it would in other whiskies, but the color makes it possible to expect spices, smoke, and winter notes. 
Taste
If you have been enjoying the scent of this whisky, you can be sure that you will love its taste. The two aspects reflect each other closely, creating a generally well-balanced, rounded flavor profile.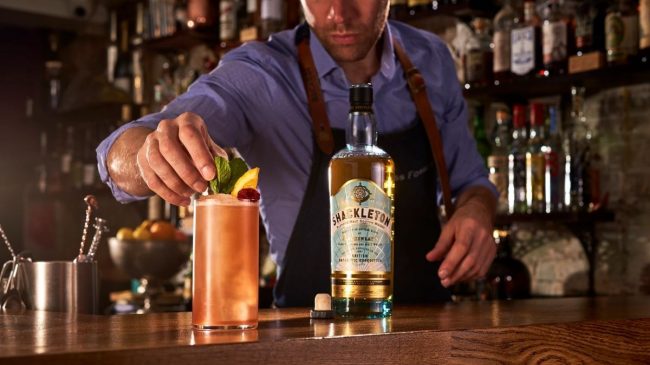 Within the several levels of taste, you will be able to find cinnamon, malt, baked apples, and even buttermilk. If you are familiar with them, you will taste the sweet notes that characterize the classic Digestive biscuits. Other layers will then bring your honey, spices, and a pleasant herbal note. Just like in the case of the scent, you can catch an undertone of smoke or peat.

The Whiskey Rocks verdict.
Is it good?
The Shackleton Blended Malt Scotch Whisky is a relatively young product that might not yield other whiskies' depth and complexity. So, if you have been looking for a full-bodied product to enjoy on a special occasion, this might not be the whisky for you. 
However, if you seek a heart-warming drink to enjoy with your friends on a camping trip, you have found the perfect whisky, especially at this price range.
Overall, this whisky is flavorful and easy to drink. The perfect companion during an outdoor adventure.
This post may contain affiliate links.
To help cover the costs to run this site, we include affiliate links to reputable whiskey suppliers at no additional cost to you, from which we may earn a small commission.
The links in question will primarily be found in the price comparison area of our articles. As a value-add, we don't just link. We also use software to find the best available prices.
Full disclosure/privacy policy