Joseph Magnus Bourbon Review

Our verdict
Joseph Magnus Bourbon is a well-crafted, intriguing bourbon that both novice and experienced drinkers can enjoy. This 21st-century rendition bourbon is believed to taste something like the original Joseph Magnus Bourbon accidentally uncovered by Magnus' great-grandson in 2014 in the old family house. This speaks so much of its lofty reputation.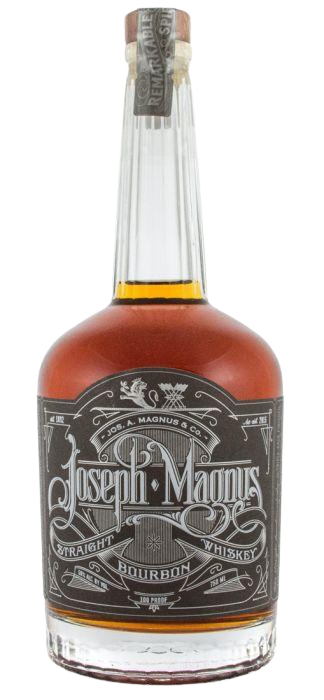 The longer review
Everyone loves a bourbon with a good background story. Joseph Magnus Bourbon is one of those as its story involves a bourbon resurrection.
In 1892, and at the age of 26, Joseph A. Magnus started the Jos. A. Magnus & Co. company where he focused on producing reasonably-priced high-quality whiskey. The business thrived until 1918, when Prohibition took hold. Afterward, Joseph Magnus' grandson, Jimmy Turner, discovered a few 122-year-old perfectly preserved bottles bearing the family name. In consultation with whiskey experts, they carefully extracted some of the old whiskey and found it to be some of the best-tasting stuff they had ever tried. This led to the company's re-establishment in 2015 to reproduce that flavor profile and make it available to the public. It now focuses on blending and finishing techniques initially employed by Joseph Magnus.
Where is Joseph Magnus Bourbon made?
Opened in 2015 in Washington D.C., Joseph A. Magnus & Co. Distillery is a bourbon and gin distillery that used to offer two whiskeys: Joseph Magnus Straight Bourbon and Murray Hill Club Bourbon. Both of them were drawn from sourced whiskeys. The distillery used the skills of master blender Nancy Fraley to identify the right combination of spirits from other distilleries that could be combined to correctly reproduce the flavor profile of the pre-prohibition bottle of Joseph Magnus Bourbon.
The distillery has since been relocated to Holland, West Michigan, effective October 31, 2020. Here they continue to produce the original recreation of the Joseph Magnus Bourbon alongside other bourbon and gin brands.
How is Joseph Magnus Bourbon made?
The base of the Joseph Magnus Bourbon is a sourced 8 to 18-year-old bourbon from MGP in Indiana. The age of the spirit depends on the batch. Since only straight bourbon is used, it contains at least 51% corn, but the other 49% is undisclosed. The whiskey is aged in new charred oak barrels and then finished, over several months, in a combination of Oloroso sherry, Pedro Ximenez sherry, and cognac casks. All this is done to mimic Joseph Magnus's old formula to create his signature whiskey over a century ago.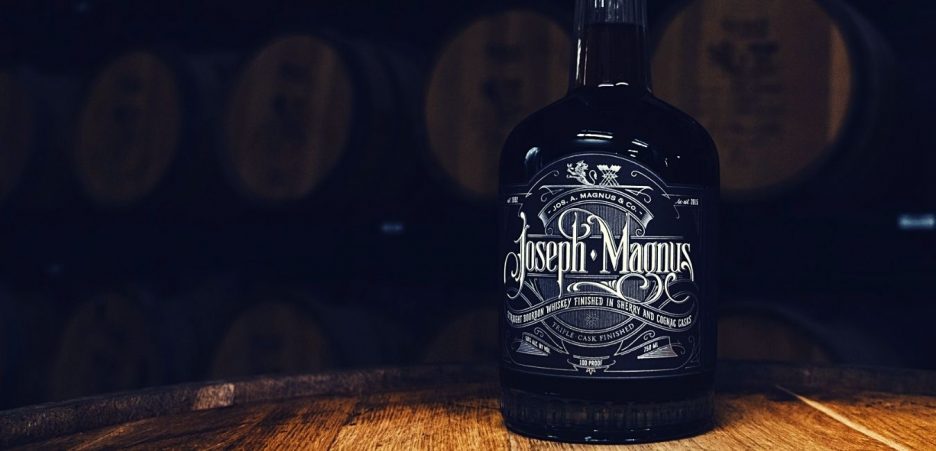 Joseph Magnus Bourbon Whiskey Variations
Joseph Magnus Bourbon variants are fantastic in every single way. If you're thinking of grabbing a bottle, here are some of the three variations you should look for:
Joseph Magnus Straight Bourbon Whiskey
At 100 proof, this variant has a deep, dark brown color. It has the aromas of stewed fruits and a pleasant chocolate, then caramel mouthfeel.
Joseph Magnus Cider Blend Bourbon
At 124 proof, this high-end finished blend was created with the intent of pairing it with a cigar in Armagnac, Sherry, and Cognac casks. It is a minimal batch product with a unique and developed flavor profile.
Joseph Magnus Bourbon Pursuit Selection
At 106 proof, the Joseph Magnus Bourbon Pursuit & Keg N Bottle Selection does not disappoint! It is a 13-year-old MGP offering distilled back in 2006 that is tough to beat. It has oak, cherry, caramel, and leather scents. The alcohol smell is noticeable but relatively subdued.

Tasting notes.
What to expect
Joseph Magnus Bourbon is like a skyscraper erected by a talented architect. It shows just how necessary a good foundation is when creating a masterpiece.
Smell
The nose shows a classic hallmark of cherries right up front, followed by layers of rich caramel and dried fruit drenched in mint syrup.
Color
Joseph Magnus Bourbon has a dark amber/mahogany brown color with hues of henna.
Taste
The taste is rich with spices that reveal some sweet cloves, cinnamon, and chocolate notes. The heat of the alcohol melts into a glossy smooth texture.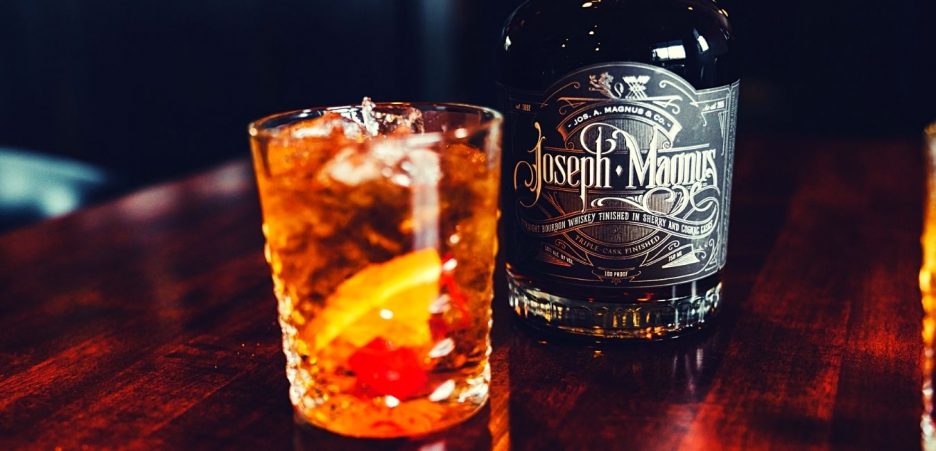 How to drink Joseph Magnus Bourbon
Joseph Magnus Bourbon is a dark, brooding bourbon that brilliantly balances sweet and powerful while ultimately delivering on both. Here's how you can drink this whiskey with triple barrel finishing:
Neat
When poured into a glass, Joseph Magnus Bourbon has a nice solid brown color – darker and richer from how it appears inside the bottle. The first sip hits you with a delicious and well-saturated flavor with light vanilla, nutmeg, and cinnamon goodness.
Adept Joseph Magnus Bourbon drinkers love the earthiness and Cognac influence from the Cognac casks.
With water
Water tames the alcohol heat a bit and brings out some sweet mint and honey notes. However, it doesn't alter the original flavor – it just mutes it.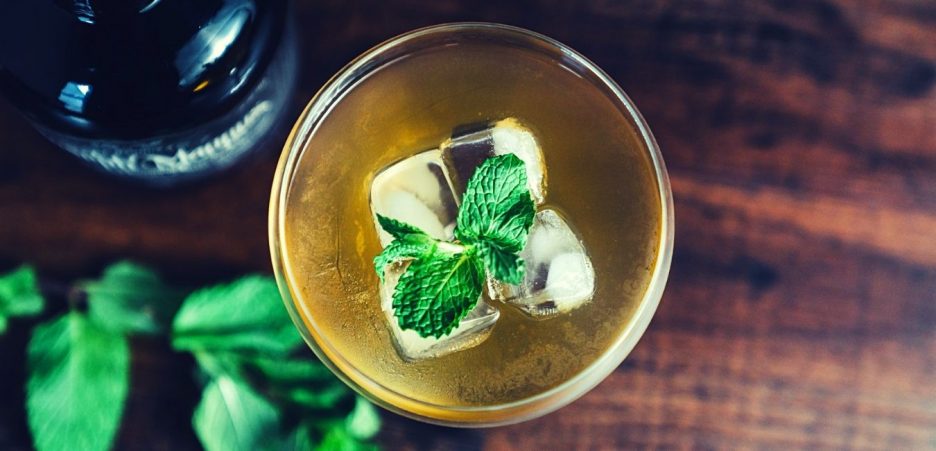 On ice
If the flavors are too heavy on your taste buds, it will help to add a few ice cubes to your bourbon. Note that the deep flavors are toned down at the expense of the lighter ones. You might lose some of the delicate baking spices and brown sugar flavors.
Cocktail (old fashioned)
The dark and rich Joseph Magnus Bourbon flavors work perfectly in cocktails by providing a platform for all the other components. In the end, you get a delicious cocktail that's perfect for those hot summer days.

The Whiskey Rocks verdict.
Is it good?
Almost everyone who's tasted Joseph Magnus Bourbon appreciates the complexity of this delicious whiskey. The rich flavors are just as lovely as the bourbon's history. You'll, most probably, love Joseph Magnus Bourbon if you enjoy sipping whiskeys with depth.
Joseph Magnus Bourbon goes for about $100 a bottle, which is a bit high, so you might have to pass if you're a casual drinker who prefers low-budget whiskeys.
This post may contain affiliate links.
To help cover the costs to run this site, we include affiliate links to reputable whiskey suppliers at no additional cost to you, from which we may earn a small commission.
The links in question will primarily be found in the price comparison area of our articles. As a value-add, we don't just link. We also use software to find the best available prices.
Full disclosure/privacy policy