Heaven's Door Tennessee Bourbon Review
Our verdict
Heaven's Door Bourbon isn't going to change the world regarding taste, but this is a delicious whiskey; there's no doubt about it. The connection to Bob Dylan and the Tennessee-based production only adds to the appeal of the drink.

The longer review
Every whiskey has a story. Heaven's Door whiskey is attached to Bob Dylan; the musical giant has always seemed to have a connection to whiskey. A tumbler of whiskey is an excellent accompaniment to his music, after all. 
The name comes from the title of one of his most famous tracks, Knocking On Heaven's Door. While Dylan wasn't pulling all the strings, he most definitely had an input, and his touch and feel is all over it, from the taste to the design and branding. 
History of Heaven's Door Tennessee Bourbon Whiskey
There's much to be said about Bob Dylan. One of the standout traits that's set him apart from his peers is that he's relentless in his search for trying new things. 
He is not a person to rest on his laurels or be afraid of going in a new direction. So it should come as only a small surprise that he launched his own whiskey.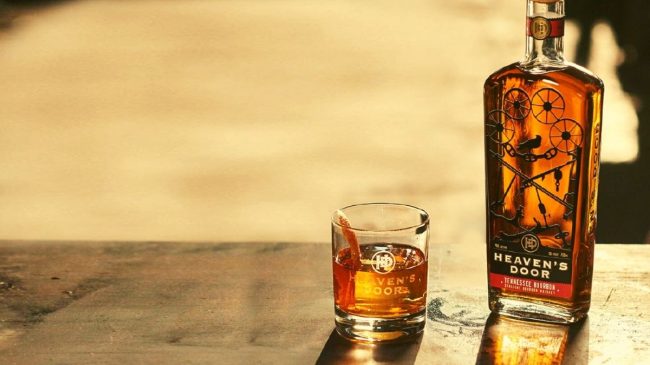 But of course, you don't just fall into whiskey making, not when you're busy playing concerts. This project came about through Marc Bushala, who reached out to Dylan to discuss making a top-shelf whiskey. 
Fortunately, Bob Dylan has an immense private interest in whiskey, so he was all too happy to get involved. Since the project was launched, the whiskey has won numerous awards. It has also been well-received by critics and consumers. 
Where is Heaven's Door whiskey made?
Heaven's Door whiskey is from the United States and has been sourced from Midwest Grain Products. They have done their own thing by using French oak casks, however. 
The producer is Heaven's Door Spirits, a venture between Dylan and drinks entrepreneur Marc Bushala.
Heaven's Door Whiskey variations
There are three different versions of Heaven's Door whiskey.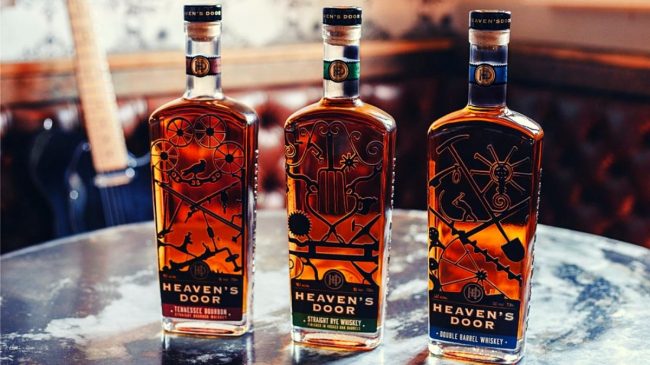 Straight Bourbon
The Tennessee straight bourbon is considered the signature Heaven's Door whiskey since it's the one that has won the most praise. It even came second at the 2018 Ultimate Spirits Challenge.
It's made with 30% small grains and is aged seven years in an American oak barrel. It also won gold at other prestigious whiskey competitions and received five stars out of five from F. Paul Pacult.
Heaven's Door Double Barrel Whiskey
This offering comes right from the tastes and preferences of Bob Dylan, who wanted a drink that made the drinker feel like they were in a wooden structure. And that's just what they achieved with this drink. 
Heaven's Door Straight Rye
For this whiskey, it's all about the wood of the barrel it's aged in. Porous and aromatic, it gives the whiskey a delicious combination of smoothness and spice. It earned 94 points at the Ultimate Spirits Challenge. 

Tasting notes.
What to expect
So what should you expect when you open your bottle of Heaven's Door Tennessee Bourbon? A lot of great flavors, that's what. 
Smell
On the nose, you'll find hints of caramel, vanilla, apple, roast corn, brown sugar.
Colour
Let's start with the color, which is light amber with hints of copper. You'll find that the drink is the same color as what you see on the bottle. All in all, it's just what you'd hope to see from a classic bourbon. 
Taste
There's plenty to love about the taste in the straight Tennessee whiskey. 
You'll get caramel, raisin, vanilla, tea tannins, and fresh lemons. Many love this drink because of its long finish, which is a sign of good whiskey.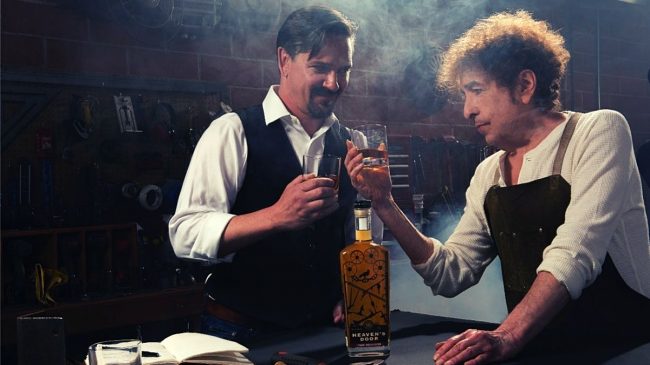 In essence, it is highly drinkable with a lot of delicious flavors. Those flavors have come, in part, from the charred American new oak barrel it's been aged in for nearly seven years. 
How to drink Heaven's Door whiskey?
This is a top of the line, artisan whiskey, so there's really only a couple of ways to drink it. 
You can opt to drink it neat, or you can throw an ice cube in there. The latter option is really only for people who are new to the whiskey game. There's no avoiding the fact that you will lose some of the flavor if you add ice. 
If you can't handle the rough and ready nature of straight whiskey, then you can consider adding a drop or two of water. That'll take away any burning feel yet won't compromise the taste -- in fact, in this case, it'll help to release more flavors.
The Whiskey Rocks verdict.
Is it good?
So what should we make of Bob's foray into the wonderful world of whiskey production? 
Quite a lot, actually. Bob Dylan isn't the celebrity to have their name attached to a drink, but not all have brought the same quality as Bob has. For others, it was a quick payday. When you see a famous name plastered over a drink, it's easy to think that it'll be the same -- but this isn't the case. 
From beginning to end, this is a whiskey that has been infused with Bob's spirit. 
Suppose you need any further proof that this is a bottle well worth picking up. In that case, you need only look at the long line of favorable reviews that the range picked up from both professional critics and casual drinkers.
It's true that it might be slightly overpriced and that there are better whiskeys you can buy in the same price range, but think about this -- not all whiskeys have an input from Bob Dylan. In that respect, you're not just buying a drink. You're buying a slice of American history. 
The bottles look fantastic, and there's no doubt that the drink will be a conversation starter whenever you serve it. All that history and story are matched by a delicious flavor that can hold its own against many more prominent and established whiskey producers.
This post may contain affiliate links.
To help cover the costs to run this site, we include affiliate links to reputable whiskey suppliers at no additional cost to you, from which we may earn a small commission.
The links in question will primarily be found in the price comparison area of our articles. As a value-add, we don't just link. We also use software to find the best available prices.
Full disclosure/privacy policy