Four Roses Bourbon Whiskey Review

Our verdict
Four Roses Bourbon Whiskey is a perfect drink to enjoy. It is the ideal drink for discovering your drinking propensities. Four Roses Bourbon is also suitable for a person who wishes to enjoy a whiskey cocktail.

The longer review
Kirin Brewery Company, a Japanese firm, manufactures Four Roses Bourbon Whiskey. The distillery of the brand in Lawrenceburg, Kentucky, was established in 1910 in an architectural design based on the Spanish Mission.
The structure is under the National Registrar of Historic Places. 
History of Four Roses Bourbon Whisky
In 1884, Paul Jones Jr shifted his blossoming business to Louisville, Kentucky, where he launched an office in a part of the historic Main Street referred to as "Whiskey Row."
After four years, he trademarked the term "Four Roses" as he claimed sales and production back to the 1860s. Frank Distilling Company purchased Paul Jones Company in 1922.
Seagram acquired the Frankfort Distilling Co in 1943 and later became one of the most recognized and noted names in the business during that time; the Four Roses Kentucky Straight Bourbon.
Although Four Roses were the leading seller of bourbon in the United States in the 1930s to 1950s, the company decided to discontinue its Four Roses' Kentucky Straight Bourbon sales in the United States.
It shifted its sales to the fast-growing Asian and European markets, where it is still a top Bourbon seller in Japan and Europe currently.
In 1966, Jim Rutledge, one of the world's most famous Master Distillers, joined the Research and Development Department of Seagram based in the Louisville plant. He transferred to Corporate Headquarters based in New York in 1975.
Later in 1992, he returned to Kentucky to assist in the Four Roses bland. He replaced Ova Haney as the master distiller in 1995. Jim retired as the Master Distiller in August 2015, and his long-term partner, Brent Elliot, took over.
The Kirin Brewery Company Ltd acquired the trademark and Four Roses Bourbon brand's production facilities in February 2002. The company was renamed Four Roses Distillery LLC after the acquisition.
The company reopened its U.S market. It quickly reclaimed its reputation as one of the most renowned names in the Bourbon industry.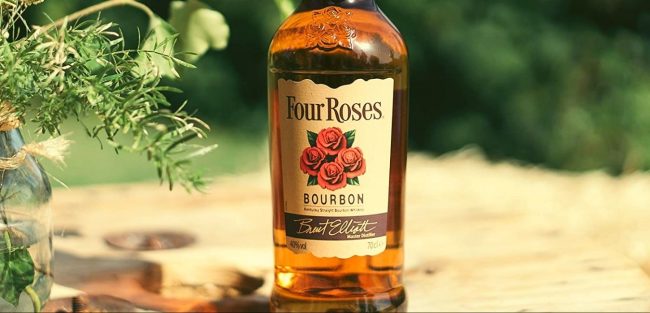 How is it Made?
Similar to all other bourbon whiskeys, Four Roses is created from a mashbill dominated by corn.
Four Roses is unique since its distillery applies two separate mash bills and five branded yeast strains to create ten whiskey recipes mixed in each bourbon bottle.
The mash bill applies 60% to 70% corn; one mash applies a high-rye while the other is less rye in the rest of the grains.
Four Roses bourbon uses extra rye in its mash bill than any other Bourbon brand. Rye enhances the unique spiciness of Four Roses bourbon.
Malted barley has enzymes that transform starches from rye and corn into sugars. During the fermentation process, the yeast feeds on these sugars.
Four Roses are aged in the current charred barrels of the United States, as the law requires. Reuse of barrels is prohibited in the rickhouses in Coxs Creek, Kentucky.
Several of the aging storages comprise multiple floors; however, Four Roses uses a one-story rickhouse that removes temperature variances and the requirement to rotate barrels often. 
Based on these expressions, you should know that the bourbon age ranges from five to ten years or even longer.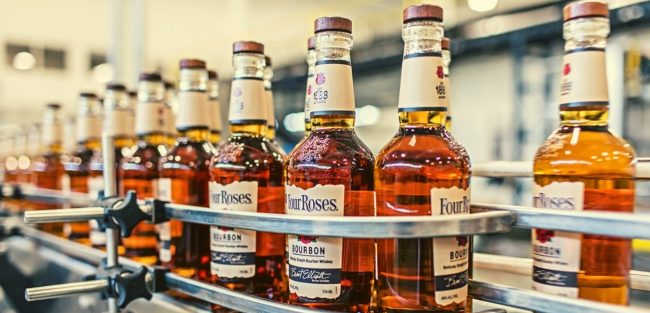 Four Roses Variations
Four Roses Single Barrel. It has 100 proof, traded in Europe, United States, and small capacities in Japan. It is manufactured to achieve a high-quality taste.
Four Roses Small Batch. It has 90 proof and gets traded in Europe and the United States. Traders typically perceive it as mid-shelf bourbon.
Four Roses Small Batch Select. It has 104 proof, its age is minimally six years, it is non-chill-filtered and gets traded in the United States.
Four Roses Bourbon. It has 80 proof and gets traded in Japan, United States, and Europe; it's reliable for mixing and sipping cocktails.
Four Roses Black. It has 80 proof and gets traded in Japan.
Four Roses Super Premium. It has 86 proof and gets traded in Japan.

Tasting notes.
What to expect
Taste
The taste is smooth, crisp, and soft. It also has a mark with pear, vanilla, and oak notes that smoothly melt into the fruits. Lastly, it has a soothing smoothness that is semi-dry and possesses spicy orange hints.
Color
Four Rose is a yellow-labeled bourbon, and it also possesses a yellow quality.
Smell
Bourbons have varying smells. Some have a more intense aroma than others. However, the Four Roses Bourbon smells like a bourbon itself. When you hold a glass of a Four Roses Bourbon, you will encounter warm pleasantness and a rich, browned butter smell. 
Although each expression somehow varies, Four Roses bourbon has a rosy, spicy, and grainy undertone, a floral aroma, and a honey twist.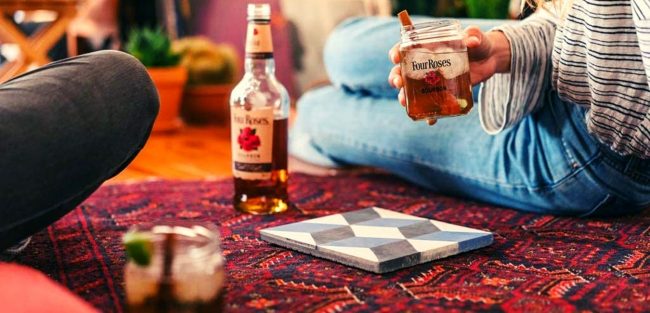 How to Drink Four Roses Bourbon
Four Roses is an excellent bourbon to enjoy in the manner that you like. It is even a perfect drink you can use to determine your drinking preferences. 
It applies 80 proof; therefore, it is very diverse. Four Roses Bourbon makes a pleasant straight whiskey. However, it also forms an excellent base for any cocktail of whiskey, straightforward blended drinks such as the whiskey highball. 
You only need a cheap and reliable whiskey.
When either the Single Barrel or the Small Batch bourbons are present in your bar or restaurant, you will never get disappointed, especially if you're looking for a high-end cocktail.

The Whiskey Rocks verdict.
Is it good?
Four Roses Bourbon Whiskey is one of the best whiskey brands in the world. It is particularly suitable for an individual who needs to make mixed drinks containing a classy, contemporary flair.
The hints of apple and pear complement aromas with a mix of spice and honey tastes enhance its unique mellow and smooth, soft finish.
It has a classy enhancement by its 40% abv, light fruitiness and pear smell, smooth, fresh fruits, and crisp tastes with apple hints.
This post may contain affiliate links.
To help cover the costs to run this site, we include affiliate links to reputable whiskey suppliers at no additional cost to you, from which we may earn a small commission.
The links in question will primarily be found in the price comparison area of our articles. As a value-add, we don't just link. We also use software to find the best available prices.
Full disclosure/privacy policy