Famous Grouse Blended Scotch Whisky Review

Our verdict
Famous Grouse Whisky is a blended Scotch whisky that dates back to 1896. Grouse is renowned for its consistency and is finished with former bourbon and sherry casks, so its flavor is sweet with a smooth taste that many people enjoy. Overall, a nice whisky, but certainly not a drink to remember.

The longer review
The Famous Grouse is a family-based business created by Matthew Gloag in Scotland in 1896. His original signature is still included on the label of each bottle. Matthew Gloag continued the family business in his father's footsteps, who worked in the wine and spirit industry in 1835. His uncle also had a hand in the whisky business in 1860.
Matthew Gloag Sr. worked as a grocer and a wine merchant. His son, William Gloag, took over the company in 1860 and started creating whisky in 1875. William's nephew, Matthew Gloag, then took over the family business and started making The Grouse in 1896. His daughter, Phillippa, is the one who designed the label with the grouse picture on it.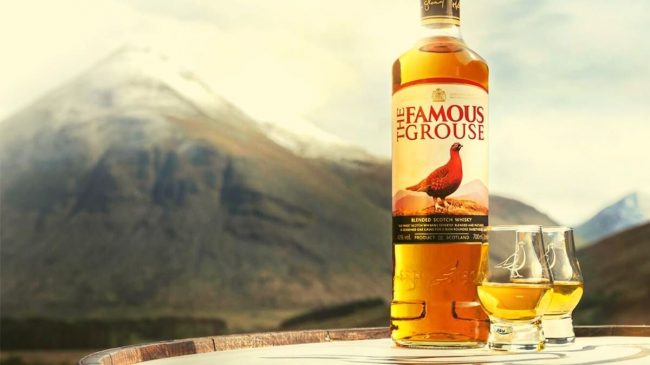 Matthew Gloag & Son sold in 1970 to Highland Distillers, and it then rose to become the most popular whisky in Scotland in 1980 and the second highest in the United Kingdom. After its great success in the United Kingdom, it started expanding overseas and now sells over 2 million cases every year. 
The popular whisky brand, which is now owned by the Edrington Group, makes its home in the Glenturret distillery in Crief. It is the oldest distillery still operating in Scotland today.
Interestingly, this whiskey was originally just called "The Grouse" until 1905 when the name changed to "The Famous Grouse."
The Famous Grouse makers pride themselves on their consistency and quality. Long-term relationships formed over many years with grain producers, cooperage, and water sources mean that they can deliver on the consistent flavor and scents found in their whisky.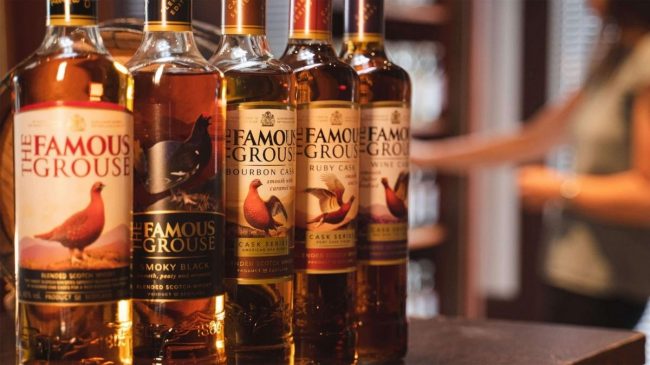 Famous Grouse has been the highest-selling whisky in Scotland since 1980. The typical blend is 40% ABV, and it goes through a marrying process for up to six months. 
The youngest blend still needs to go through a maturation process of at least three years in casks formerly used for sherry and bourbon, giving this Scotch Whisky the  popular smooth and sweet flavor it's renowned for.
There are several variations of Famous Grouse, which opens up the possibility for more explorations.
Tasting notes.
What to expect
Smell
A deep inhale of this whisky will delight your senses with a whisper of smoke, undertones of melon, and a slightly boozy aroma. Hints of malt, grain, citrus, and a somewhat sour punch are present. In general, it is crisp and light, but with the undertone of barley. 
Colour
The whisky itself is a light orange color like fresh butterscotch. Each bottle has a picture of a bird with the same name as the whisky and Matthew Gloag's original signature.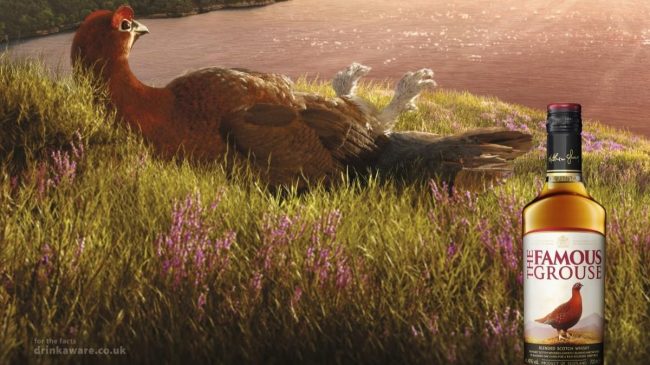 Taste
The most apparent taste when first trying The Grouse is honey. After a careful tasting, flavors of various herbs and light peat start to emerge and linger underneath. Its flavor is generally comforting because of the long finish, which helps to keep the core flavors of the whisky intact. It has a biscuit-laden palate that heavily favors malt. The things of spice and smoke are very faint, which adds to the complexity of the drink. The finish is malty but slightly sweet. 
The Whiskey Rocks verdict.
Is it good?
Overall, Famous Grouse Whisky is an average whisky with a lot of versatility. It's excellent to use in mixers while being affordable and consistent, which is a crucial reason why it's been around for so long.  
Anyone looking for a versatile whisky to add to their collection couldn't go wrong with The Grouse. It is good to use for your personal use or to use as a housewarming gift. 
If you are exploring different types of whisky, then it's worth a try. It doesn't wow, but it's a pleasant enough drink, which is all you can expect for the price.
This post may contain affiliate links.
To help cover the costs to run this site, we include affiliate links to reputable whiskey suppliers at no additional cost to you, from which we may earn a small commission.
The links in question will primarily be found in the price comparison area of our articles. As a value-add, we don't just link. We also use software to find the best available prices.
Full disclosure/privacy policy