Ezra Brooks Bourbon review

Our verdict
This is an entry-level bourbon that ticks all the right boxes while delivering good value for money. It makes decent-enough cocktails, but you'll enjoy its sweet and mocha palette more if it's not watered down. An everyday, basic bourbon.

The longer review
Ezra Brooks Bourbon has earned its place as a reliable, standard bourbon that delivers everything you need for a simple but enjoyable experience. It could become a trusted bottom shelf friend. Here is our Ezra Brooks bourbon review for when you just need something simple!
Ezra Brooks was first created as a brand in 1957 by Frank Silverman. However, the first bottle of Ezra Brooks bourbon was introduced in 1960. 
Bottled by Luxco, Lux Row Distillers, Erza Brooks bourbon's leading and most popular variation has a 90 U.S. proof, or 45% alcohol by volume. There are, however, other variations that pack a little more alcohol. The Old Ezra Brooks bourbon comes at 101 U.S. proof, which is about 50.5% abv. 
You might have accidentally bought Ezra Brooks bourbon instead of Jack Daniel's whiskey, or the other way round. Both bottles share similar aesthetics, including the black label. The font is also a little similar. The similarity creates a sense of go-to bourbon brand, in the same way as Jack Daniel's has become synonymous with the household's whiskey stable. Frank Silverman introduced the design after Jack Daniel's hit the market, using similarities to build his fortune.
Who makes Ezra Brooks bourbon?
Originally produced and bottled by Hoffman Distilling Company until 1970, Ezra Brooks bourbon brand was bought and sold several times until it found its current owning company in 1993, Luxco. The bourbon production was interrupted between 1970 and 1993 and only restarted once Luxco bought the brand.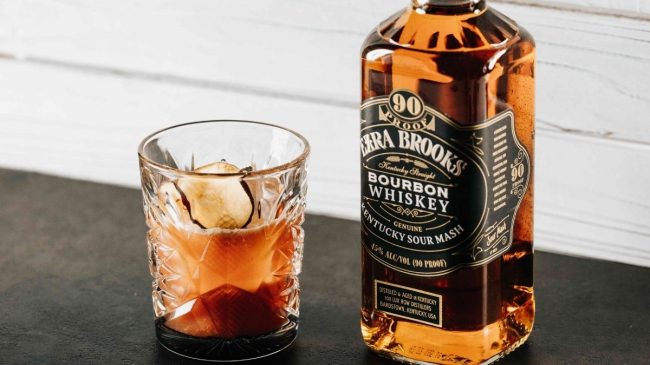 Luxco, a privately owned company, produces and markets distilled beverages and liqueurs, including whiskey, liqueur, tequila, vodka, rum, and even grain alcohol. Some of the brands you would be familiar with include Everclear, an unfinished alcohol that needs to be diluted for consumption, Arroz liqueurs, Pearl Vodka, and Rebel Yell Whiskey. 
Where is Ezra Brooks bourbon made?
Originally, Ezra Brooks bourbon was made in Lawrenceburg, Kentucky, the United States. There is no clear information about the new distillery. However, the label states that the Ezra Brooks Bourbon is still distilled and produced in Kentucky for the Luxco Row Distilleries in Bardstown. 
The mash bill that contains roughly the same proportions of rye to malted barley, with
78% corn
12% rye
10% malted barley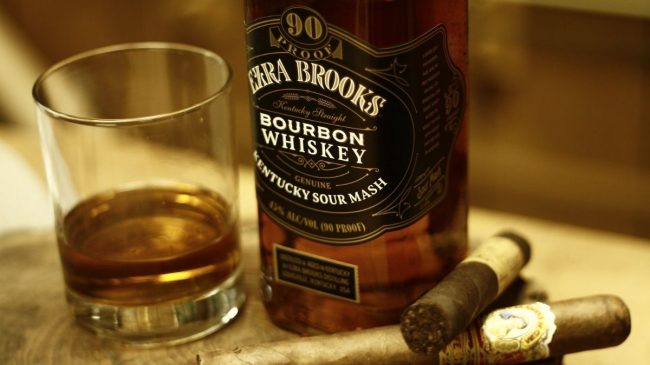 Interestingly enough, Ezra Brooks bourbon uses a sour mash, using yeast from the previous fermented batch in the creation process. Ezra Brooks bourbon utilizes the same strain of yeast that can be linked to the first bottle, in theory. 
Once distilled, the mash is placed into barrels for a rumored four years, except for the Ezra Brooks bourbon variation Old Ezra, which stays in barrels for seven years. The bourbon received a charcoal filtering after the aging process is complete. This is the reverse phenomenon compared to their branding influence, Jack Daniel's, which filters before the aging process. 

Tasting notes.
What to expect
Overall, the Ezra brooks bourbon is a reliable standard bourbon. While there is nothing complex about its flavors, the experience is pleasant. Some say that the Ezra Brooks bourbon has no subtle taste or body to celebrate. But, while there is nothing distinctive to it, there is also nothing to dislike either. 
Smell
When it comes to the nose, you can rely on the Ezra Brooks bourbon to immediately tell all its secrets. While you often need to let a complicated bourbon rest to unlock new depths, the Ezra brooks bourbon smells at first precisely like it tastes.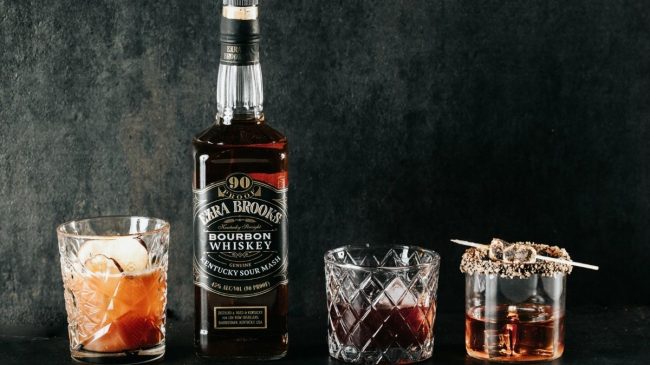 At first, you get a sense of buttery corn, perhaps a little stronger than in other bourbons. Yet the corn-right mash bill comes through in the nose. Caramel and charred oak are the dominating elements once you get accustomed to the corn. There are interesting and pleasant layers of nuttiness, sweet spices, dark fruits, and herbs. 
Swirl it a little in your glass to release the hint of vanilla that comes both at the back and front of the nose. You will not unlock much more to the nose by letting it rest, and you may even lose some of the lesser dominant layers! Surprisingly, despite its sour mash bill, there's no yeast element to the smell. 
Color
The color is a warm, brown caramel with a hint of oiliness in the glass. 
Taste
Flavorwise, Ezra Brooks bourbon brings a decent balance of oakiness and caramel. The sweet touches are light, and a cocktail can rapidly overpower them, but alone they come through. Once again, the sour mash proudly marketed on the label doesn't come through in the palate.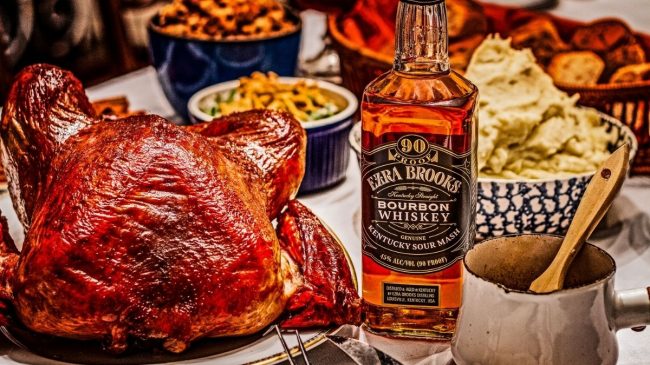 First to hit the tongue is the honey, mocha and maple syrup hints. There's also a nutty element layered with dark fruits, just as per the nose. The finish is warming but not too heated, with a sense of peppery sharpness.
In many ways, the spicy kick at the end offers a more rounded palate without adding thickness to the flavors. While you do get a two-times development, taste-wise, they move rapidly in the mouth. There is no strong lasting aftertaste apart from a delayed hint of richness. 
How to drink Ezra Brooks bourbon?
First of all, it's fair to say that the sour mash doesn't add any remarkable or distinctive flavor notes compared to other bourbons. You can expect to find the typical bourbon notes that blend sweet spices and nutty, woody tones. It's satisfying, simple, and there is no gimmick. 
Perhaps, what makes Ezra Brooks bourbon a good staple in your drink cabinet is the fact it can make a decent enough cocktail. While some of the flavors can get watered down, it brings a dependable and reliable bourbon taste. It tends to get overpowered by other alcohols, so be sure to avoid decadent cocktails.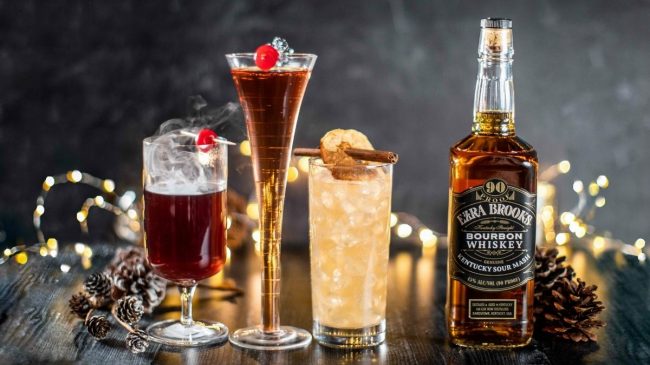 Paired with ginger beer in a mule cocktail, it has just enough body to balance out the ginger beer without becoming too overpowering.
Unfortunately, it is not sweet enough to produce a balanced cocktail on its own when added to bitters, such as in the Old Fashioned cocktail. 
To fully enjoy the flavors of the bourbon, you might find that serving it neat is the quickest way to figure out if you like it. The experience isn't unpleasant, and you may find more sweetness neat as mixed in a cocktail. There are also all the vital elements of a standard and reliable bourbon, from a grain presence to a dark and fruity palate. It is a simple taste, but it sometimes ticks the right boxes when you're after easy flavors. 
Price of Ezra Brooks bourbon
As mentioned, it is your bottle of the shelf bourbon, at $12 to $14. But, it makes it a decent, low-cost brand. 

The Whiskey Rocks verdict.
Is it good?
While the Ezra Brooks bourbon may not be as rich and complex in palate and nose as higher-end brands, it's a bourbon that delivers a decent and pleasant drink. A simple bourbon with an uncomplicated finish, Ezra Brooks drinks fine neat and mixes well enough. 
If you are stocking your bourbon drink cabinet, you need a reliable bottom shelf bourbon for the days when your palate can't handle subtle depths, such as Ezra Brooks bourbon. It works surprisingly well on its own. Because it's a fairly low-rye bourbon, you don't get caught by nutty flavors that can distract. If you are looking for something approachable with simple caramel and vanilla hints, it's a great choice. 
It is also fun experimenting with Ezra Brooks bourbon in light cocktails that let the taste come through. You may find that you'll have to add a little sugar to some recipes to enhance the sweetness in the bourbon, though. In a pinch, however, it is a quick and enjoyable alternative to other bourbons in cocktails. 
Ideally, you want to keep Ezra Brooks bourbon to introduce your Jack Daniel's enthusiast friend to the world of bourbons. Ezra Brooks bourbon packs a strong caramel note, but flavors remain relatively similar. For someone familiar with the one-dimensional palate, it is a suitably accessible progression. 
As a sipping bourbon, it is a palatable experience that doesn't disappoint. There is nothing to dislike about the taste, but Ezra Brooks does lack distinctive characteristics. It's a bourbon that is easily drunken and forgotten.
This post may contain affiliate links.
To help cover the costs to run this site, we include affiliate links to reputable whiskey suppliers at no additional cost to you, from which we may earn a small commission.
The links in question will primarily be found in the price comparison area of our articles. As a value-add, we don't just link. We also use software to find the best available prices.
Full disclosure/privacy policy