Evan Williams Bourbon Review
Our verdict
Evan Williams is not the high end of bourbon bottles, it sits second to Jim Beam which is itself still reaching for higher status. Despite this Evan Williams has some ideal qualities for specific bourbon drinkers and situations. The bourbon uses a high percentage of corn in the mash which can be tasted throughout, it also contributes to the other strong flavors such as caramel and vanilla. You might not open a bottle of this for a special occasion, but as a customary drink or a mixer, it's perfect. Evan Williams has a long history in Kentucky and is a favorite bourbon for many people, especially those who like a range of competing flavors and a little bit of spice and kick. This shows that despite its lower status it has staying power and credibility.

The longer review
Who was Evan Williams? Apart from being the progenitor of the famous bourbon, he was a Welsh immigrant born in Pembrokeshire who emigrated to the United States. He found his home in Kentucky where he began to brew bourbon in 1783 – according to legend. 
Evan Williams standard-issue bourbon comes with a black label as opposed to a white one. The upgraded version is a white label which is slightly counterintuitive; still, it's what's inside the bottle that really matters. 
This bourbon is originally from Kentucky and is thought to have originated in 1783 by founder Evan Williams, however, there are conflicting origin stories. Some say that Williams only returned from London in 1794. 
Regardless of the precise date and inception of Evan Williams bourbon, it's clear that it has a very long history and strong association with the area. This bourbon would also have played a big role in the illegal distilling popular in Kentucky during the prohibition. 
Qualities and Characteristics
Since 2010, Evan Williams has been the second most popular Kentucky straight bourbon, closely following the market-leading Jim Beam. Despite its second-class status, it has the fastest-growing market share with a 12.4% sales growth rate. How about that Jim Beam?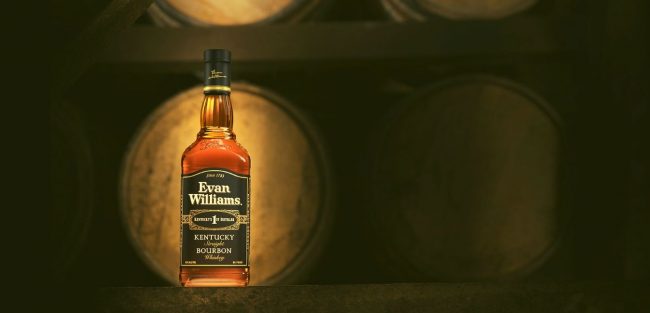 Do what is so good about Evan Williams bourbon? Firstly it's a very solid and earth bourbon that's super versatile. You can easily enjoy Evan Williams straight or mix it with your favorite cocktails, perfect for different occasions and informal situations. 
Like most bourbons, you'll come across today Evan Williams has different options depending on your palette and price range. The single-barrel versions of this fan-favorite are of better quality but also twice the price. The standard black label version delivers both quality and cost benefits. 
In terms of the strength of Evan Williams, a standard Black Label bottle has 43% alcohol or 86 proof. As a straight whisky, it is distilled using a fermentation process to keep the proof lower. Still, Evan Williams Black label is slightly stronger than many of its 40%/80 proof competitors. 

Tasting notes.
What to expect
It's time to taste the bourbon and decide on its quality for yourself. Of course, no written review can substitute for swirling the bourbon in a glass and testing it on the nose, but we have done that for you and can hopefully give you the insight you need to make an intelligent choice. It appears Evan Williams is highly rated by testers who appreciate its full flavor and authentic hue. 
Smell
On the nose, Evan Williams is dark and rich at first. You will meet strong hints of caramel and butterscotch that intermingle with hints of vanilla and corn. Later, you will start to sense the dark fruit of the barrel red licorice flavors, and hints of spice. If you're not convinced by that you're experienced will draw to a close with some astringent woody after tones. 
Star Rating: 4 out 5 - Evan Williams is oakier on the nose than other bourbons of its type but still has spicy vanilla notes coming through. 
Colour 
Evan Williams is fermented using a mask that consists of 75% corn, 13% Rye, and 12% Barley. It is distilled at Heaven Hill distillery where oak barrels are used to store it for maturation. Due to this process, the bourbon has an oaky brown hue that turns Amber in the light. 
Star Rating: 4 out of 5 - Evan Williams has a rich amber hue that denotes quality and flavor.  
Taste
Like the smell of Evan Williams, there are different stages to its taste on the palette. If you drink it neat you will initially encounter a caramel corn flavor – owing to the high percentage of corn in the mash. This is followed by a hit of vanilla and corn nuts. It won't set the corn fields on fire but it will light up your senses. 
Star Rating: 4 out 5 - Evan Williams is a bourbon of its class and that should be understood, but it delivers an excellent taste for its price.  

The Whiskey Rocks verdict.
Is it good?
Evan William won't break the bank to buy and it can be excellent for special occasions and gatherings. It is also a super flexible bourbon that is easy to drink straight and perfect for cocktail mixing. There's no reason not to have a bottle of Evan Williams on your shelf. 
Who'd Like it? 
Evan Williams is a versatile bourbon ideal for house parties, BBQs, and drinks after evening meals. It would suit anyone with a taste for reasonably good bourbon but who doesn't want to invest large sums of money. 
Who Wouldn't Like it?
For connoisseurs of bourbon who revel in the quality of the nose, or for those who like a single flavor, Evan Williams won't do the trick. You are likely to be disappointed by this quite ordinary blend.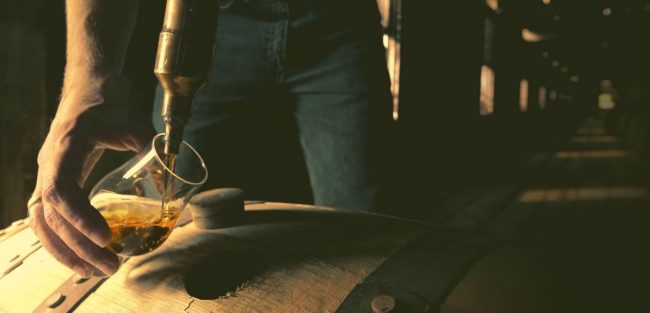 Summary Review
Evan Williams bourbon is distilled in Kentucky at Heavens Hill distillery. It has been made in this region since 1783 when it was first created by Evan Williams. The bourbon is second only to Jim Beam in popularity but has outsold it in recent years. Evan Williams is made using corn mash, barley, rye, and wheat. It delivers a rich caramel flavor with hints of vanilla and corn. Evan Williams can be enjoyed casually, straight, or mixed with cocktails. It is an excellent bourbon for the price and receives high-star reviews.
This post may contain affiliate links.
To help cover the costs to run this site, we include affiliate links to reputable whiskey suppliers at no additional cost to you, from which we may earn a small commission.
The links in question will primarily be found in the price comparison area of our articles. As a value-add, we don't just link. We also use software to find the best available prices.
Full disclosure/privacy policy