Copper Dog Speyside Blended Malt Scotch Whisky Review

Our verdict
Copper Dog is a light and smooth blended malt scotch Whisky with sweet and fruity tones. Eight different Speyside malts are blended to create an affordable and satisfying Whisky that is easy to drink on its own and excellent with mixers.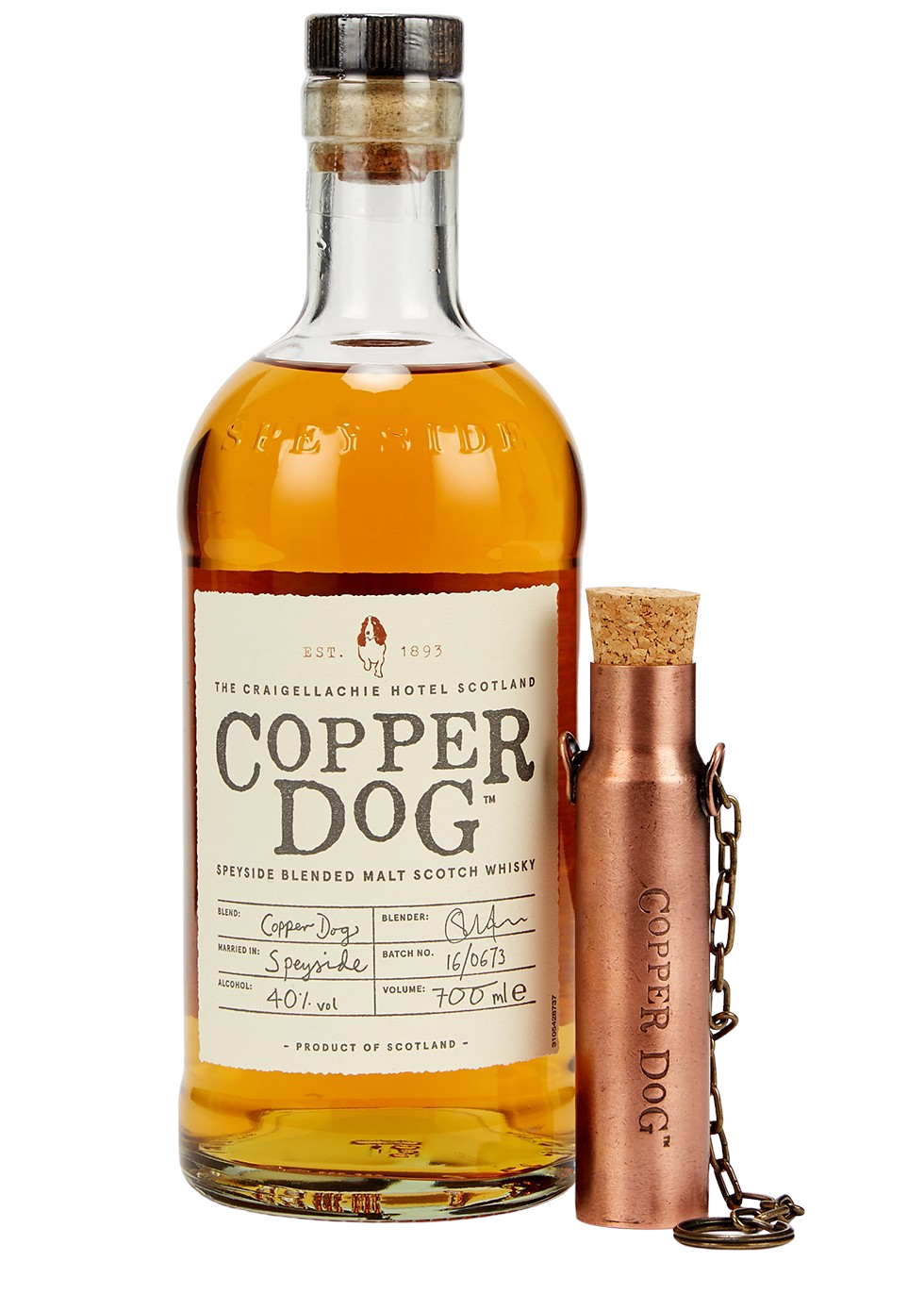 The longer review
A blended scotch whisky with a rich flavor and affordable price point, Copper Dog from Speyside is perfect for drinking neat or enjoying with your favorite mixers or in a nice cocktail.
Launched in 2016, Copper Dog has proven itself a popular choice for bars and restaurants across the world, with the blend balanced explicitly for use with mixers.
The blend is mixed by legendary blender Stuart Morrison, using 8 different malts from Scotland's Speyside region.
This Whisky is named after a small device used by distillery workers of the past to sneak a little bit of the good stuff home each night, giving this drink a bit more character.
Where is Copper Dog made?
Copper Dog is a unique Whisky option, representing an exciting and new trend for drinks like this. The Whisky itself is blended and mixed in Scotland, using old oak casks to enhance the finished product.
8 unique malts are used, all of which come from Speyside, the same region where Copper Dog is made.
As Copper Dog is relatively new to the market, it's hard to say how their reputation will develop. As it stands, though, many restaurants and bars choose to stock Copper Dog as their house mixer of choice.
Tasting notes.
What to expect
Before getting your hands on a bottle of Copper Dog, it's well worth exploring the flavor that this Whisky has to offer. You can find our expert tasting notes below, giving you a more in-depth insight into this blend's quality and taste.
Smell
The aroma of Copper Dog is one of its most popular features. Blended from a range of unique malts, this Whisky has a varied and playful scent, consisting of peach, pear, dried apple, and other traditional Scottish fruits.
The sweet fruity smell is accompanied by a honey-cereal scent, adding to its warmth. Some also report that they smell baked goods in this delicious blend.
Color
Copper Dog has a rich amber color, which is brighter than many Malt Whiskys. Bottled in a clear bottle with a simple cork, you can clearly see the purity and quality of this beverage before you even pour it. This color is achieved thanks to the vast array of malts used in this blend, creating a complicated mix with body and character.
Taste
Blender 8 unique malts into a single Whisky creates a rich array of flavors. In the case of Copper Dog, the primary tones are fruity, with hints of delicate spice following shortly after. Dried fruit, crisp apple, sweet vanilla, and rich citrus all come to mind when you take a drink of Copper Dog.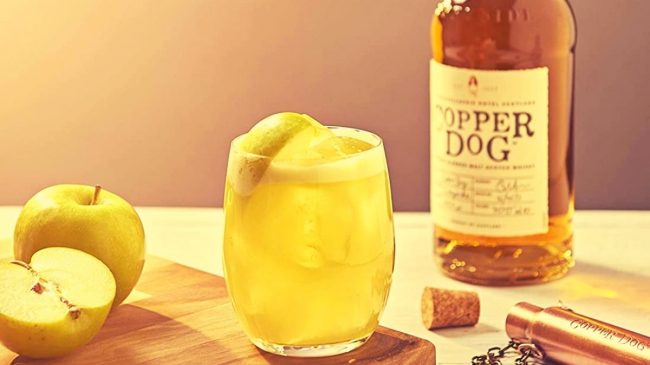 This taste makes Copper Dog ideal for use with mixers, with light and smooth flavors blending together without overriding one another. Those who like their Whisky neat will also be happy with Copper Dog, with its warm and vibrant taste creating an exciting drink.
The Whiskey Rocks verdict.
Is it good?
As you can see, Copper Dog is a high-quality blended malt with a lot to offer at a reasonable price. With a fruity body and spicy undertones, this blend provides bold flavor without a rough drinking experience. Lighter than many of its alternatives, it can be easily tricked into thinking Copper Dog doesn't have the taste you're looking for.
Those who enjoy mixing their Whisky will be delighted with Copper Dog. With a lighter taste than many other Scotch blends, it combines well with a variety of soft drinks and makes a great component in cocktails. If you like to drink your Whisky neat and like a very smooth experience, you will also be likely to enjoy this option.
Whisky drinkers used to strong dark malts with power throat hits and intense flavors may be put off by Copper Dog. While the flavor is vibrant and bold, some find that it lacks the body that other Scotches have. That said, we are fans of Copper Dog, and we're sure you will be once you give it a try.
This post may contain affiliate links.
To help cover the costs to run this site, we include affiliate links to reputable whiskey suppliers at no additional cost to you, from which we may earn a small commission.
The links in question will primarily be found in the price comparison area of our articles. As a value-add, we don't just link. We also use software to find the best available prices.
Full disclosure/privacy policy