Our verdict
A spicy bourbon that holds up both on its own and as a mixer. It can be overwhelming for some, but certainly a unique flavor profile that makes it stand out from the competition.

The longer review
Thomas E. Bulleit, Jr revived Bulleit Bourbon in Thomas E. Bulleit, Jr in 1987. His goal was to fulfill a lifelong dream of restoring an old family bourbon recipe. 
He was inspired to start the Bulleit Distilling Company by his great-great-grandfather Augustus Bulleit who was known for making a high-rye whiskey between 1830 and 1860. 
Tom quit his successful law practice to revive the family business, risking everything to restore his family's legacy.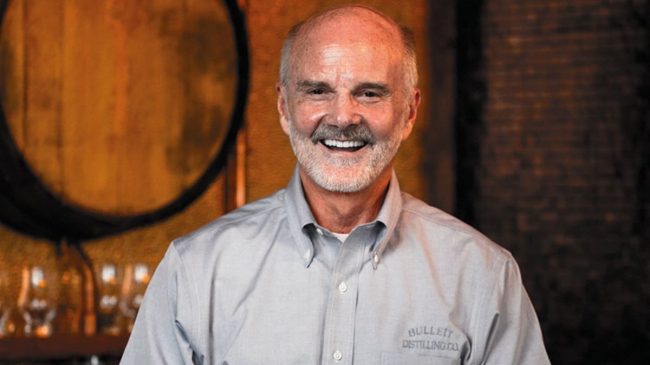 To this day, Bulleit Bourbon is distilled and aged in the Bulleit family tradition. It still uses a high rye content that gives the bourbon bold and spicy notes with a smooth and clean finish. 
Kentucky limestone-filtered water serves as the bourbon base with charred American oak barrels to provide a smoky character. Bulleit has always maintained the same aging philosophy since its inception; to wait until it's ready.
Interestingly, Bulleit Bourbon could have been lost to history forever.
Augustus Bulleit spent countless hours experimenting with different flavors but ultimately vanished one day while transporting his bourbon barrels from Kentucky to New Orleans.
Nobody knows what happened and his famous bourbon recipe almost disappeared with him. Thankfully, the recipe wasn't lost, and we can continue to enjoy this unique spicy bourbon to this day.
Who makes Bulleit Bourbon?
Seagram bought Bulleit's brand name in 1997, and it was finally introduced to the U.S. markets in 1999. The Bulleit brand was then acquired by Diageo when the company bought the Seagram Company in 2000.
It was then produced at the Kirin Brewing Company Four Roses Distillery in Lawrenceburg, Kentucky, until 2017.
It still retained its high rye content and is always aged for at least six years before being bottled at 90 proof for U.S. Canadian, British, Dutch, and Mexican markets. An 80 proof variety is also bottled for Australian and Danish markets.
In 2017, Diageo opened a new Bulleit distillery in Shelbyville, Shelby County. It was designed to produce 1.8 million proof gallons each year.
Diageo is a British multinational beverage alcohol company and one of the world's largest distillers. Some of Diageo's brands include Johnie Walker, Seagram's Seven Crown, Smirnoff, and Captain Morgan.
The current Bulleit Bourbon mash bill contains 68% corn (maize), 28% rye, and 4% malted barley.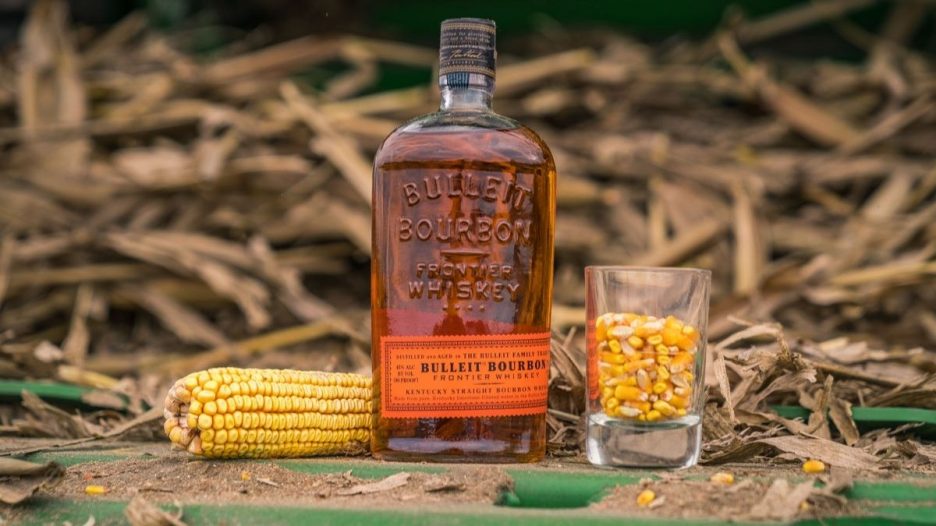 The standard Bulleit Bourbon also has particular strains of yeast and pure Kentucky limestone-filtered water.
In addition to its classic bourbon, Bulleit also produces a 10-year bourbon age dated and bottled at 91.2 proof. It used the same mash bill as the original Bulleit Bourbon and won a Double Gold Medal at the 2013 San Francisco World Spirits Competition.
Bulleit also started producing a Bulleit Rye variety in 2011 and a Barrel Strength Whiskey aged and bottled at Stitzel-Weller in Louisville, Kentucky. You can also purchase a limited-edition 100 proof bourbon from Bulleit known as the Blenders Select. It's an exceptional bottling that is only available in individual states, making it an incredibly unique piece perfect for Bulleit fans.

Tasting notes
What to expect
Smell
At first, you'll get a hit of vanilla, caramel, and some notes of orange. As you continue smelling the bourbon, you get a hint of oak and smoke from the aging process. It's a rich aroma but doesn't have as much depth as more expensive bourbons.
However, that's not to say it's a bad thing. A strong aroma typically turns off many new bourbon drinkers, so having something a little more straightforward and light can be a good thing.
It also means it won't overpower mixed drinks, which is one of Bulleit bourbon's big draws.
Colour
The pleasant medium amber color is relatively standard for bourbon. The orange label is unique and gives it a very nostalgic look.
Taste
In terms of taste, you'll get an immediate hit of sweet caramel.
However, you'll quickly be overwhelmed by the spice, which has sweet oak notes. The rye content means that Bulleit is characteristically spicy, and this is something that people might actively look for in their bourbon. As such, the taste is somewhat subjective, depending on how you prefer your bourbon.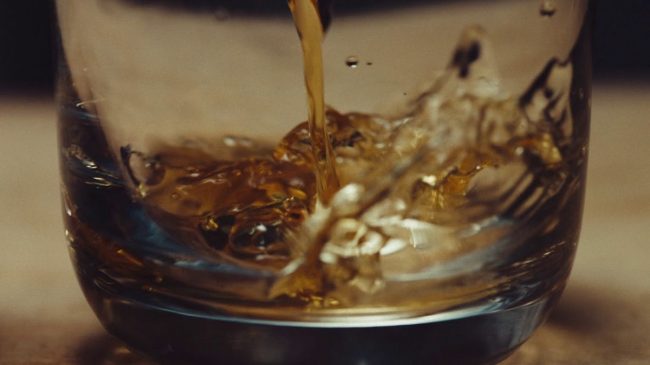 You'll also get a slight hit of maple and nutmeg with notes of cinnamon and ginger. However, these subtle flavors are difficult to distinguish due to the initial hit of spice.  Some people prefer their bourbon to have more complexity, but Bulleit is rather one-dimensional due to how overpowering the spice is. There are certainly a few layers of flavor, but it's difficult to discern if you're not accustomed to the rye content.
For the finish, you'll continue to experience the spiciness until the end. You'll start to get a few hints of toffee as you finish the sip, with cherry notes coming in and out. 
It's an incredibly smooth and creamy finish, but the spice might not be for everyone.
In short, it's a quality bourbon that everyone can enjoy, but it certainly takes a bit of adjusting due to the spice levels. The finish does give Bulleit a bit more complexity, but it only masks the fact that this bourbon is relatively simple in its delivery.
How to drink Bulleit Bourbon?
Bulleit Bourbon is often marketed as a mixing bourbon, and this is evident when you take a look at the website, which showcases many different Bulleit drinks.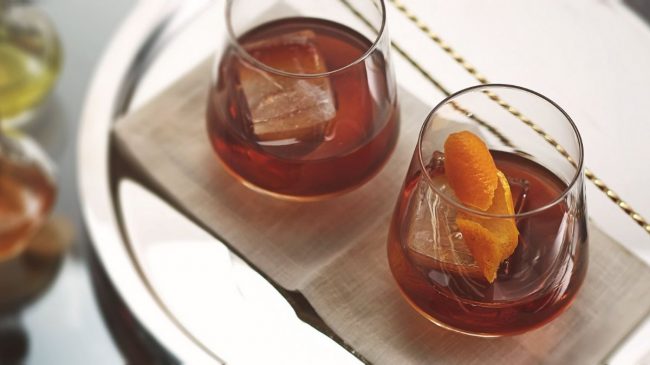 Thankfully, Bulleit has plenty of spice thanks to the high rye content, meaning it manages to stand out no matter how it's mixed.
This makes Bulleit a high-quality and high-value mixing bourbon that is great to experiment with.
You'll find plenty of drink suggestions on the Bulleit website. A whiskey sour made from Bulleit is incredibly popular, and a bourbon lemonade gets a spicy kick that you won't find with other types of bourbon.
However, even as a sipping bourbon, Bulleit manages to stand out thanks to the prominent spicy notes present despite it being marketed primarily as a mixing bourbon.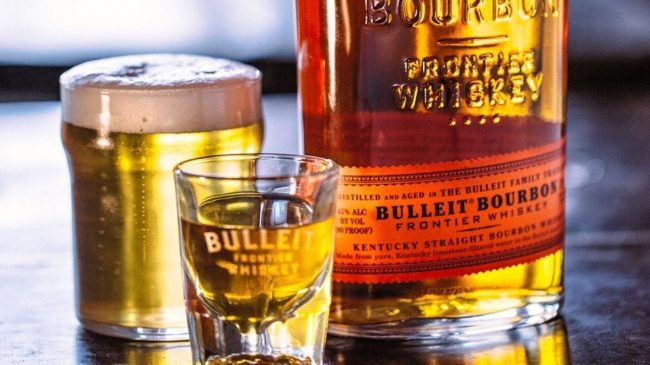 Of course, this is if you enjoy bourbon with a bit more kick to it. It can be a little challenging to drink neat if you're not accustomed to a spicy bourbon, but it's a great introduction at a relatively low price.
Regardless if you drink Bulleit neat or as a mixer, you're going to have a great experience, especially considering the price.

The Whiskey Rocks verdict.
Is it good?
Bulleit Bourbon is a welcome addition to anyone's spirit cupboard or shelf. It's a great change from cheaper options that don't offer much body or personality in mixed drinks.
However, there are also many similar bourbons meaning it doesn't necessarily stand out despite its unique backstory.
If you like a versatile bourbon that is great for sipping and mixing, Bulleit Bourbon is the way to go.
It works surprisingly well as a mixer, but it can be a little too spicy for some folks. It's not going to be a massive hit with everyone, but it might win over some adventurous people who like a little peppery kick with their mixed drinks.
It's certainly something fun to experiment with, and we'd highly recommend it if you enjoy this type of bourbon.
If explicitly used as a mixer, you'll want to mix it with something inherently sweet that offers a bit more complexity. While Bulleit has layers of flavor, it's also rather one-dimensional due to the rye content.
It can add a little kick to many classic cocktails that use bourbon, so we encourage you to experiment.
However, if you simply can't stand how overwhelming the spice is, then we suggest looking elsewhere for a more versatile bourbon with a more palatable taste.
There are cheaper options out there if you just want a mixing bourbon, and there are also better bourbons for sipping around this price range–especially if you're looking for something on the sweeter side that is more easy-going.
As your first bourbon, Bulleit can be quite harsh, and you'll want to avoid it unless you know what you're getting into. You want to look for something with a slightly more complex flavor profile instead of the spiciness that Bulleit Bourbon is known for.
This post may contain affiliate links.
To help cover the costs to run this site, we include affiliate links to reputable whiskey suppliers at no additional cost to you, from which we may earn a small commission.
The links in question will primarily be found in the price comparison area of our articles. As a value-add, we don't just link. We also use software to find the best available prices.
Full disclosure/privacy policy