Black Velvet Canadian Whisky review

Our verdict
This solid brown amber whisky tastes and looks delicious. With a sweet vanilla scent that carries over to the flavor, the whisky provides a spicy finish and is modestly priced. This whisky will impress through its pleasant sensation and subtle yet distinct tastes with a slight burn down the throat.

The longer review
Black Velvet Canadian Whiskey was originally developed in 1946. However, it wasn't introduced to the market until 1951. Thus, the legacy as we know it today began nearly 95 years later. During this time, the Gilbey brothers came to Hertfordshire, England, after their time spent serving in the Crimean War. 
After searching for a business venture, the brothers built their first gin distillery in England. By 1933, they had opened a distillery in Canada. Black Velvet was their most popular product, and today, it is the number two selling whisky internationally. 
Originally, Black Velvet was to be named Black Label. However, it was believed that there would be confusion between the Johnny Walker Black Label Scotch, so the name was changed. The name was derived from the description distiller John Napier gave to the whisky after tasting it for the first time. He claimed that it had the texture of velvet.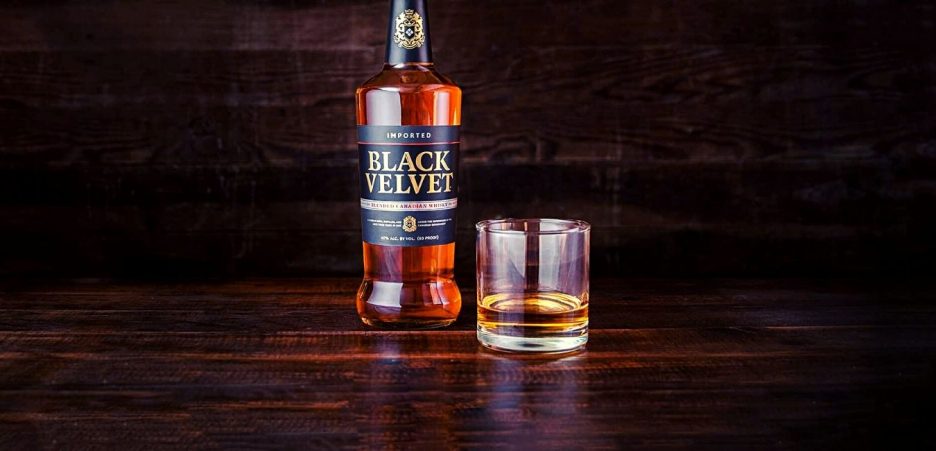 Lethbridge, the distillery for Black Velvet today, was built in 1973. After 65 years on the market, this product has stood the test of time and is still popular with a large consumer base. 
Several notable actors have served as the face of the whisky in marketing, including Larry Hagman, Tanya Tucker, and Telly Savalas, to name just a few. 
Today, the whiskey is made using an automated operation system. This takes just two employees per shift. Fifteen employees taste the whisky to ensure that it does match the highest standard for customers. The recipe for the product is mainly corn mashbill. This is inspired by Hicks and Napiers original recipe. 

Tasting notes.
What to expect
When choosing any whisky, it's essential to consider whether it will match your individual tastes. Below you'll find details on the smell, the color, and the final taste. Does it live up to the smooth promise in the name? 
Smell
This Canadian whiskey has a smooth smell with the characteristics of rich vanilla and butterscotch. For this reason, many people do find that it reminds them of the scents that you would discover in an ice cream store. Those with a keen nose might also notice cereal grain that does combine ever so slightly with floral aromas. You might even discover that there's some spiciness in the background to sample too. There is a slight alcoholic aroma to this whisky, too, some tasters may note that. Finally, you may also find a whiff of pepper too. 
Color
The color of this whisky is quite distinct, and upon first glance, will tantalize you with the promise of the tastes to come. Best described as a brown amber shade, this whisky can also glow a beautiful gold shade in the right light. Indeed, the golden caramel shade will look irresistible in any glass.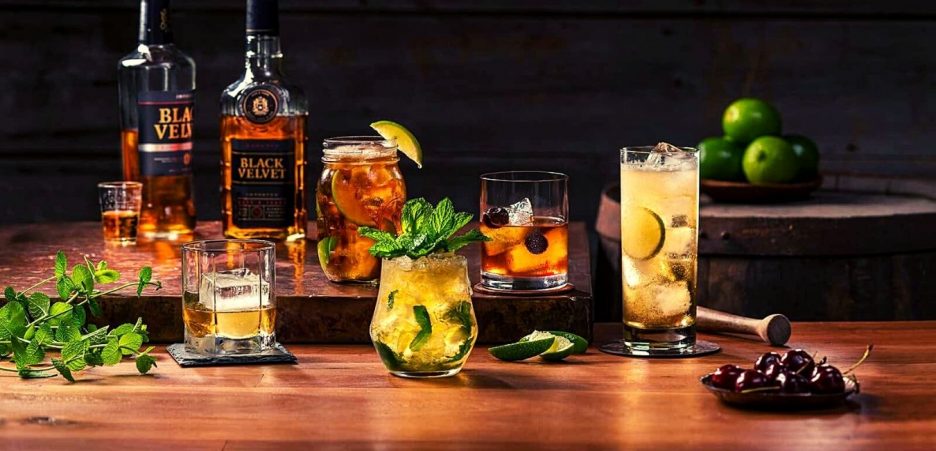 Taste
Upon first taste, you will likely notice a sweet caramel flavor. This should last and provide a delightful aftertaste. This whiskey does offer a sweetness that is candylike with sugary qualities. It delivers both an oily and creamy sensation with a delightful mouthfeel. This might be a pleasant surprise considering that the whisky has only been aged for three years. The pepper and ginger spices will also heat the sides of your mouth as you enjoy your first sip. 
This is certainly a fruity whisky. However, what makes it interesting and somewhat unique is that there are two different types of fruit taste at play here. You might note dark sweet fruits and fruit juice and a bitter grapefruit taste with orange flavors. The candy flavors do overshadow the fruit tastes a little and may push it out of balance. The whisky provides a medium finish which is peppered and filled with heat. 

The Whiskey Rocks verdict.
Is it good?
Ultimately, this whisky will provide a fine treat for those who love a drink that offers sweet, candy-like flavors. However, those who wish for a more fruity sensation may want to look elsewhere.

A key selling point of this whisky is that it is available at a modest price. So you won't have to spend a fortune for this choice and gain that might put some people off who adore sampling some more expensive possibilities. 
Vanilla is the prominent flavor to consider here, of course. If you're keen to find a whisky with a delicious sugar vanilla flavor and only subtle fruity undertones, then this is undoubtedly going to be an excellent choice for you.
This post may contain affiliate links.
To help cover the costs to run this site, we include affiliate links to reputable whiskey suppliers at no additional cost to you, from which we may earn a small commission.
The links in question will primarily be found in the price comparison area of our articles. As a value-add, we don't just link. We also use software to find the best available prices.
Full disclosure/privacy policy