Aberlour 12 Year Old Whisky Review
Our verdict
Aberlour 12-year-old whisky is a double-cask mature single malt that is a must in your cabinet but won't match your pricier bottles. Prepare your palate for notes of citrus, crisp, and a subtle, balanced flavor.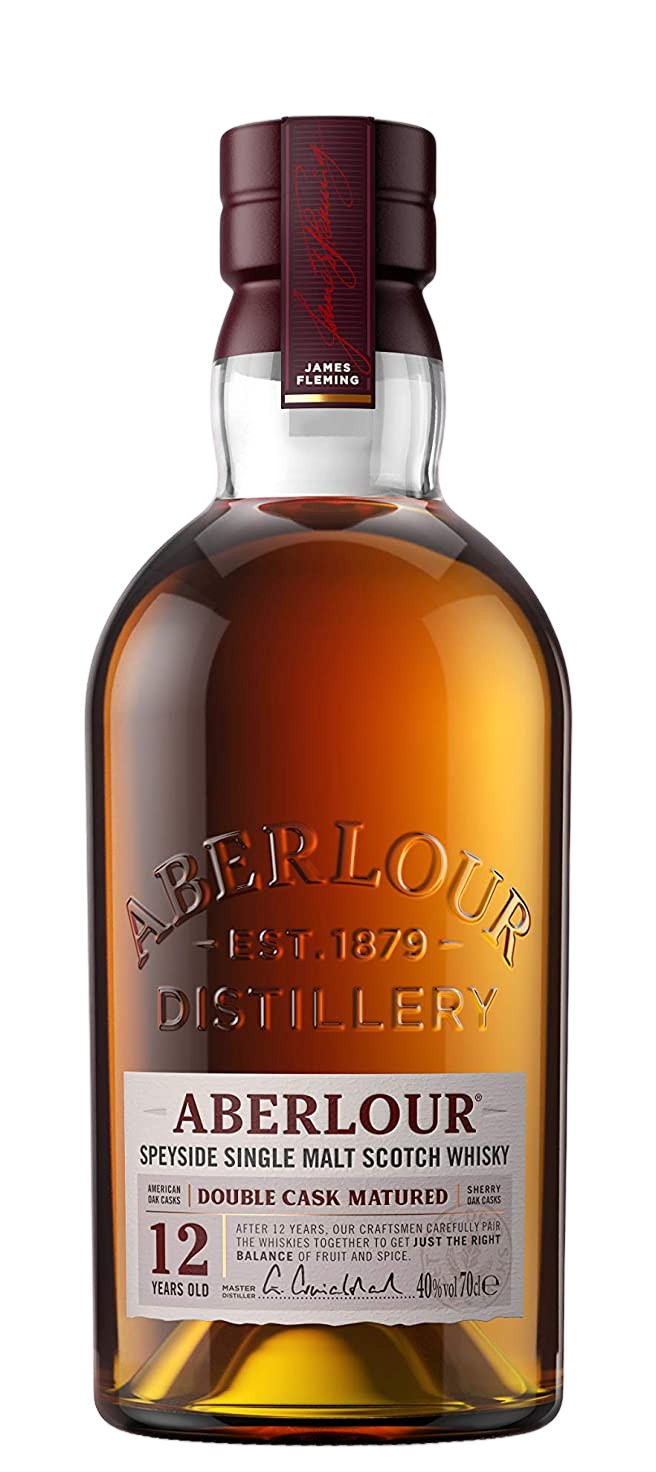 The longer review
The Aberlour Distillery is, as the name suggests in Aberlour. Specifically in a location called the River Spey. It is described as a magical location, and the distillery itself is small. James Fleming founded the Aberlour Distillery in 1879. 
The location was chosen because there is a supply of fresh spring water. What makes the water special? It flowed over the pink granite of Ben Rinnes. 
The distillery has a range of whiskey tasting and tours, which add to the experience. 
Where is Aberlour's 12-year-old whiskey made?
The Aberlour village is situated in the beautiful heart of Speyside. Surrounded by the vast and stunning Highland scenery of Ben Rinnes, and sits where the Lour burn meets the River Spey. The soft and pure spring water makes Aberlour Whiskey unlike anything else. 
The Aberlour is aged in two distinct cask types. One is the traditional oak, which is an ex-bourbon American Oak cask, and ex-Sherry barrels. The whiskey is aged for 12 years and then is combined. The combination of the different casks reaches 40% ABV. 
Tasting notes.
What to expect
Aberlour describes their 12-year-old whiskey as crisp, citrus, and a subtle and balanced flavor. They are noting the nose as soft and rounded, with lots of apples. Their palate is described as fruity balanced with rich chocolate and a warm and long finish—both sweet and spicy. 
Here is what we discover while tasting.
Nose
Although it is noted as apple and fruity, there are some powerful hints. Red grapefruit is one of the first notes you will notice, swiftly followed by a gooseberry and kiwi taste. However, Aberlour's 12-year-old whisky does have a real pull towards the citrus with the lemon verbena.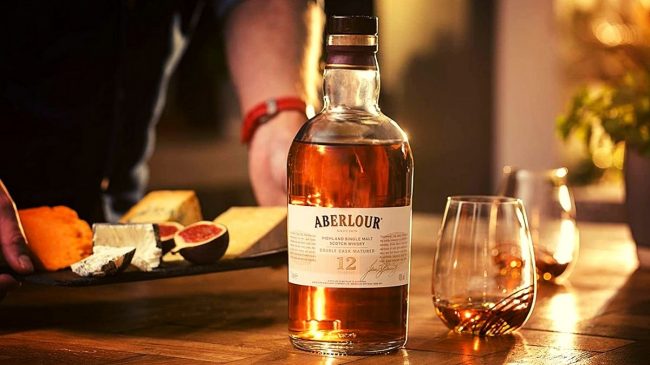 Subtle, but certainly there is the honeysuckle scent too. You would be hard-pressed to place this in a winter whiskey, but for a hot summer's evening? Perfect. 
Color
The Aberlour 12-year-old whisky, as they described on the website, is golden amber with hints of ruby. And that is true. It looks like a deep auburn syrup, and when swilled in the glass, has a delicious thick appearance. 
Taste
They describe this as a fine sherried character, with a fruity and rich chocolate balance. But what can you really expect? Well, it feels syrupy; in fact, it is so close to honey that you are hard-pressed to find any tongue tingle in it at all. 
Something that might feel a little surprising but just works is that the golden figs and apricots come through here, and pretty quickly. 
While you might be expecting a deeper oak hint, you don't get that. In fact, you get just an indication of the oak and plenty of cinnamon spice and vanilla.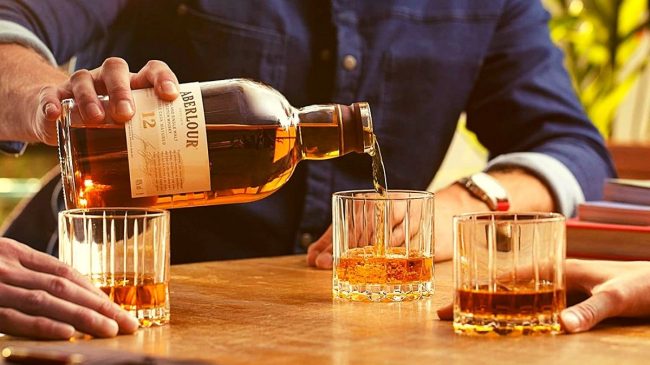 For the finish, while it is described as a long finish, it's medium short. The finish gets a little lost; the fruit you had been enjoying up until this point becomes a little bit muddy and overtaken but the spicy oak. Even though the oak is faint, it seems to blur the clean fruity notes in the finish.
But fear not, the quickest way to remedy the situation is to take another sip. The sweetness of the first taste balances the light acrid bitterness. You're going to want to finish your glass without a doubt, even if it's just to work out which fruit you're experiencing. 
If you're wondering about adding water, then there is no need. You can add a few drops, but you might lose some of the more delicate notes in the first taste, and while the palate is a touch thinner, you have a more fruity finish. If you enjoy the aroma, there is little point in adding water. 
The Whiskey Rocks verdict.
Is it good?
Yes. Yes, it is good.
The aroma is deep, rich, and aromatic.
The finish does leave much to be desired, but the initial palate is almost worth it. 
The price point works well, making it a whiskey that could be a regular favorite but might not be the place's pride.
Although some people haven't been wowed by the Aberlour 12-year-old whisky, the aroma is a wow moment, the layers of fruit with a hint of oak is delicious.
If the finish were cleaner, it would be a solid 5.
This post may contain affiliate links.
To help cover the costs to run this site, we include affiliate links to reputable whiskey suppliers at no additional cost to you, from which we may earn a small commission.
The links in question will primarily be found in the price comparison area of our articles. As a value-add, we don't just link. We also use software to find the best available prices.
Full disclosure/privacy policy