How to store your whiskey?

Suppose you become something of a whiskey collector. In that case, the chances are that you will need a way of organizing your bottles.
For some avid whiskey fans, this means creating a display or showing off their finest and most elusive vintages.
For others, storing whiskey means effectively making the most perfect environment to protect the taste. The right conditions mean that your whiskey will keep its unique flavor profile so that it's ready to be drunk on that special occasion.
There's nothing worse than reaching for a bottle only to find a sun-bleached label and an evaporated fill level that has left a mark. Be organized and learn to craft a storage system that allows you to find the whiskey you want when you need it.
How To Store Whiskey
Within a sealed and airtight bottle, whiskey should never spoil. Unlike bottles of wine that may become corked or sour or ferment, whiskey doesn't encounter this risk. Whiskey is more straightforward to store than wine in many ways, as it doesn't need any specialist equipment.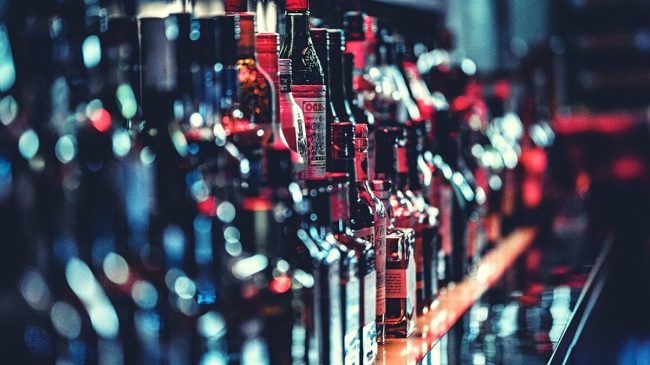 1. Keep them upright
Don't overthink how you store your whiskey. Keep things as simple as possible. Never put your whiskey bottles onto their side, and instead, keep them upright. This way, any cork seals that you have won't impart any flavor into your beverage. As well as preventing unpleasant tastes and odors, the cork won't have a chance to degrade or disintegrate as it won't be in direct contact with the alcohol.
2. Avoid extreme sunlight
Similar to wine, you need to protect your whiskey from extremes. Intense sunlight will bleach your labels and can cause evaporation within the bottle. Excessive heat can result in volume loss from inside the bottle. And extreme water damage can result in leaks and loss of your precious whiskey. 
3. Keep them close by
Ensure that you keep your whiskey close by. While an outbuilding or garage may seem appropriate as it is cooler and darker, vermin and pests can encroach on this space resulting in spoiled whiskey.
Keep your whiskey closer to hand and within easy reach.
A spare room is ideal as you can control the temperature and light exposure from your own residence. These basics should maintain the flavor profile and look of your whiskey.
Where To Store Whiskey
If you have some classic, scarce or elusive whiskies, it's only right that you want to show them off. A display cabinet of some sort can give your bottles pride of place within the home. With a swanky display cabinet, you can be the envy of your whiskey connoisseur friends.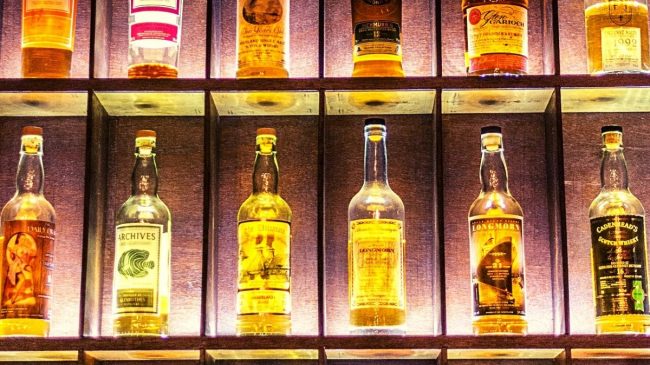 If you are keen to really go to town, invest some of your hard-earned cash in a deep shelved display cabinet. You could go down the retro route and purchase a one of a kind antique cabinet from an auction complete with art deco features and detailing.
Or you might want to have a go at building your own cabinet if you are handy with a spot of home improvements.
Light it up!
Customize your cabinet by placing some subtle LEDs beneath the glass or perspex shelf to highlight your bottles' labels. Ensure that you have your most sought after bottles at the front of any display and enjoy crafting an homage to your favorite tipple.
Time for a drinks bar?
Too often, whiskey bottles find their way onto random bookcases, stuck in drawers, or placed in enclosed drinks cabinets. Your whiskey is too precious not to show off. If you have more bottles than you can count, an actual drinks bar may be more apt to house your collection.
Watch out for dust
If you are displaying your whiskey bottles, ensure that you clean them regularly. Dust can develop very quickly, making your collection look musty and old.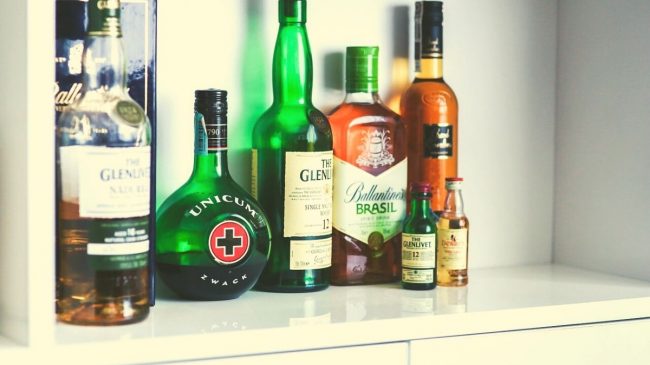 Organize your collection
You might also fancy taking an A-Z approach to your collection, or maybe you want to color-code your labels when creating your display.
Keep them sealed
If you don't really intend on ever opening your whiskey bottles, make sure that they are sealed within the cabinet you create. This keeps your unopened bottles in pristine condition, and no one has an excuse to handle them, drop them, or damage them.
And keep them secure
If you have a valuable collection, upgrade your home security system and consider a CCTV system positioned to monitor your whiskey display.
How To Store Opened Whiskey
Opening your whiskey to sample the delicious nectar within is your right as a collector.
However, too many unopened bottles can lead to spoiled whiskey. Whiskey will often oxidize within an open bottle, so try to consume a whiskey within six months once you have opened it. This can vary by bottle, so make sure to check the label or what the manufacturer recommends.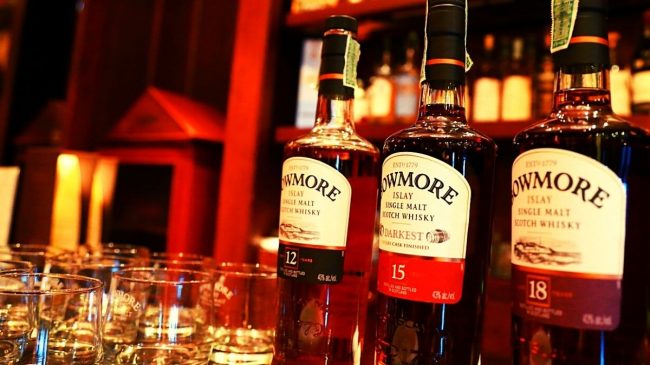 Only open what you'll drink
Limit the number of bottles that you open at any one time to three or four. Even if you have lots of sampling sessions, you could run the risk of spoiling them if they're not consumed within a few months.
Prevent oxidization
If you are struggling to consume your whiskey within six months, you need to take action to try and save your whiskey from oxidization. Consider decanting the remaining whiskey into sample bottles, or try to pump inert gas into your bottles between openings. This can extend the life of your whiskey, but we realize not many of inert gases to hand.
Keep the empty bottles, maybe?
For many collectors, the bottles themselves also have a special place in the collection. Many are limited edition labels or uniquely shaped bottles. If you want to keep them once you have consumed the contents, go for it. 
However, be ruthless with what you have on display. 
These empty bottles can be stored safely in an attic space rather than on show with your unopened classics. 
Organizing your whiskey into a display and appropriately storing your bottles means that you will keep your whiskey in pristine condition.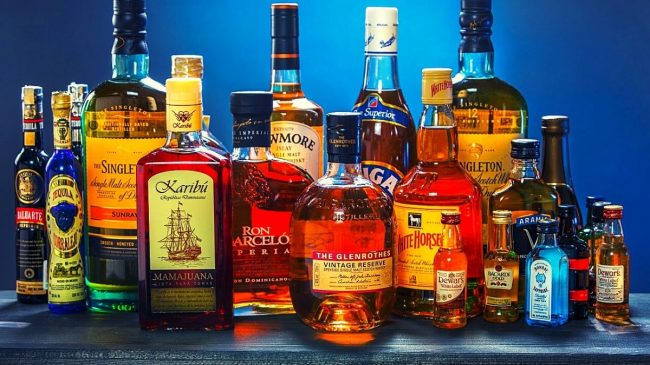 Summary
Spoiled whiskey, corked bottles, and sunbleached labels will now be a thing of the past. It may take an investment in terms of money and effort. Still, once you get into a maintenance habit, your whiskey will be there for you to enjoy in the future whenever you see fit.