Redemption Bourbon Review

Our verdict
Redemption Bourbon is owned by Deutsch Family Wines & Spirits, a company that pays keen attention to detail during aging and batching. This leads to the distinctiveness of the taste and ensures consistency from bottle to bottle.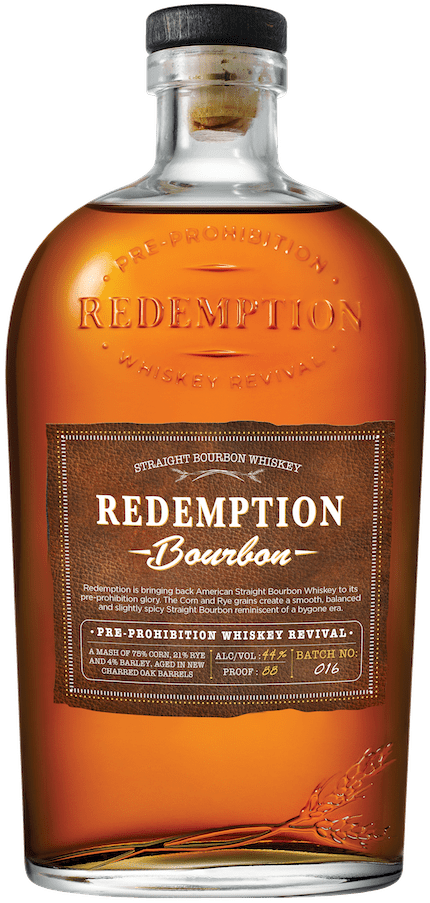 The longer review
The bourbon belongs to a line of premium whiskeys that may be enjoyed neat on the rocks and is also quite ideal as a mixer for cocktails. It is usually a pleasure to enjoy this whiskey believed to be the perfect expression of the classic American spirit.
Redemption Bourbon History
Redemption is a relatively new whiskey in the spirits world. Launched in 2010, Redemption Bourbon is a pioneer of the contemporary rye resurgence and is inspired by pre-prohibition recipes that bring forth distinctive rye-forward notes.
This bourbon is crafted by Master Blender Dave Carpenter, who combines his love for whiskey with a passion for its history. Carpenter was raised in Kentucky, so whiskey has been the common thread throughout his life. Growing up, he admired his grandfather's old bourbon decanters, and when he joined culinary school, he developed an appreciation for whiskey-making traditions. Over the years, he became the Head Distiller making premium craft whiskey. He combines his passion and experience to create the Redemption range of whiskeys.
After a few years in the market, in 2015, The Deutsch Family Wines & Spirits company purchased Redemption from the parent company, Bardstown Barrel Selections, which was founded by Dave and Michael Kanbar. Chairman Bill Deutsch founded this company in 1981 and now operates nationally out of White Plains, NY.
Where is Redemption Bourbon made?
Redemption, like so many other budget or beginner spirit companies, doesn't have a distillation facility. Instead, they purchase their spirit from a large mass production facility for alcohol in Indiana.
The bourbon is today distilled at the infamous 172-year-old MGP distillery in the river town of Lawrenceburg, Indiana. It's then bottled in small batches in Bardstown, Kentucky. Each batch and bottle number on every label is hand-written.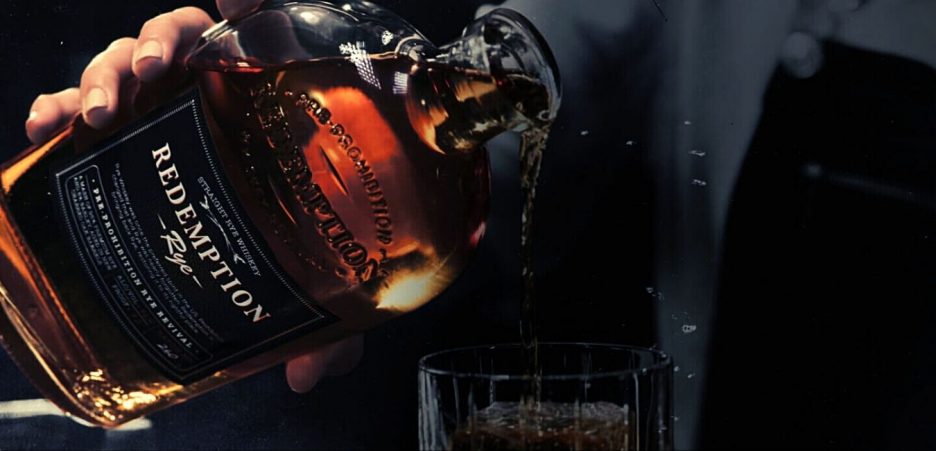 How is Redemption Bourbon made?
Redemption aged barrel proof selection bourbons are distinguishable by their mash bills which are:
Redemption straight rye – 95% rye, 5% barley
Redemption bourbon – 75% corn, 21% rye, 4% barley
Redemption high rye bourbon – 60% corn, 36% rye, 4% barley
Redemption wheated bourbon – 51% corn, 45% wheat, 4% malted barley
The grains are cooked and fermented before being distilled into new whiskey. All these whiskeys are aged between 8-9 years in charred new oak barrels and later minimally filtered before being bottled immediately at full proof. The brand's high-rye content and high-proof whiskeys have been consistent crowd-pleasers.
Redemption Bourbon Whiskey variations
The Deutsch Family, Wine & Spirits company, has built a pretty impressive portfolio with barrel-proof Bourbon and high-rye Bourbon bottles. Some of the Redemption Bourbon variations include:
Redemption Wheated Bourbon - This is a 96 proof spirit with a delicate vanilla custard scent.
Redemption Straight Rye Whiskey - This limited expression is aged 8years and bottled at 122.2 proof.
Redemption Straight Bourbon - This series is aged nine years and is a 110.6 proof whiskey.
Redemption High Rye Bourbon - This variation is aged nine years and is a 109.2 proof whiskey.
Others include Riverboat Rye, White Whiskey, and Limited Edition Barrel Selections. Their bottles have straight walls and a rounded shoulder tapering to a short straight neck. This shape is suitable for bar shelf appeal, and the fact that it doesn't hide the spirit makes the design more appealing – the bourbon inside the bottle is always the star of the show.
The brand name is embossed into all the bottles, and the label on the front contains all the relevant information about the bourbon series.

Tasting notes.
What to expect
Redemption Bourbon carries a unique overall profile when it comes to appearance, aroma, and flavor experience.
1. Smell
The spirit has an aromatic scent with notes of charred oak, sweet vanilla, cinnamon, and savory malted barley. The aroma isn't so light; there's quite a lot going on, which may be described as watery, woody, and almost crafty.
2. Color
One aspect about Redemption Bourbon that stands out is its beautiful aesthetic. Upon pouring, you'll notice the bourbon's stunning light golden hue.
3. Taste
The flavor profile is youthful. With the first sip, you can taste the sweet subtle hints of rye spice and a touch of menthol. The bourbon retains classic flavors of quality that are medium to long but well-rounded.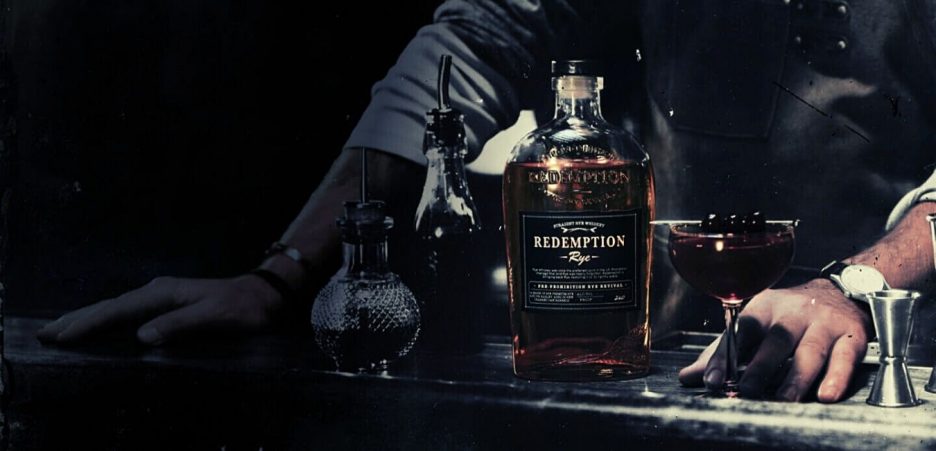 How to drink Redemption Bourbon
Redemption Bourbon is smooth and has a well-saturated aroma so that it may be enjoyed in several ways:
1. Neat
When enjoyed neat, this bourbon has the same flavor notes that you would expect from a Tennessee whiskey – especially the fruity aspect. Only in its undiluted form will you taste the hint of character in this well-blended spirit.
2. On ice
Usually, chilling the Redemption Bourbon with some ice cubes tones down any too loud or obnoxious flavors. The ice also does a great job balancing the flavors so that the sips aren't as harsh to the mouth.
3. Cocktails
The spirit's sweetness heavily influences the end result of the cocktail. Redemption Bourbon is already on the sweeter side of the spectrum compared to other bourbons, making it an ideal mixer for cocktails. Don't forget to garnish it with a classic cocktail umbrella.

The Whiskey Rocks verdict.
Is it good?
Redemption Bourbon has a distinct taste that's maintained by meticulously managing the aging and batching process. The sweet finishing taste creates a lighter experience that makes the Redemption Bourbon a spirit that even the most novice drinker can enjoy.
You'd love this whiskey if you enjoy sipping on bourbons that are a true reflection of what it means to be a classic American whiskey. There's a smooth texture to it that makes for an enjoyable drinking experience. If you prefer that your whiskeys be given a few more years to mature, then maybe you wouldn't enjoy Redemption Bourbon.
This post may contain affiliate links.
To help cover the costs to run this site, we include affiliate links to reputable whiskey suppliers at no additional cost to you, from which we may earn a small commission.
The links in question will primarily be found in the price comparison area of our articles. As a value-add, we don't just link. We also use software to find the best available prices.
Full disclosure/privacy policy