Rabbit Hole Bourbon review
Our verdict
Rabbit Hole Heigold is a bourbon on the sweeter side, but it's one of the most approachable and drinkable bourbons we've reviewed. The price is a little high to be used as a mixer, but it's a great sipping bourbon. We're excited to see where Rabbit Hole could go in the future once their on-site distillery is fully operational.

The longer review
Rabbit Hole bourbon starts with a love story. Kaveh Zamanian founded Rabbit Hole Distillery in 2012 after falling in love with both his wife-to-be and scotch at the same time. Zamanian describes the feeling as being pulled down a rabbit hole that he might never have dared alone, thus the brand's namesake.
To Zamanian, bourbon was a revelation, previously neglected for decades. As the spirit underwent a renaissance in quality and vision, he knew he had to become a part of it. Bourbon has always been an American product created from Kentucky's corn and iron-free water, then aged by its hot summers and cold winters.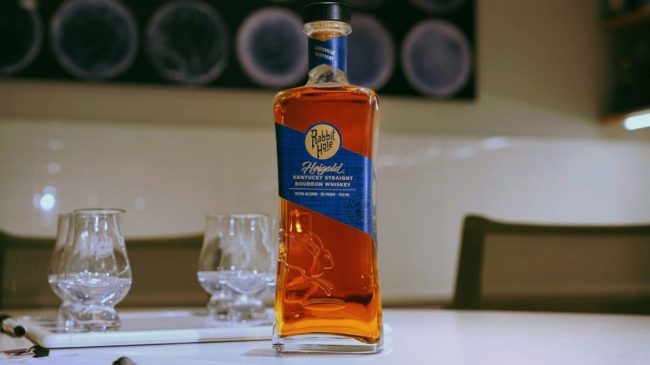 Zamanian believed that there was no better place in the world to start a distillery than Louisville. Together with world-class expertise, he reimagined bourbon, intending to create a unique experience.
In 2019, French beverage company Pernod Ricard acquired a majority stake in Rabbit Hole. They intended to use Pernod Ricard's distribution network for their products but wanted to maintain Rabbit Hole's distillery's downtown Louisville location.
Soon after, Rabbit Hold launched Heigold and rebranded many of its spirits to honor Louisville figures and the life of Zamanian. Heigold is a reference to Christian Heigold, a German stonecutter that settled in Louisville before 1850.
Who makes Rabbit Hole Bourbon?
Until 2018, the distillation process of Rabbit Hole bourbon took place at an undisclosed Kentucky distillery. Distillation now take place on-site at their Louisville location.
Rabbit Hole Heigold is the most popular Kentucky straight bourbon whiskey offering from the company. It honors Christian Heigold, a German stonecutter that settled in Louisville before 1850. It's a 95 proof bourbon with a mash bill that consists of 70% corn, 25% malted rye, and 5% malted barley.
Currently, Rabbit Hole Heigold only spends around three years in the barrel. Despite this, it has a surprisingly complex array of flavors that makes it worth the price tag. However, this can change considerably once the bottling switches to their new Louisville location instead of their contract distillery.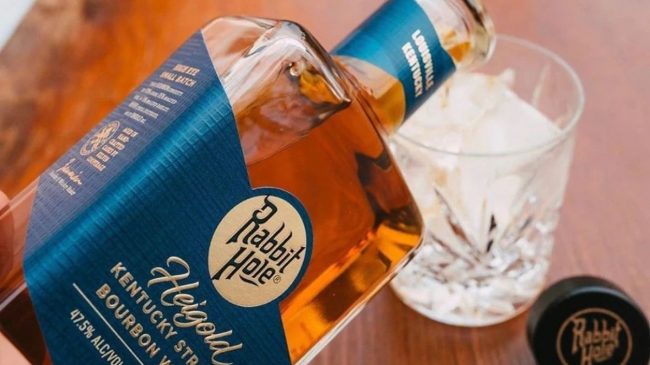 Rabbit Hole Cavehill is a signature four-grain Kentucky straight bourbon whiskey that pays homage to generations of proud Louisville distillers. It's 95 proof with a mash bill that consists of 70% corn, 10% malted wheat, 10% honey malted barley, and 10% malted barley.
Rabbit Hole Boxergrail is 95 proof and composed of 95% rye and 5% malted barley. It pays homage to Louisville's rich boxing heritage.
Lastly, but by no means least, Rabbit Hole Dareringer is a bourbon whiskey that is finished in Sherry cask. It epitomizes Heather, the wife of Zamanian. This spirit is 93 proof and consists of 68% corn, 18% wheat, and 14% malted barley.
Rabbit Hole also makes bespoke gin at 89 proof that is finished in rye barrels.
How to drink Rabbit Hole Bourbon?
Rabbit Hole is a fantastic bourbon that is surprisingly versatile. There's no right or wrong way to drink bourbon in general, but for Rabbit Hole, we believe that it's best enjoyed straight, with a splash of water, or on the rocks. We advise against adding a mixer because Rabbit Hole is considered a premium brand that warrants a bit more attention on its own.
There are far cheaper bourbons that are great as mixers. However, that's not to say that you can't mix Rabbit Hole in cocktails, especially if you're putting together a rather extravagant drink made from high-quality ingredients and spirits. Just keep in mind that Rabbit Hole Heigold has sweeter notes and can easily overpower other spirits and mixers.

Tasting notes.
What to expect
Smell
The first smell you get from Rabbit Hole Heigold is a sweet and fruity scent with a touch of oak to shake things up a bit. It's a reasonably familiar smell for bourbon of this caliber and isn't too overpowering. It's a delightful and inviting scent that will encourage you to go a bit further to take the first sip and continues to lure you in as you finish your drink.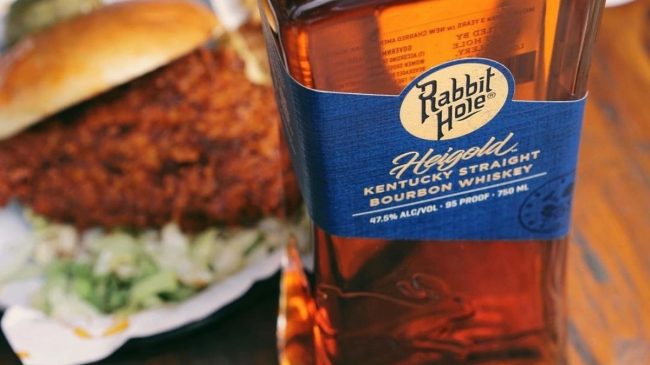 Colour
Rabbit Hole Heigold is a beautiful light gold color that looks as appealing as the bottle.
Taste
Rabbit Hole Heigold has a sweet flavor that is contrasted by the rye spice in terms of taste. It's surprisingly sweet and gentle on the tongue, considering the alcohol content, but it's also a little thin compared to some other bourbon around this price range. However, the combination of flavors is surprisingly full and complex despite the three years it spends aging in a barrel.
Unfortunately, some people may find Rabbit Hole to be a little too sweet for their palate. It can seem a bit overpowering on the sweet notes, but the spice helps balance out the flavors.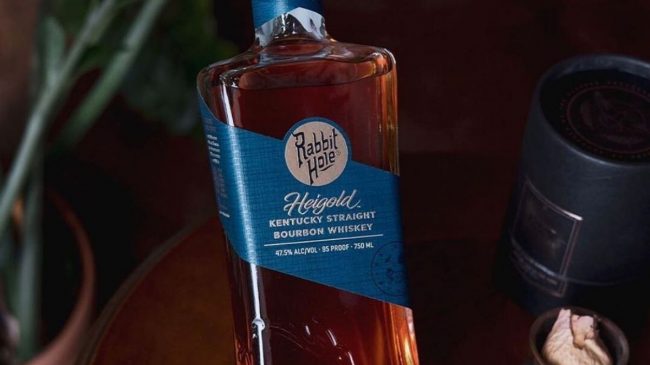 The finish is relatively short, and the sweetness lingers. The rye spice returns towards the end, and you'll get a hint of the oak to help balance out the flavors as your sip concludes.
Keep in mind that the current Rabbit Hole bourbon is from a contract distillery, so we're excited to see where the flavor profile can go once they have more control over the process.
Price of Rabbit Hole Bourbon
Rabbit Hole Heigold is usually available for around $70, likely because production takes place in smaller batches. There are supposedly only 15 or fewer barrels, but this may change once the barrels at their new Louisville location come of age.

The Whiskey Rocks verdict.
Is it good?
Rabbit Hole bourbon is a premium option with an above-average price tag. It's got plenty of sweet notes that make it very palatable.
For $70, there are many premium options available, but if you prefer a sweeter bourbon, then there's no doubt that this is a great bottle to add to your collection for sipping.
Overall, we'd highly recommend Rabbit Hole Heigold and suggest that you try out some of their other offerings. 
In a few years, we'll start to see bourbon bottled at their new on-site Louisville location, so we're excited to see what Rabbit Hole will do. Perhaps they'll rebrand slightly, or maybe it'll warrant a future review to see how things have changed.
This post may contain affiliate links.
To help cover the costs to run this site, we include affiliate links to reputable whiskey suppliers at no additional cost to you, from which we may earn a small commission.
The links in question will primarily be found in the price comparison area of our articles. As a value-add, we don't just link. We also use software to find the best available prices.
Full disclosure/privacy policy