New Riff Kentucky Straight Bourbon Review

Our verdict
New Riff Kentucky Straight Bourbon is a high-rye whiskey that offers a savory, spicy character. Featuring a mash bill of non-GMO grains, it's a true representation of Kentucky's most hallowed whiskey traditions.

The longer review
In just a few years, New Riff Kentucky Straight Bourbon has made a name for itself in the world of whiskey. Some of the things we love about New Riff Distilling are their distilling prowess and transparency - their mash bill isn't kept a secret.
New Riff Kentucky Straight Bourbon History
The New Riff Kentucky Straight Bourbon Distillery was opened in 2014 by Ken Lewis in Newport, Kentucky, which is just on the other side of the river from Cincinnati. Mr. Lewis was previously a teacher and entrepreneur who founded the largest store in the United States, The Party Source. This visionary liquor retailer later sold his ownership in the mega liquor store to his employees. This was to launch the New Riff Distillery.
When building the distillery, Ken Lewis was hopeful that it would one day be counted among the world's great small distilleries. He ran it as a family business with no outside voices or investors. New Riff commits itself to uphold the statutes of the Bottled in Bond Act of 1897 as a way to ensure the quality of its products. Their products are currently being released without chill filtration. The distillery has a prolific single barrel bourbon and rye program that is available to virtually everyone. They make it easy for people to pick and buy a barrel, compared to other major distilleries.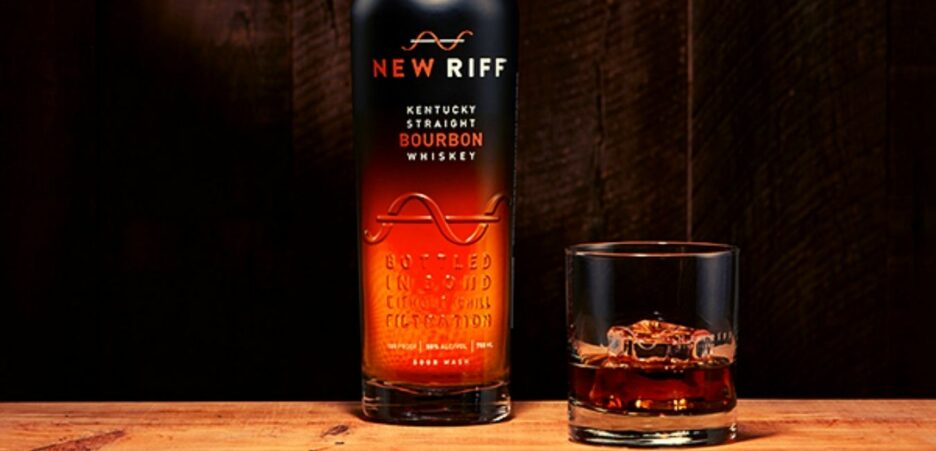 Where is New Riff Kentucky Straight Bourbon Made?
New Riff Kentucky Straight Bourbon is made in Newport, Kentucky, at the New Riff Distillery that opened in 2014. While the distillery built up the supply of their aged products, they sourced high-rye bourbon from M.G.P. and named this brand O.K.I. It stands for Ohio, Kentucky, Indiana, aka distilled in Indiana, bottled in Kentucky, and loved in Ohio. However, this brand is now retired, and they focus on their distillate. The sourcing was necessary to buy the distillery a little time.
The distillery has, over time, managed to build a national presence in retail, online, and local whiskey groups. It offers a wide range of whiskies from bourbon to rye and eventually malted rye. There's also a host of specialty recipes, such as the Kentucky Wild Gin.
How is New Riff Kentucky Straight Bourbon Made?
The New Riff Kentucky Straight Bourbon is made the right way – they don't cut corners or quickly age their products. Its mash bill is one of its most unique features. It contains 30% rye, while bourbons ordinarily contain 10-25% rye. All the grains used are non-GMO.
New Riff Kentucky Straight Bourbon is made using limestone water, pulled from an aquifer directly below the distiller, followed by a period of open fermentation, then distillation in a copper column still. The bourbon is aged 4years in 53-gallon toasted and charred virgin American new oak barrels. The whiskey is bottled without any chill-filtration, so it keeps the natural color and preserves the barrel's character all the way to the glass.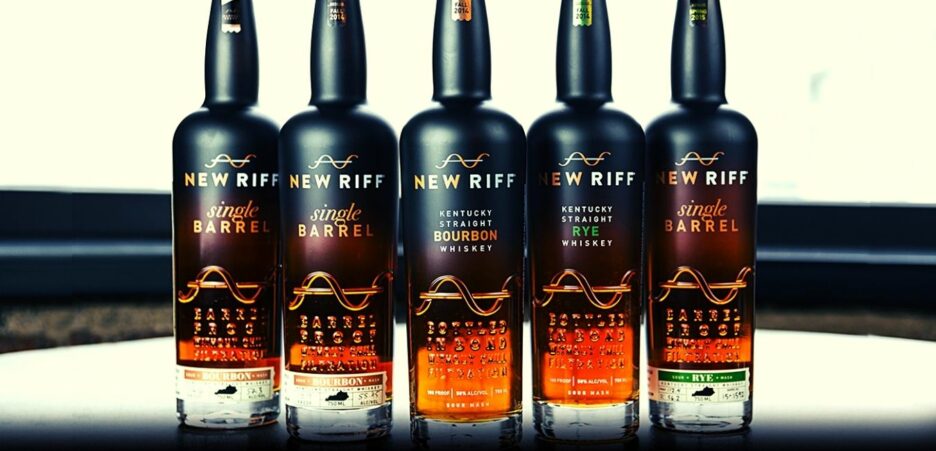 New Riff Kentucky Straight Bourbon Whiskey Variations
All New Riff Kentucky Straight Bourbon variations are singular in personality and flavor, selected for quality and complexity.
1. New Riff Kentucky Straight Rye
This 51.3% fresh, spicy Bottled in Bond Whiskey is made with 95% rye and 5% malted rye. It's then aged in virgin American oak casks for four years before being bottled.
2. New Riff Single Barrel
This 51.35% Barrel Proof Bourbon is made with a mash bill of 65% corn, 30% rye, and 5% malted barley. It's then matured for four years in virgin American oak barrels.
3. New Riff Single Barrel Proof Rye
This 52.1% Kentucky straight rye whiskey is made using Single Barrel Rye Whiskey that is matured for four years before being bottled at barrel proof.

Tasting notes.
What to expect
This bourbon has a diverse range of flavors that are accompanied by an appropriate amount of spices. The Kentucky hug further makes for a well-balanced and complete drinking experience.
Smell
Subtle baking scents kick in, followed by oak, cinnamon, buttered popcorn, and brown sugar rising to the top. Layered underneath are bits of herbal and coca notes.
Color
Deep Amber
Taste
The bourbon has a great sense of balance. Buttered toffee forms an excellent introduction to the overall taste. The sweet caramel and vanilla tastes are distinct yet subtle and inviting.
How to drink New Riff Kentucky Straight Bourbon
The 30% rye in the mash bill makes New Riff Kentucky Straight Bourbon makes it taste and smell mature than it is. It is not so hot and has a nice fragrance and richness that makes it very versatile. Overall it tastes quite good, so you can enjoy it neat, with water, or in a cocktail.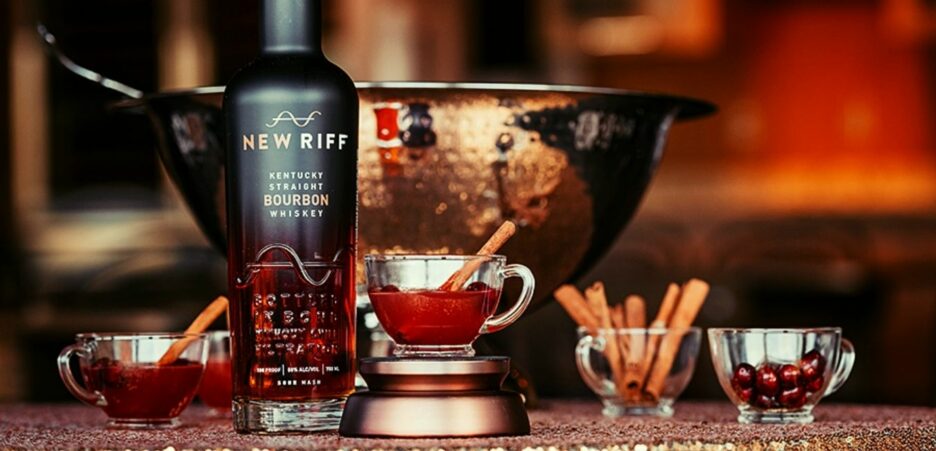 1. Neat
New Riff Kentucky Straight Bourbon is pleasant enough to sip neat – the proof isn't too overpowering. After taking the first sip, chew it and allow time before swallowing. This enables you to experience all the deep and bold flavors. After swallowing, the finish is sweet, but that fades into spicy oak that lingers for a while.
2. With water or ice
The New Riff Kentucky Straight Bourbon does not battle with the water or ice for attention. It opens up pleasant flavors that are fully developed – just as though you're taking it neat. The only difference is that the proof is reduced, so it's not as harsh.
Word of caution: Don't add too much water or ice quickly. It'll over dilute the bourbon, causing it to lose its character.
3. Cocktail
If you're a new bourbon drinker and feel that neat is too sharp for you, you can add mixers to calm it down nicely and add sweet flavors that you're used to, like pineapple, lime juice, or soda.
The ingredients used should contain some sugar and spice to balance the cocktail but make sure the bourbon isn't subdued.

The Whiskey Rocks verdict.
Is it good?
Absolutely! New Riff Kentucky Straight Bourbon by no means lacks assertiveness. It's everything a 4-year old bourbon should be and more. It's also inexpensive, making it ideal to use in cocktails and experiment with different recipes.
There's nothing to dislike about it, but new bourbon drinkers might find it too sharp for their liking. This bourbon is for you if you prefer high-rye bourbons.
This post may contain affiliate links.
To help cover the costs to run this site, we include affiliate links to reputable whiskey suppliers at no additional cost to you, from which we may earn a small commission.
The links in question will primarily be found in the price comparison area of our articles. As a value-add, we don't just link. We also use software to find the best available prices.
Full disclosure/privacy policy