Monkey Shoulder Whisky Review

Our verdict
Did you know that the term 'monkey shoulder' refers to an injury that maltsters would get after turning malt for hours at a time? The good news is that Monkey Shoulder Whisky is not painful, and it's not arduous. In fact, it's rather good. With a smooth, creamy taste and an interesting history, plus a fair price, this is the kind of whiskey that everyone can get excited about.

The longer review
You'll find Monkey Shoulder Whisky labeled with 'Batch 27', which harkens back to the original idea of only making Monkey Shoulder in 27 casks at a time. Originally, the vatting would have been a mix of whiskies from the three William Grant & Sons' distilleries found in Speyside, Scotland (that being Glenfiddich, Balvenie, and Kininvie). However, today there might be other whiskies in the mix. This depends on the availability and requirements of the vatting process. This makes for an interesting and ultimately very good (we might even say exceptional) whiskey that offers something a little different to the party involved.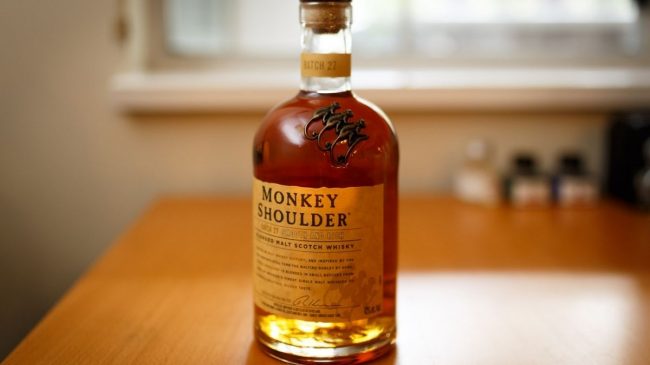 History Of Monkey Shoulder Whisky 
£755. 1886. Put these two numbers together, and what do you get? You get the very beginnings of the Monkey Shoulder Whisky story. William Grant had £755 to his name in 1886 (a not insubstantial amount, it should be said), and he invested the lot into building the Glenfiddich distillery. It worked out, and in 1891, he opened Balvenie on the same site. It took another century before Kininvie was opened (that took place in 1990), and at that point, all the ingredients needed for Monkey Shoulder Whisky were in place. 
In 2005, Monkey Shoulder Whisky was finally launched after a great deal of experimentation to get the blend of the three malts just right. There was nothing else like it on the market, and its reputation for a premium brand that was also fun and unpretentious preceded it. The whisky certainly resonated with the trend-setters, winning the Drinks International 'trendiest whisky' accolade in 2016.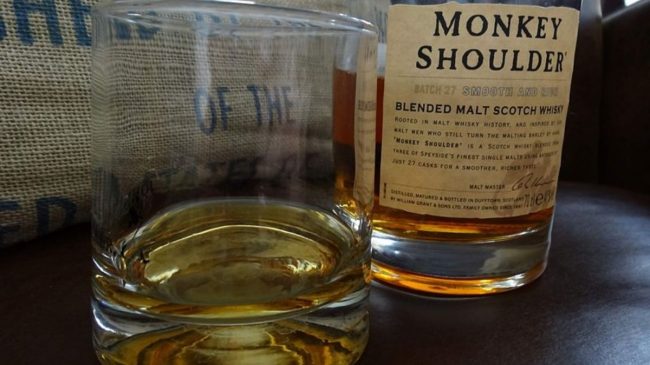 Where Is Monkey Shoulder Whisky Made? 
Monkey Shoulder Whisky is brought to life in Speyside, Scotland, at the Kininvie Distillery. Although this distillery lacks some of the equipment that its big brothers have, as this is a blended malt, there is no need for much other than a place to blend and store, so Kininvie fits the bill nicely. 
How Is Monkey Shoulder Whiskey Made?
Monkey Shoulder Whiskey is made by blending three different whiskies from the three William Grant Speyside distilleries: Balvenie, Glenfiddich, and Kininvie. These whiskies - or others if need be, depending on how much Monkey Shoulder is to be made - are blended and matured for six months in small batches within first-fill ex-bourbon casks.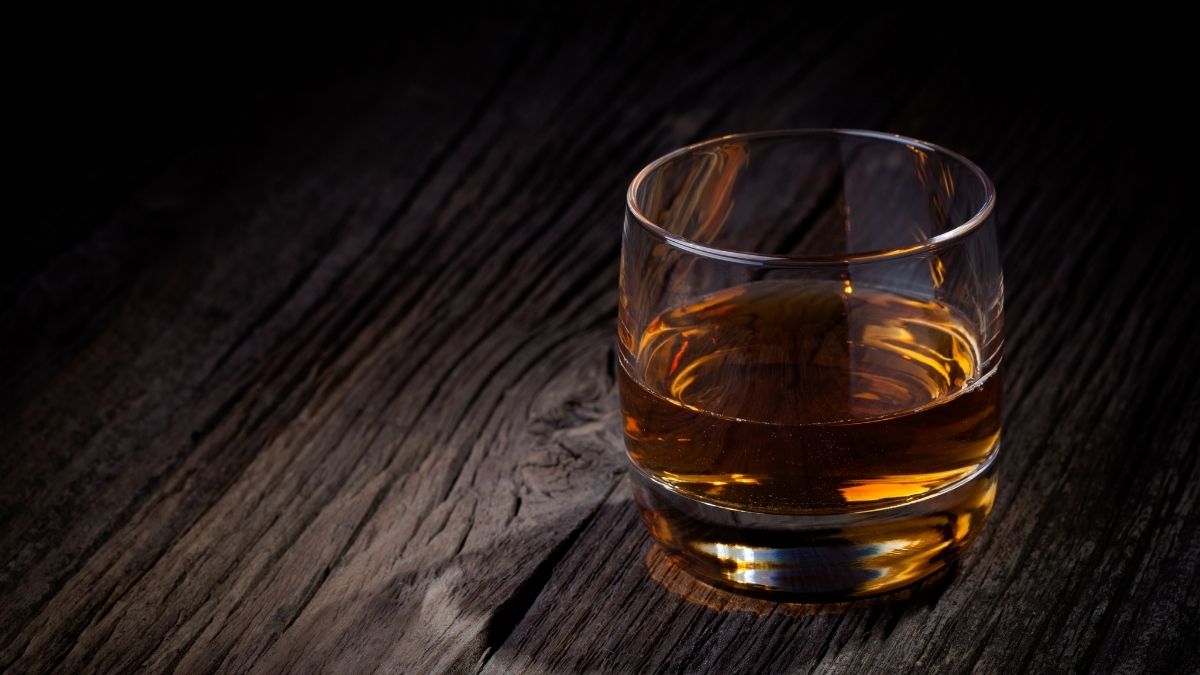 Tasting notes.
What to expect
There is a lot to get excited about when it comes to Monkey Shoulder Whisky. Having won awards, there is also a lot for the drink itself to live up to. Whether it does or not will be somewhat subjective, but with the amount of complex flavors lining up to be experienced, it certainly tries its hardest every time. 
Smell
For a young whisky, there are plenty of smells to entice you with when you take out the stopper. The first that wafts up is a tangy hint of marmalade, which gives way very nicely to a much sweeter scent of vanilla and cinnamon. But right there, hiding from everyone until the very last second, is the aniseed, promoting what might be a typical smell to one that is very tempting indeed. 
Colour 
Monkey Shoulder Whisky's color has a definite golden hue to it, making it – strange as it might seem – feel a lot more indulgent and opulent than it is. Yet that's not a bad thing; it's a fun addition to the whole persona that this nifty whisky offers up.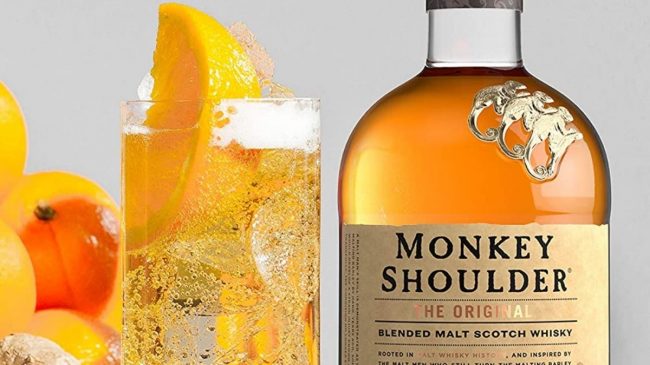 Taste 
The biggest hit of flavor that comes through when you first taste Monkey Shoulder Whisky has to be the berries. Fruity and thick, there is a unique mix of lemons and cream soda to smooth everything out. Add to that the sweet licorice and vanilla, and you might be forgiven for thinking that this is a sweet concoction that is only fit for cocktails and mixing. Yet there is more. There is an almost earthy undertone that picks out the pockets of flavor and makes sure you know about them. Plus a sharp, quinine-like spike at the end. 
How To Drink Monkey Shoulder Whisky 
Taken by itself, Monkey Shoulder is a smooth, delicious, complex kind of whisky that offers a little something different to everyone, depending on your palette and your personal tastes. Add a few drops of water, and you'll find that you get much more of the citrus flavours coming through, so it's a kind of a 'dilute to taste' situation, which is always quite fun – like having your own personal whisky. 
Unlike some whiskies that are either for sipping neat or for use in a cocktail, Monkey Shoulder can quite happily do both. The makers actively encourage this latter idea, probably because it means that the drink will appeal to more people. 

The Whiskey Rocks verdict.
Is it good?
Monkey Shoulder Whisky, this blended malt that takes the very best of Scotland's heritage and turns it into something trendy and current, is a great dram. It has its own distinctive taste and smell, it can be used in a variety of different ways (so if you're looking for just one bottle of whisky, this is the one to buy), and the price point is, when all is said and done, not only fair but generous. You're getting a lot for your budget when you buy Monkey Shoulder, even if it does find itself in one of the most competitive areas of the market – right slap-bang in the middle. 
In other words, Monkey Shoulder is an excellent value, solid scotch whisky that can be used in many different ways and that is always going to go down well. What more could anyone ask for?
This post may contain affiliate links.
To help cover the costs to run this site, we include affiliate links to reputable whiskey suppliers at no additional cost to you, from which we may earn a small commission.
The links in question will primarily be found in the price comparison area of our articles. As a value-add, we don't just link. We also use software to find the best available prices.
Full disclosure/privacy policy