Monkey Shoulder Blended Malt Scotch Whisky review

Our verdict
The Monkey Shoulder Scotch Blended Whisky is for anyone looking for a fun drink that is rich and vibrant. The drink is made for the new generation of whisky drinkers that enjoy a playful and unconventional approach when drinking whisky.

The longer review
Drinking whiskey is the perfect pass time hobby that you can share with your friends. You can share this magical drink at your local bar or even at home. While there is no right or wrong way to drink whiskey, you can appreciate it when neat, over the rocks, or in whiskey cocktails.
If you would like a smooth introduction to the world of blended malt whiskies, you should consider drinking the Monkey Shoulder. 
While it may not be the most popular whisky globally, many people appreciate its richness and vibrancy combined with a rich, fruity aroma, making it perfect for mixing.
Monkey Shoulder History
In the past, Scotland's distilleries employed malt men whose job was to hand-turn malted barley with a wooden shovel. The long shifts of manual labor took a toll on Scotland's malt men, making them susceptible to shoulder injuries. 
The shoulder strain would make them hang down their shoulders like a monkey. It is for this reason that the whiskey was nicknamed "monkey shoulder." Although working conditions are now much better, the name stuck as a homage to the whiskeys heritage.
The history of the Monkey Shoulder begins with the construction of the Glenfiddich distillery in 1886.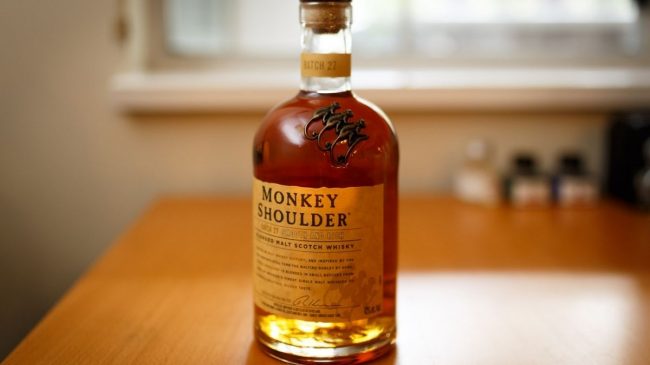 William Grant had put all his life savings behind the project. Several years later, Balvenie also opened up on the same site, and Kininvie distillery opened shop about a century later in 1990.
The Monkey Shoulder Scotch Whisky is a craftsmanship of three unique single-malt whiskies from the three different Speyside distilleries. The trio is mixed together in small 27-barrel batches for three to six months before bottling at 40% abv.
Launched in 2005, the malt whiskey came into the market when people were beginning to appreciate Scotch whiskeys taste. It filled the gap of a premium but a fun brand with bartenders and consumers enjoying its mixing ability. The whiskey entered the American market in 2012 due to the rapid rise in popularity. 
Today, Monkey Shoulder is one of the best-desired brands among bartenders and a clear favorite to consumers.
The drink has also caught the eye of international competitions with a history of accolades and awards. 
In 2011 the drink won a gold medal at the International Wine and Spirit Competition. The same year it received a master distinction in the Speyside Blended Malt category at the Scotch Whisky masters and a gold medal at the International Spirits Challenge.
Who Makes Monkey Shoulder Whisky?
The Monkey Shoulder Whiskey is a brand of William Grant and Sons. The company was first started in 1886 by William Grant and his nine children by building the Glenfiddich distilleries. 
However, it is only until the Christmas of 1887 that they became operational. The company is the pioneer to single malt whiskey with Glenfiddich as their first single malt brand. Ever since its inception, the whisky distiller has remained under family ownership throughout six generations.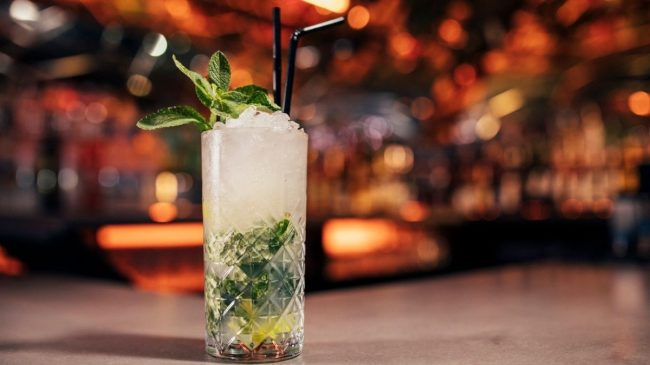 Today, they produce more than five scotch whiskey brands and several rare whiskeys. From a once meek and humble Scottish base, the company is rapidly expanding around the world with distilleries and bottling facilities in the USA, UK, Ireland, Mexico, and India. Their success spans across 200 markets around the globe where they sell their drinks.
The company is one of the leading producers of scotch whisky, with about 8 percent of the market share. Every year, they ship close to 7.6 million cases of drinks around the world. Some of their popular brands include Glenfiddich, Grants, The Balvenie, Drambuie, and Monkey Shoulder.
Where is Monkey Shoulder Whisky Made?
The Monkey Shoulder is a blended malt whiskey that is made in Scottish distilleries. The malt scotch whiskey derives its smooth, malty, and fruity characters from the three Speyside distilleries: Glenfiddich, Balvenie, and Kininvie.
Brian Kinsman, the master blender, was trying to find certain flavor notes appealing to the many bourbon drinkers at that time. He then decided to use barrels with flavor notes of fruity oranges, malts, gingers, and some cinnamon notes.
Since then, the company has maintained its flavor profile to ensure that every whiskey batch tastes the same. Even after expanding to other countries, the company only uses Speyside barrels to blend the whiskey to ensure they hit the same notes.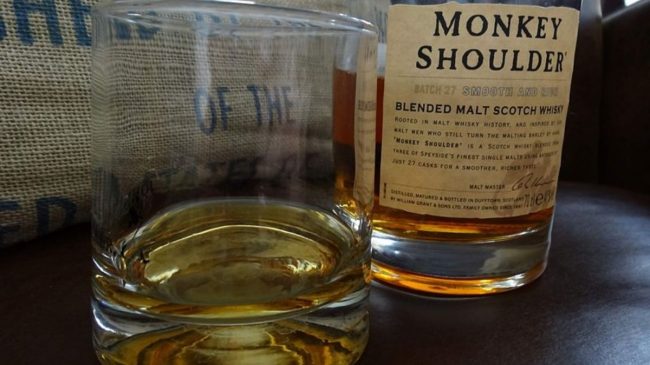 After blending the whiskey into the smaller barrels, it is then married into a larger marrying tun that is continuously filled. The drink is bottled only after the master distiller is happy with the larger tun's quality and consistency. 
The time it takes for the drink to mature is a secret that only the master distiller knows.
During the blending process, the company does not use any other barrel type apart from Speyside distilleries. Speyside distilleries only use ex-bourbon casks that have a low amount of sulfur. As a result, it gives the scotch unique fruity notes and a lightness that is only recognizable in Speyside malts.
How to Drink Monkey Shoulder Whisky
Monkey Shoulder is a malt whisky that is made specifically for mixing quality cocktails. However, you can also drink it neat, over ice, or with a splash of coke. There are no rules that bind how you should drink this malt whisky. You can enjoy it however you like.
It is a popular drink amongst bartenders surpassing even the Johnny walker label in the 2019 brand report of the World's best bars.
There are numerous ways that you can use this casual and playful whisky to create cocktails.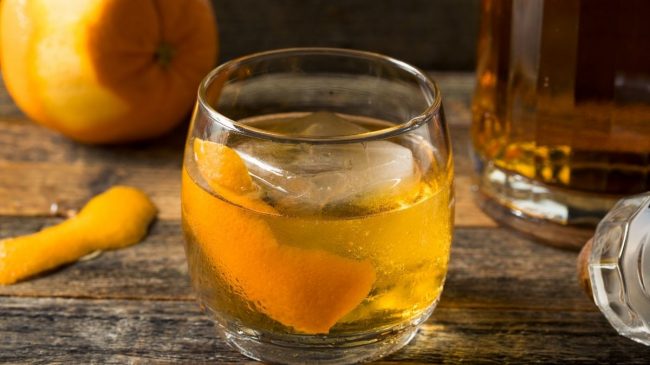 Its diverse flavors match it to a range of other ingredients allowing for a beautiful and enjoyable experience when making cocktails. Therefore, it makes a perfect substitute for almost any of your base spirits when making classic cocktails.
You can also use it instead of Bourbon, rye, or gin. Moreover, it can also work with any drinks that carry citrus notes and pair well with orange notes.
Since its ginger notes are very subtle, you can mix the drink with ginger ale or ginger beer to make the notes explode in your mouth.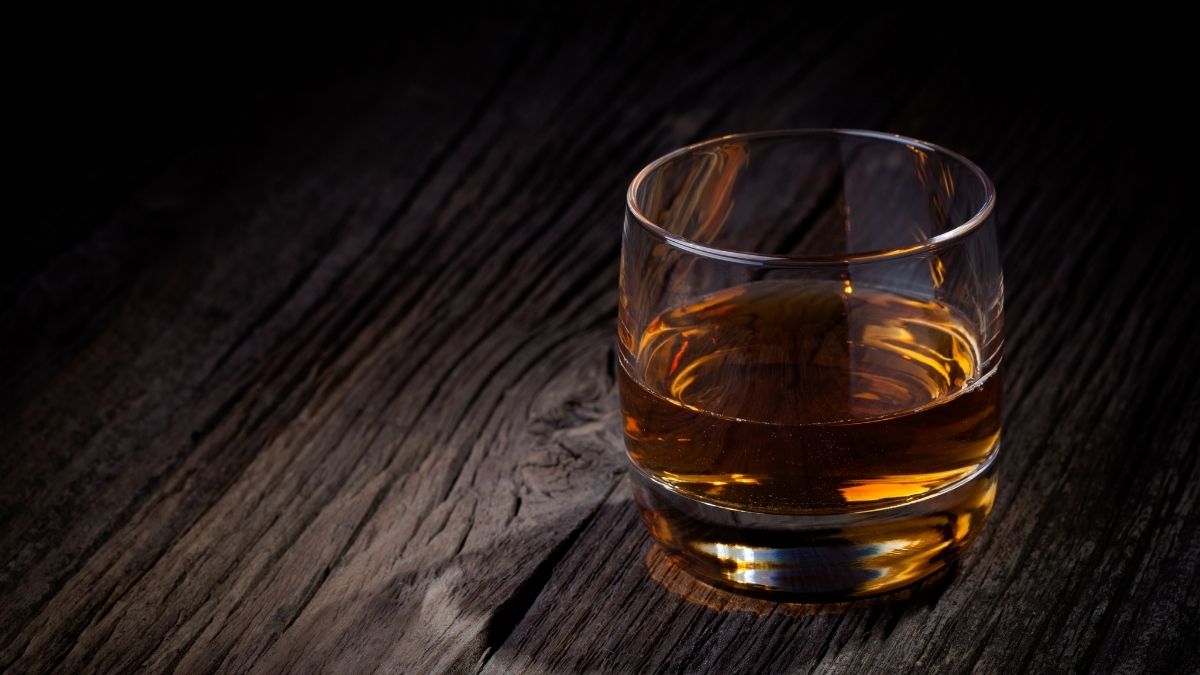 Tasting notes.
What to expect
Smell
Zesty orange with plenty of vanilla notes in the background. It has the sweetness of Bourbon and fruitcake and some hints of winter spice and the mouthwatering aniseed.
Color
The Whisky has a dark golden yellow color. It has a thick and oily look.
Taste
It has a smooth, creamy, and malty taste. There are subtle notes of cereals, barley, cloves, and butterscotch. It also has some suggestions of honey, vanilla, and berry fruit.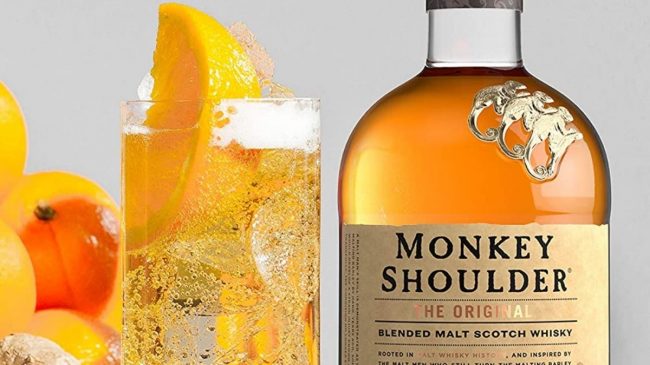 Overall, the scotch whisky is very smooth and carries rich, exciting flavors that remove any restraint on how you can enjoy the drink. When you ask the master distiller Brian Kinsman, he will go to length about the drink's various spicy and citrus notes.
The whisky is very approachable, highlighting numerous flavors that you can only leave to your taste buds.
The Price of Monkey Shoulder Whisky
You can find the Monkey Shoulder whisky for about $30 to $40, depending on your location. The price is very affordable for such a premium quality scotch brand. The fact that you can use it for mixing makes it a great option to stock up.

The Whiskey Rocks verdict.
Is it good?
The Monkey Shoulder is a popular drink today for use in cocktails and as something to sip. The original intent was to make a fun drink, but the cornerstone of everything was to ensure that the drink is of top-notch quality.
As a result, it is good enough to stand on its own and work well in a cocktail. Unlike any other blended malts, the Monkey Shoulder has rich flavor notes that are much easier to mix. 
Therefore, bartenders and mixologists worldwide consider it a must-have drink as they explore new ways of using the spirit.
Final thoughts
The Scotch malt whisky is smooth on the tongue with an excellent array of flavors consisting of grains, sweet, spicy, and citrus. At such a price point, you cannot ask for more from the manufacturers.
The drink is a jack of all trades, allowing you to enjoy it on ice or even with just a splash of soda. If you feel adventurous, you can also try it out in a cocktail.
This post may contain affiliate links.
To help cover the costs to run this site, we include affiliate links to reputable whiskey suppliers at no additional cost to you, from which we may earn a small commission.
The links in question will primarily be found in the price comparison area of our articles. As a value-add, we don't just link. We also use software to find the best available prices.
Full disclosure/privacy policy