Maker's 46 Bourbon review

Our verdict
Overall, it is a tremendous all-around whiskey and is bound to be a popular drinker. If you want a balanced flavor profile and a full finish, the Maker's 46 just might be the option for you.

The longer review
The Maker's 46 is the first new installment of the Maker's Mark Distillery for 54 years. It is, however, ultimately the same that it was back in the 50's. 
The only real difference is that the new version has some extra added spice. However, the intention was never to compete with the older version - instead, Maker's Mark wanted to bring in a new cousin to the old one, for people who like a bit of spice in their whiskey.
It was introduced in 2010 as a new expression, so it's currently celebrating its 10th anniversary. The main innovation was searing French Oak staves in the barrels (with a stave profile of 'number 46') to add that extra layer of flavor compared to the old classic series.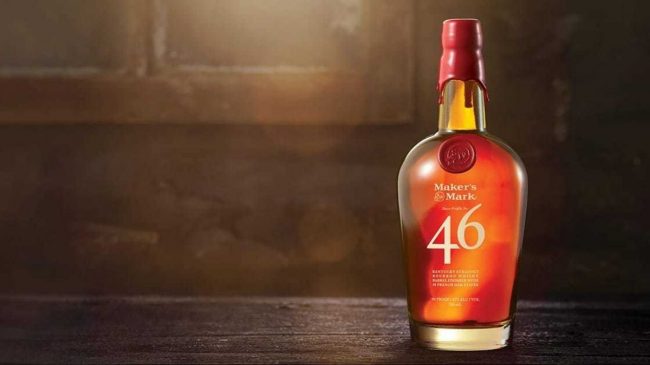 The anniversary edition is bottled at 109.6 proof and to be made with the same traditional recipe. This new edition will be a limited one, and it looks likely to be extremely popular.
In general, the Maker's 46 has a complex taste on the nose, is very amber compared to older whiskeys, and it is aged longer than many other types - including the original one from the 50's. 
For this reason, it's an excellent choice for anyone who likes a strong whiskey that is yet somewhat gentle, and that's why it tends to be a well-loved all-rounder for so many whiskey-lovers.
Who Makes Maker's 46 Bourbon?
The Maker's Mark Distillery makes the Maker's 46 whiskey, as it always has been. 
The distillery is located in the USA on Star Hill Farm in Loretto, KY. This is one of the world's best-loved and most respected whiskey manufacturers, so it is hardly surprising that so many people are keen on the whiskey these people produce.
The company was started by a family known as the Samuels, with Bill Samuels, Sr. beginning in the 50's to create Maker's Mark.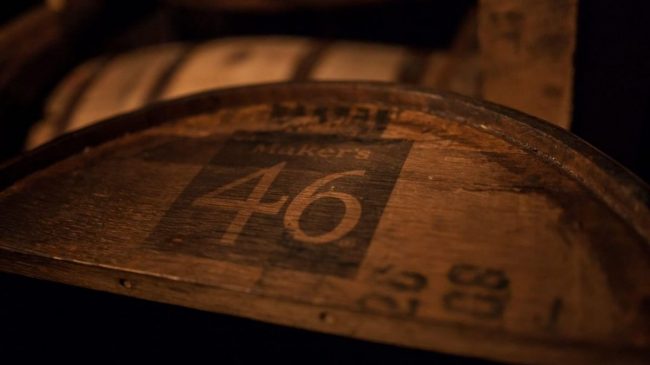 For that, he used the family's trusted, 170-year-old recipe - which he accidentally set on fire as he got to work! Nonetheless, from his experiments with different flavor grains, and many of them from loaves of bread he baked to save time on distillery, he soon produced the world's first batch of Maker's Mark.
He famously wanted a bourbon that wouldn't "blow your ears off," and that is precisely what he produced in Maker's Mark - a delicately sweet and inviting whiskey that would soon become loved around the world.
As well as the Maker's 46, Maker's Mark Distillery also produces a private selection of signature whiskey. But it is the Maker's and the Maker's 46 that they are known for.
What makes the Maker's 46 so delicious and unique? 
Unique seared French oak staves barrels distill the whiskey, giving it a uniquely bold and smooth taste. 
The creators tried many different types of wood but ultimately landed on that oak after discovering just what it did to the whiskey's taste.
Tasting notes.
What to expect
The Maker's 46 is unique in its taste, and this is something that Maker's Mark Distillery is very proud of. Let's take a look at the tasting notes and full flavor profile of the Maker's 46 whiskey in some detail.
Smell
When it comes to the aroma of this beautiful whiskey, it's those French oak staves that come mostly into view. You get the hint of wood staves straight away on the aroma, followed by just a touch of caramel and sweetness under there too.
Color
The whiskey is a very light, caramel-colored amber hue, adding to the smoothness when drinking.
Taste
But what does the Maker's 46 taste like?
Overall, it is known for its quite deep and intense flavors, mainly due to the crescendo you get from that woody flavor from the staves.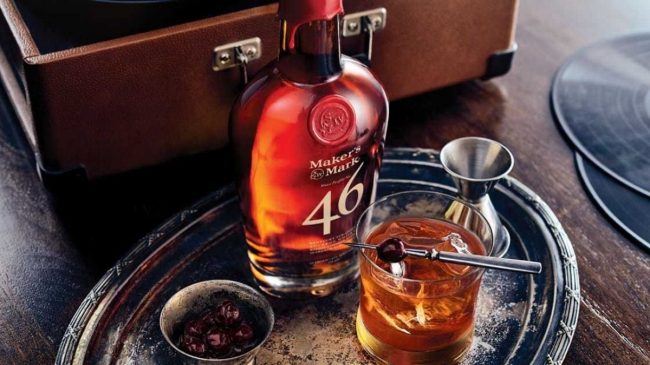 You can also expect those heady notes of vanilla and caramel, which we all love from whiskey, and overall a deep and complex combination of these different notes.
The whiskey is 94 proof, and most people find the finish is smooth and subtle, even while the initial tasting is somewhat strong.
How To Drink Maker's 46?
To make sure that you are thoroughly enjoying the Maker's 46 whiskey, you need to know how best to drink it.
It is well known for its high level of drinkability and the fact that it doesn't necessarily need to be mixed with anything to enjoy it fully. 
However, many people find that its sweetness makes it the perfect choice for a classic whiskey and coke or something similar.
If you don't want to go down that route, you can drink the Maker's 46 neat on the rocks, the way it is intended. You will find that it is very drinkable, and it's a whiskey type that you can enjoy this way every night if you so choose.
Plus, you don't even need to have it on the rocks if you don't want to - this whiskey works just as well neat.
If you are drinking it neat, you should ideally have it at room temperature or slightly cooler.
Keeping it in a dry store cupboard is generally best. If you plan to drink it as part of a cocktail, as in a whiskey and coke, you can choose to have it slightly chilled if you prefer.
It's really up to you, and either way, this is going to be a deliciously drinkable whiskey that you can get a lot of flavor out of every time.
The Whiskey Rocks verdict.
Is it good?
Overall, this is a smooth-drinking and yet strong whiskey, with some interesting notes that can be subtle and powerful. 
For that reason, it's likely to please many whiskey drinkers. If you like a smooth and easy-drinking whiskey, you'll certainly get that here. 
Likewise, if you want a strong throat-burner, you can get that experience with the Maker's 46 too.
The reputable history of Maker's Mark Distillery, combined with a family-oriented love for whiskey, results in a great-tasting and professionally-produced whiskey that is much loved at Whiskey Rocks.
One of its strongest points is the layering of flavor you get: vanilla on top of caramel, with subtle yet noticeable wood flavoring from those French oak staves in the barrels.
If you want an all-around whiskey that works as a sweet drinker and as a mixer, then the Maker's 46 will likely be a perfect choice for you. 
All in all, there is plenty to love about this particular whiskey. It is a classic recipe updated for the 21st Century, and for that, it is a very exciting whiskey indeed.
This post may contain affiliate links.
To help cover the costs to run this site, we include affiliate links to reputable whiskey suppliers at no additional cost to you, from which we may earn a small commission.
The links in question will primarily be found in the price comparison area of our articles. As a value-add, we don't just link. We also use software to find the best available prices.
Full disclosure/privacy policy