Our verdict
Larceny Whiskey gets its name from John E. Fitzgerald, who was a treasury agent. He used his keys to Kentucky bourbon warehouses to steal premium bourbon barrels and bottle them under his brand Old Fitzgerald. Over the years, the Old Fitz brand changed many hands but is now owned by Heaven hill. It's a robust sipping bourbon that has a refined yet rowdy texture. It pulls off the wheated softness without becoming weak and spineless. It has a bit of an oaky kick to it that pairs well with the sweetness.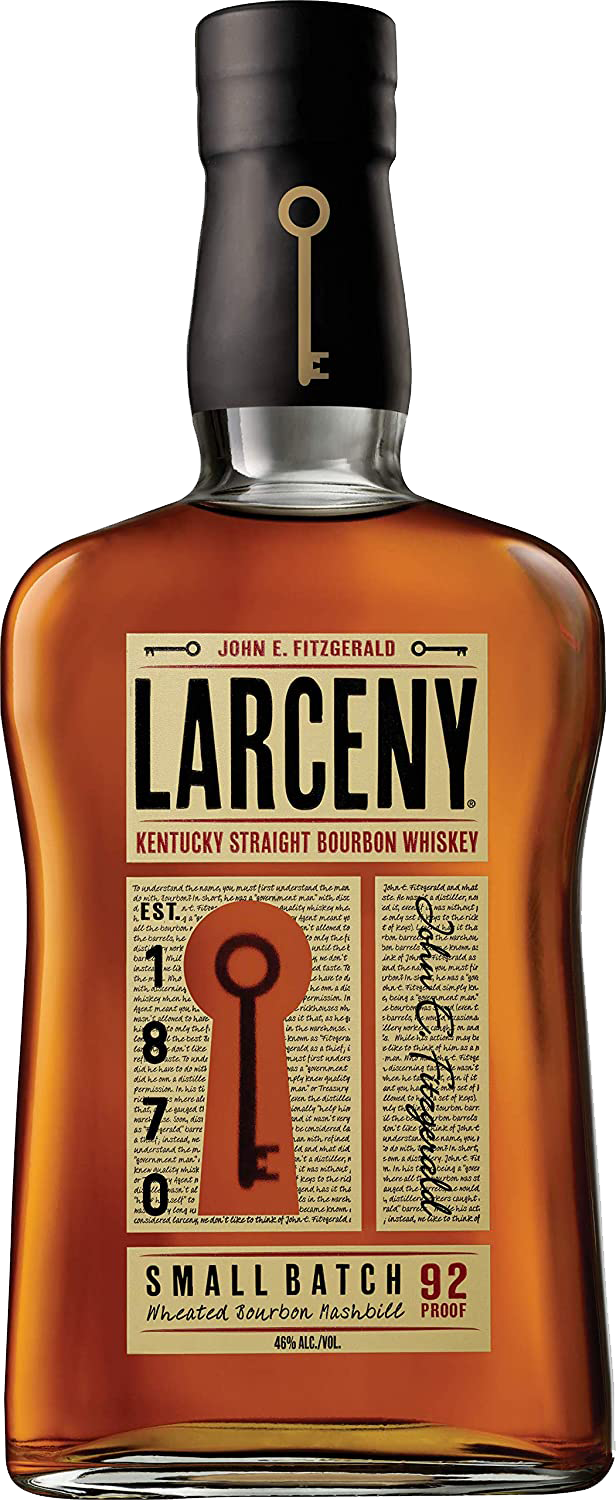 The longer review
This whiskey has an amusing but somewhat complicated story. Larceny was inspired by a thief. John F. Fitzgerald was an agent for the U.S. Treasury Department in the late 1800s and early 1900s. Because of his position, he had access to bourbon storage rick warehouses. He would break into these storage facilities and steal bourbon from the finest barrels for himself. Fitzgerald built a distillery in Frankfort, Kentucky, in the 1870s, shortly after the civil war ended. The brand Old Fitzgerald was then registered in the 1880s by Solomon C. Herbst. Old Fitz was later sold during probation to the late Julian "Pappy" Van Winkle, who made it his signature label.
Larceny is the "heir to the wheated bourbons that make up the historic Old Fitzgerald franchise" that Heaven Hill acquired in 1999. Larceny was introduced to the market in September 2012 and continues the Old Fitzgerald tradition of using wheat in place of rye as the third and smallest grain ingredient in the recipe. The use of winter wheat replaces the spicier, fruitier flavor notes that rye provides with a softer, rounder character that is the hallmark of Old Fitzgerald and other wheated bourbons like Maker's Mark and the Van Winkle line. The brand was launched in 2012 and has become one of the decade's most successful new bourbon brands.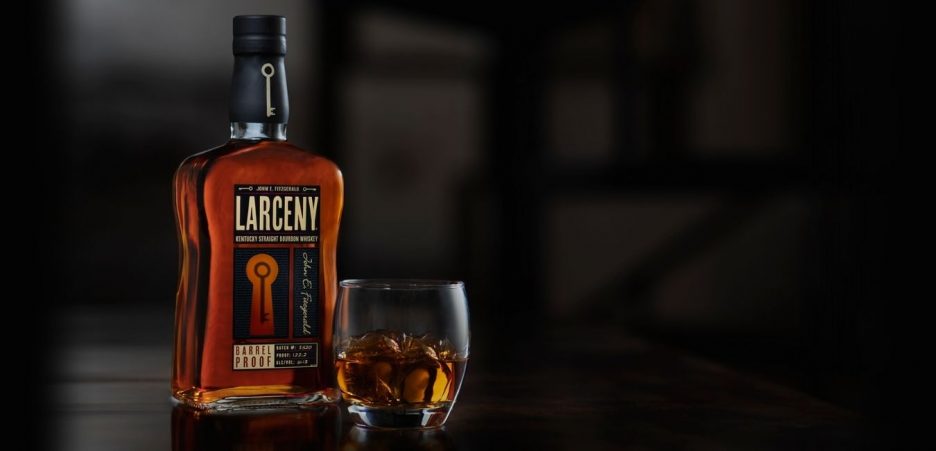 Where is Larceny Whiskey Made?
Heaven Hill handcrafts larceny Whiskey in Bardstown, KY. Founded in 1935, it's the world's largest independent, family-owned, and operated single-site whiskey distillery in America. Even though the whiskey is distilled in one place, Larceny bourbons are made with barrels from over 55 rick warehouses across six different sites.
How is Larceny Whiskey Made?
Larceny Whiskey is a true small-batch bourbon produced from 100 or fewer barrels selected from Heaven Hill's open rick warehouses in Nelson County, Kentucky. Larceny is all about wheat. It uses wheat instead of rye in its bourbon mashbill. Larceny uses 25 percent more wheat than other wheated bourbons. This gives a smoother and rounder character. Its mashbill comprises of 68% corn, 20% wheat, and 12% malted barley. The wheat is sourced directly from local farms and gets fermented using Kentucky limestone water.
After distillation, the whiskey is barreled and aged. The barrels are stored in open rick warehouses. This exposes the barrels to extreme temperature changes year after year, impacting the final taste and proof of the bourbon inside.
Larceny Whiskey is bottled at a full-bodied 92 proof, or 46% alcohol by volume.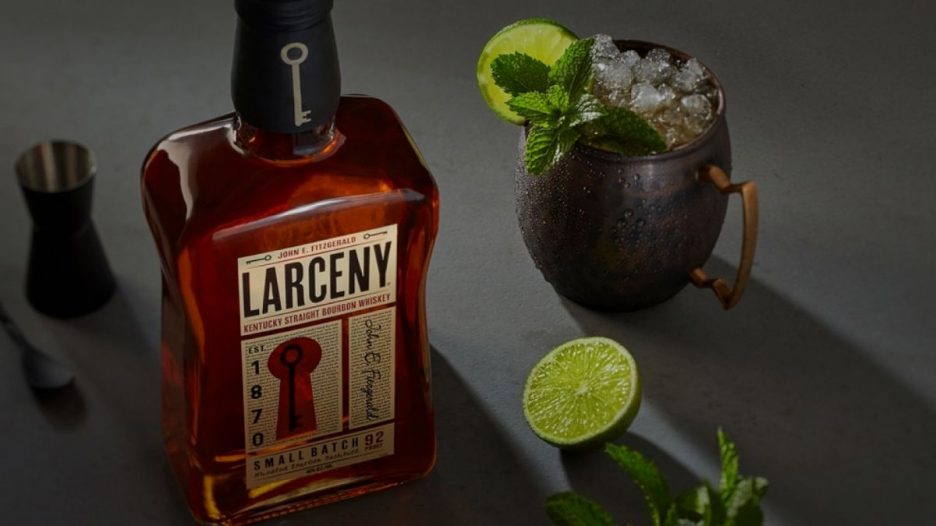 Larceny Whiskey Variations
Larceny follows the rule of threes by offering three different bourbon expressions that are all wheated with proofs ranging from 92 to 122.2:
Larceny Small Batch
This is the most popular Larceny Whiskey offering. It's produced by combining the contents of a few different select barrels.
Larceny Barrel Proof
This is bottled without any additions, i.e. it isn't diluted with water. It has a more intense and full flavor profile.
Old Fitzgerald Bottled-In-Bond
This is like Larceny Barrel Proof but is more intense and full-bodied in flavor. The fact that it's not mixed with water helps to maintain a higher proof.

Tasting notes.
What to expect
Larceny Whiskey is a wheat-heavy bourbon made in a classic style. This gives it a rich color, smell, and flavor profile instead of traditional bourbons that contain more rye.
Smell
A very pleasant blend of cherries, Benedictine, corn, and a touch of oak and spice. The scents are inviting but not rich in delivery.
Color
Deep copper amber shade with hints of red. This lovely color tells you that you're in for a treat.
Taste
Larceny Whiskey tastes both sweet and savory. First up, there's a caramel and vanilla taste followed by a mix of cherries, spiced cider, sugar malt, molasses, and a hint of spiced lemon cake nicely wrapped up in an oak package.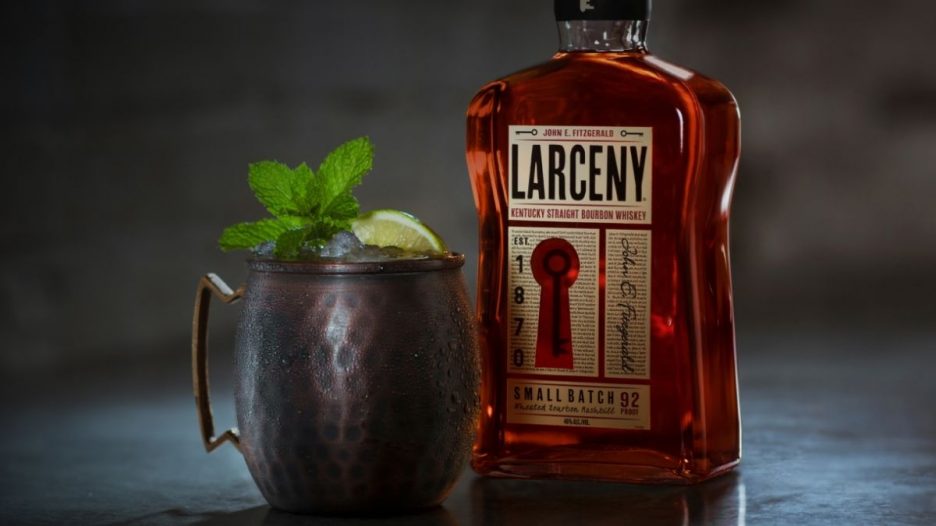 How to drink Larceny Whiskey
Overall, Larceny Whiskey is far smoother and easier to drink than one might think a 92proof bourbon would be. It's full of flavor and has a bit of an oaky kick to it that pairs well with the sweetness. It pulls off the wheated softness without becoming weak ad spineless.
Neat
Larceny Whiskey is good enough to be enjoyed on its own. The lovely weighty mouthfeel and the spiced cherries make Larceny Whiskey one hell of a sipping bourbon.
On ice
Larceny Whiskey with ice perfectly complements a hearty meal, thanks to those wonderful sweet wheat qualities.
Cocktails
Some of the most popular cocktails today feature bourbon as the world of bourbon gains new followers each year. Larceny Whiskey is cheap enough to play around with. It makes a great Manhattan playing well with the other ingredients. It's also great for Horses Neck, Old Fashioned, and Whiskey Sour.

The Whiskey Rocks verdict.
Is it good?
Larceny is a very easy-going and affable whiskey. It's one whiskey you could drink and not get bored. If you're new to the world of bourbon and are looking for a favorite, you'll love Larceny Whiskey for its flavor and reasonable price. Since everyone has their preference when it comes to bourbon, we suggest that you stick to traditional rye bourbons if you don't like wheated bourbons like Larceny Whiskey.
This post may contain affiliate links.
To help cover the costs to run this site, we include affiliate links to reputable whiskey suppliers at no additional cost to you, from which we may earn a small commission.
The links in question will primarily be found in the price comparison area of our articles. As a value-add, we don't just link. We also use software to find the best available prices.
Full disclosure/privacy policy