Jura Journey Whisky Review

Our verdict
Jura Journey is a deliciously golden whiskey with a distinct lactic vanilla taste. It has layers of peat and damp wood, with sweet medium-length honey and spice finish. Delightful.

The longer review
Regular readers have most likely read our review of Jura Elixir Single Malt Whisky Review, and you'll know that it got a 5-star rating. But that leads us nicely to the Jura Journey Whiskey. 
Since we've covered the history of the distillery, we can dive straight into the details. 

Tasting notes.
What to expect
Smell
Jura Journey has a somewhat earthy nose. You'll need to take a few deep sniffs and wait for all of the scents to unfold. The first note you're going to get is a big hit of peat that slowly falls back while the Jura vanilla becomes more prominent. After a moment, you'll feel like you're transported to a cabin in the woods in the Highlands.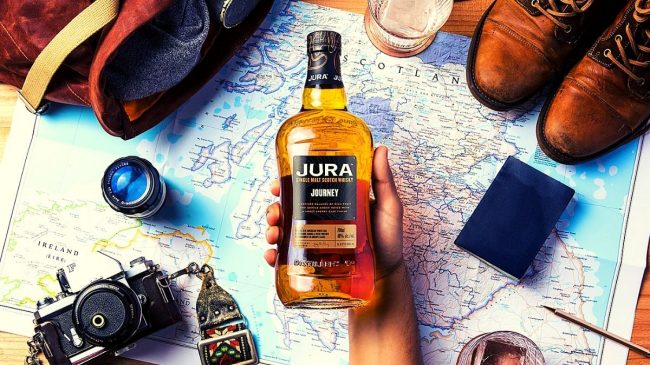 Why? Well, because after those initial heavy hitters, you're treated to damp wood, buttery apples, toffee, nectarines, and smokey pears. 
Color
A light golden color, with some hints of auburn. 
Taste
The nose and the taste lineup. The taste starts with the soft peat smoke, and then the wave of vanilla washes over you.
You're not done yet, though.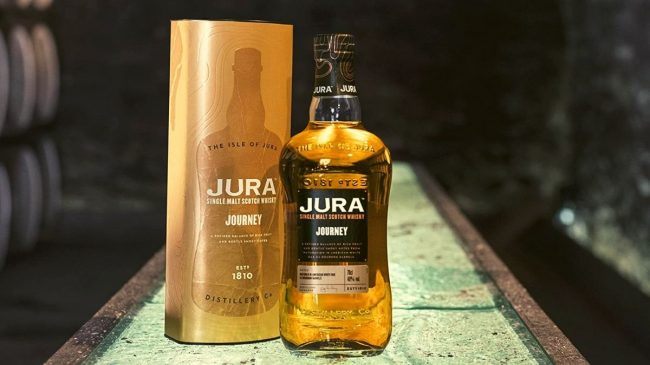 Soon after, hints of smokey pear and crisp green apples arrive. As you glide towards the finish, you'll get some bitterness and oaky spice. It is a soft and sweet start that feels like toffee sauce, cloves, and nutmeg. For those who are letting each note wash over them, they'll get subtle cocoa hits too. 
The finish on the Jura Journey is medium length, but it is clean and crisps too. For a basic whiskey, you get a decent finish. If you're wondering what happened to the cocoa, you'll feel the cocoa fade out the apple. Expect the peat to linger with oaky spices and honey. There is a touch of dryness and a hint of vanilla too. 

The Whiskey Rocks verdict.
Is it good?
The vanilla and the fruitiness comes through quickly, but what makes the Jura Journey and interesting whiskey is the peat and the casks. Jura Journey is a mature exclusive that is aged in American oak barrels and is a no-age-statement. 
Whiskey doesn't need to be a complex layering of fruits, herbs, spices, and casks to be good. Jura Journey is a simple and satisfying whiskey. The quality of the bourbon casks is obvious because the vanilla and the fruit are evident. These flavors are carefully balanced out with the peat.
A great combination that leaves you with a rounded expression. 
The lactic vanilla is what makes this an obvious Jura, and the wood notes are the final nail in the coffin to identify this whiskey in their lineup.
If you're new to the Jura brand, then here is the perfect place. Jura Journey isn't a complicated drink, but it still has many layers to it at a relatively friendly price point.
This post may contain affiliate links.
To help cover the costs to run this site, we include affiliate links to reputable whiskey suppliers at no additional cost to you, from which we may earn a small commission.
The links in question will primarily be found in the price comparison area of our articles. As a value-add, we don't just link. We also use software to find the best available prices.
Full disclosure/privacy policy