Our verdict
Produced to honor one of the most outstanding whiskey entrepreneurs of modern history, Mr. John Barr Cumming, John Barr Scotch is a superior blended scotch whiskey produced by the whiskey makers at Whyte & Mackay.

The longer review
It's believed that John Barr Scotch was designed to compete neck-to-neck with Johnnie Walker, Diageo's famous workhorse of a brand. There's a considerable resemblance in the square bottling and labeling.
John Barr Scotch History
In a bid to protect its overseas agents, the DCL, after being ordered by the European Commission to address issues concerning dual pricing of goods, took Johnnie Walker Red Label and several other blends off the market. This distinguished blend was introduced in 1978 to compensate for a legal skirmish that took Johnnie Walker Red Label off UK store shelves. The brand was put together by the same Johnnie Walker team but licensed to George Cowie & Sons Ltd, closely associated with Speyside's Mortlach Distillery.
In the early 1980s, John Barr Scotch was popular in the Midlands and northwest England but never featured among the top players nationally. The label was sold off to Invergordon Distillers along with Claymore and Usher's when Guinness took over the DCL in 1986. When Invergordon was taken over by Whyte & Mackay in 1993, its master blender Richard Paterson, became the man behind John Barr Scotch whiskey's make-up, improving it significantly.
John Barr Scotch was relaunched in early 2017 with new contemporary packaging embossed with the words 'Since 1881' in reference to Whyte & Mackay's heritage.
Where is John Barr Scotch made?
John Barr Scotch is produced by Whyte & Mackay, one of Scotland's most esteemed whiskey houses. This establishment was started by James Whyte and Charles Mackay when they began their career as whiskey merchants in Glasgow in 1881.
Today, this distillery has earned the title of UK SPIRITS PRODUCER OF THE YEAR by The International Wine And Spirits Competition.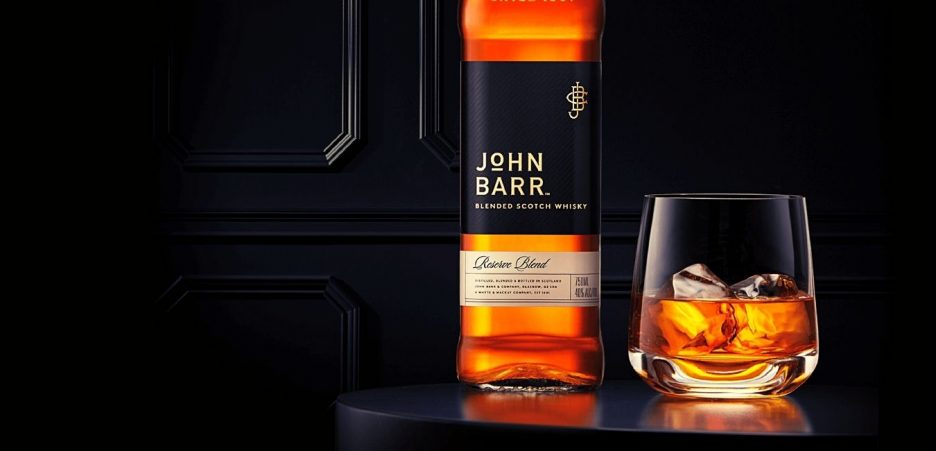 How is John Barr Scotch made?
John Barr finest blend is a Scotch whiskey that is classified as blended scotch whiskey. This smoky blend contains 40 constituent whiskeys, often from different distilleries, including Speyside and Highland malt whiskeys up to 15 years old. The process marries Highland Malt and grain whiskeys for structure and richness and Speyside varieties for a mellow finish.
The individual percentage of each malt whiskey may be small, but each contributes its unique character to the blend. This revered blend in the Whyte & Mackay portfolio is carefully crafted by the house's 3rd generation master blender.
John Barr Scotch Whiskey Variations
After the brand was relaunched in 2012, it was available to consumers in two expressions that were intended to compete directly against Johnnie Walker Red Label and Johnnie Walker Black Label:
John Barr Finest (red label) - This standard harmonious blend is smooth, elegant, and refined.
John Barr Reserve (black label) - This premium blend contains older malt and a smokier profile.

Tasting notes.
What to expect
Being one blended by legendary blender Richard Paterson, John Barr is a rich style of scotch whiskey that does pretty okay for a $23 price. It has a mild aroma and a middling palate marred by a very common grain-whiskey-induced, vodka-like note.
Smell
The scent of this whiskey is very slightly peaty over a mildly sweet vanilla malt with a touch of faint caramel. If you spend more time exploring, you'll pick up some bit of leathery scent.
Color
This whiskey is a warming golden amber in color.
Taste
Mildly syrupy body. Sweet and malt transition to caramel and a hint of black pepper. The grain elements are revealed on the tongue, with a twinge of young grain that comes off as sourness.
How to drink John Barr Scotch
John Barr Scotch is one whiskey that's quite limiting in how you can drink it. Thankfully, the taste is somewhat nuanced and exciting for a blend. There's enough boldness and presence here that it's sippable neat. Pour it in a glass and enjoy it neat; your first sip will open up into a lot of rich fruit, including dates and apricot. Giving it enough time to sit on your tongue, you might get some tastes of clove, white chocolate, and maple.
It doesn't mix very well with coke and other sodas. We also recommend that you avoid adding water or ice to it. A few drops of water or a few pieces of ice can muddle the aroma, releasing some nondescript fruit notes but confusing the rest.

The Whiskey Rocks verdict.
Is it good?
This scotch whiskey is one spirit that competes favorably well with other scotches and tends to be a love-it-or-hate-it type of product.
John Barr Scotch is for you if you always have fun drinking something with clear highs and lows that averages evenly than something boring through and through. However, this scotch whisky isn't for you if you don't like spirits with a musty, scummy kind of leather scent.
This post may contain affiliate links.
To help cover the costs to run this site, we include affiliate links to reputable whiskey suppliers at no additional cost to you, from which we may earn a small commission.
The links in question will primarily be found in the price comparison area of our articles. As a value-add, we don't just link. We also use software to find the best available prices.
Full disclosure/privacy policy