Fireball Cinnamon Whisky Review

Our verdict
Fireball Cinnamon Whisky is made with Canadian whisky, natural cinnamon flavors, and sweeteners. Its warm palatable zing and versatility have contributed significantly to make it a favorite drink among many whiskey drinkers. Love it or hate it, Fireball Cinnamon Whisky has made a name for itself in the spirits world.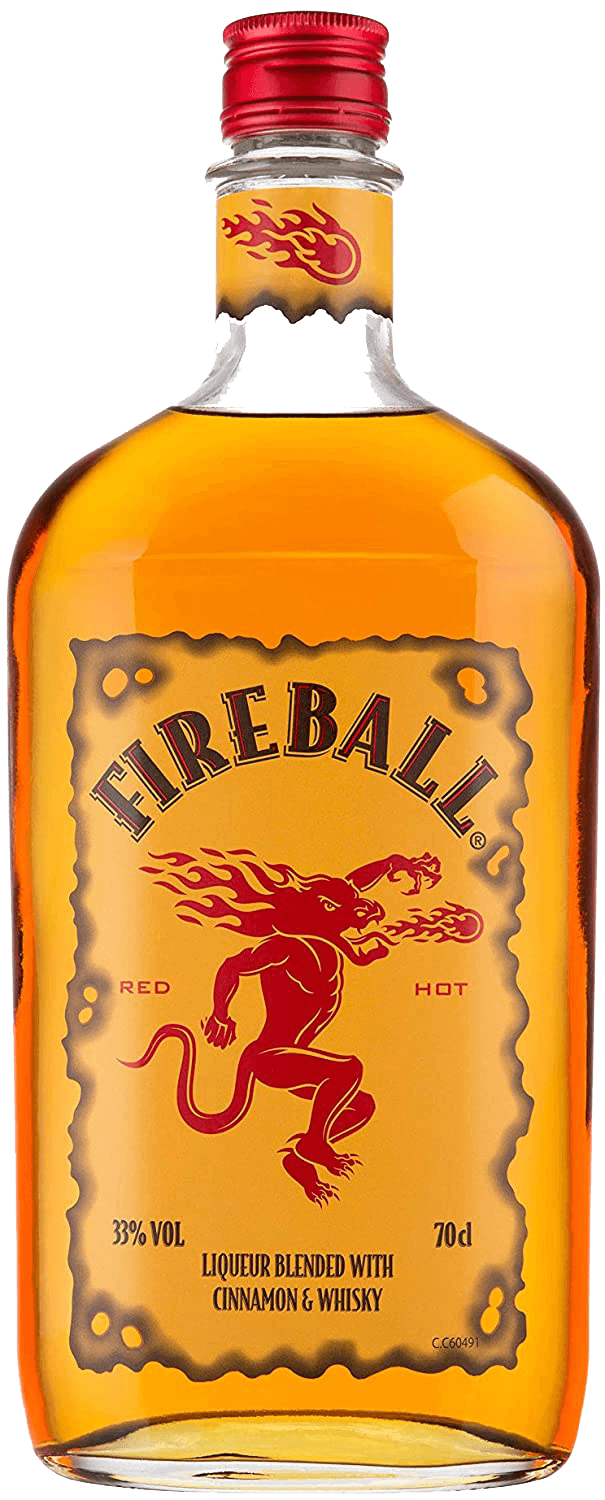 The longer review
Fireball Cinnamon Whisky has taken bars, parties, and liquor stores by storm. The spirit has a strong cinnamon taste but isn't too sweet, which is a huge plus. There are more than enough reasons to love this must-have whisky:
Easy to remember. Fireball Cinnamon Whisky is an easy shot to remember making it a quick order, especially for large groups.
Easy to drink. The cinnamon makes Fireball Cinnamon Whisky a pretty good drink that won't lead you to cringe when you hear its name.
Affordable. A couple of dollars' difference between one drink and another can mean a lot for some people. Fireball Cinnamon Whisky is fairly priced, making it affordable for all classes.
History of Fireball Cinnamon Whisky
The flavored Fireball Cinnamon Whisky has been around for about four decades now. It was introduced in the mid-'80s but was only available in Canada under the "Dr.McGillicuddy's Fireball Cinnamon Whisky," named after the mythical Aloysius Percival McGillicuddy. It was part of a line of flavored schnapps developed by Seagram. In 1989, Dr.McGillicuddy's brand rights and formula were sold to The Sazerac Company by Joseph E. Seagram & Sons. In 2007, Dr.McGillicuddy's rebranded to Fireball Cinnamon Whisky, giving it a new look, but the same old recipe was used. This greatly helped it spread across the country like wildfire and became a household name.
Where is Fireball Cinnamon Whisky made?
Before Dr.McGillicuddy's Fireball Cinnamon Whisky changed its name to Fireball Cinnamon Whisky, it was only made in Canada. It was later launched in the US in 2001. Its makers, Sazerac, are based in Louisiana. This explains why the brand doesn't use the UK spelling of whiskey. According to the manufacturers, it only contains Canadian whisky.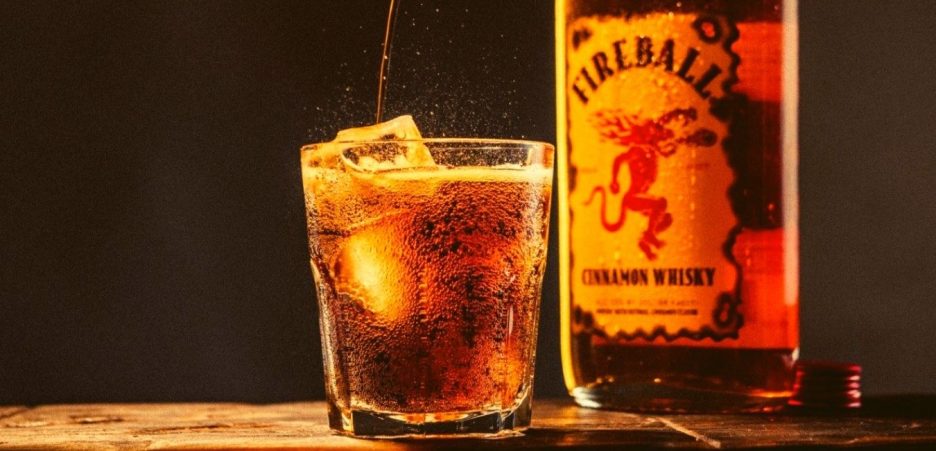 How is Fireball Cinnamon Whisky made?
The Fireball Cinnamon Whisky produced by Sazerac is a mixture of Canadian whisky, cinnamon flavor, and sweeteners. Genuine and natural cinnamon is used to create the flavor. Like any other whiskey, Fireball Cinnamon Whisky is distilled from fermented grain mash that's left to age in wooden barrels. It's developed using a secret proprietary recipe that captures the essence of the Fireball taste experience that consumers love.
As of 2018, all versions of Fireball Cinnamon Whisky do not use propylene glycol (PG). Only natural ingredients are used for shelf sustainability. This makes Fireball Cinnamon Whisky a perfectly safe drink.
Fireball Cinnamon Whisky Variations
Fireball offers a wide variety of drinking convenience to its fans. Whereas Fireball Cinnamon Whisky is a whisky-based beverage, other Fireball Cinnamon products are malt-based and wine-based. These great-tasting alcoholic beverages may be sold in beer, malt beverages, and wines, offering the taste experience that Fireball fans love but with lower alcohol content.
Fireball Cinnamon Whisky is 66 proof (33% ABV)
Fireball Cinnamon malt-based is 33 proof (16.5% ABV)
Fireball Cinnamon wine-based is 42 proof (21% ABV)

Tasting notes.
What to expect
Fireball Cinnamon Whisky is highly prized for its cinnamon flavor notes. The kick of cinnamon caused the liquor to go from almost total anonymity to massive popularity in such a short time. Your Friday and Saturday nights are not complete without this popular "go-to" whisky.
Smell
The liquor has an intense sweet cinnamon smell that gives a solid punch of sweet candy aroma.
Color
The appearance is a warm shade between orange, yellow, and golden brown.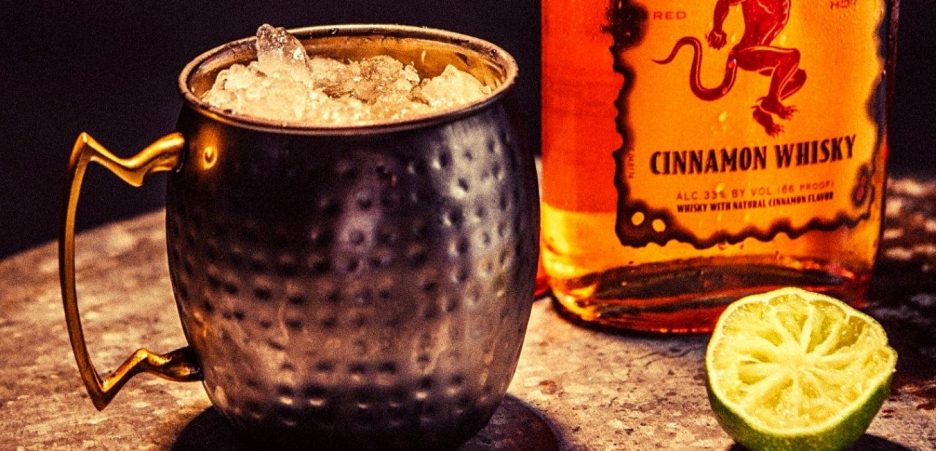 Taste
Its taste is incredibly cinnamony, making it a drink for cinnamon lovers. The spicy burn gradually builds up after taking a sip but doesn't reach levels requiring you to grab a fire extinguisher. After you swallow, the intensity drops, leaving a refreshing subtle pepper-like taste at the back.
How to drink Fireball Cinnamon Whisky
Besides taking Fireball Cinnamon Whisky shots or sipping it as a diluted after-work treat, you can use it in tons of cocktail recipes and hot drinks as well. Here are some of the simple ways you can drink Fireball Cinnamon Whisky to explore the different flavor combinations:
Neat
The easiest way to drink Fireball Cinnamon Whisky would be to take shots. Its smooth flavor delivers a subtle kick with a sweet aftertaste.
On the rocks
Taking Fireball Cinnamon Whisky with ice chills it and adds a more sophisticated touch to its taste.
Diluted with water or a mixer
Using a chaser impacts the level of 'tipsy' or 'drunk' you may feel, and the aftermath is felt the following day. You can dilute the Fireball Cinnamon Whisky with water, coke, or any soda of your choice.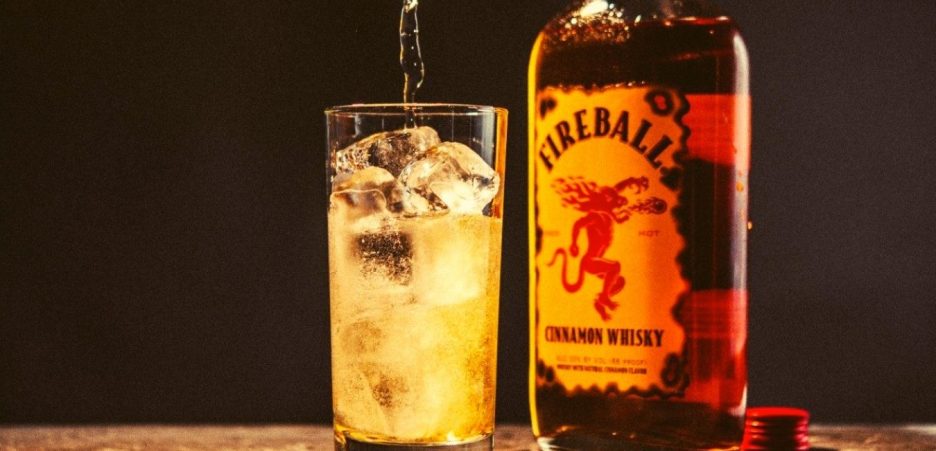 Cocktails
Adding Fireball Cinnamon Whisky to cocktails adds character to the drink. There are various cocktail drinks recommended on the Fireball Cinnamon Whisky official website that use it as the main ingredient. These include cinnamon toast shot, F-Bomb, Ciderball, and dragon's blood which contains one part Fireball Cinnamon Whisky and one part cranberry juice.
Feel free to add your twist to your cocktails.
Add it to food
Some people add Fireball Cinnamon Whisky to food to give it a sweet-spicy kick. If you enjoy barbequing, feel free to add some Fireball Cinnamon Whisky to the meat.

The Whiskey Rocks verdict.
Is it good?
Fireball Cinnamon Whisky is neat, unbelievably smooth, and 100% safe to drink. There are numerous cinnamon whiskies in the market, but this stands out thanks to its ease of drinkability and affordability.
As you enjoy your Fireball Cinnamon Whisky, drink responsibly to avoid getting in fights or accidents.
Who'd like it?
If you're a newbie whisky drinker who has always loved the kick of cinnamon, then Fireball Cinnamon Whisky might be the drink for you. This drink has somehow gained popularity not only in college parties but in bars globally, thanks to its affordability.
Who wouldn't like it?
If you don't like flavored whiskeys, you'll, most probably, not enjoy Fireball Cinnamon Whisky, which has a strong cinnamon taste. Also, if you enjoy very sweet drinks, then Fireball Cinnamon Whisky, you might not like this spirit.
This post may contain affiliate links.
To help cover the costs to run this site, we include affiliate links to reputable whiskey suppliers at no additional cost to you, from which we may earn a small commission.
The links in question will primarily be found in the price comparison area of our articles. As a value-add, we don't just link. We also use software to find the best available prices.
Full disclosure/privacy policy