Crown Royal Whiskey Review

Our verdict
Also known as Seagram's Crown Royal, the Crown Royal is one of the most loved whiskey brands in the world. This blend is a fine representative of the Canadian style, typically lighter and dryer than American whiskeys, with a hint of spicy rye.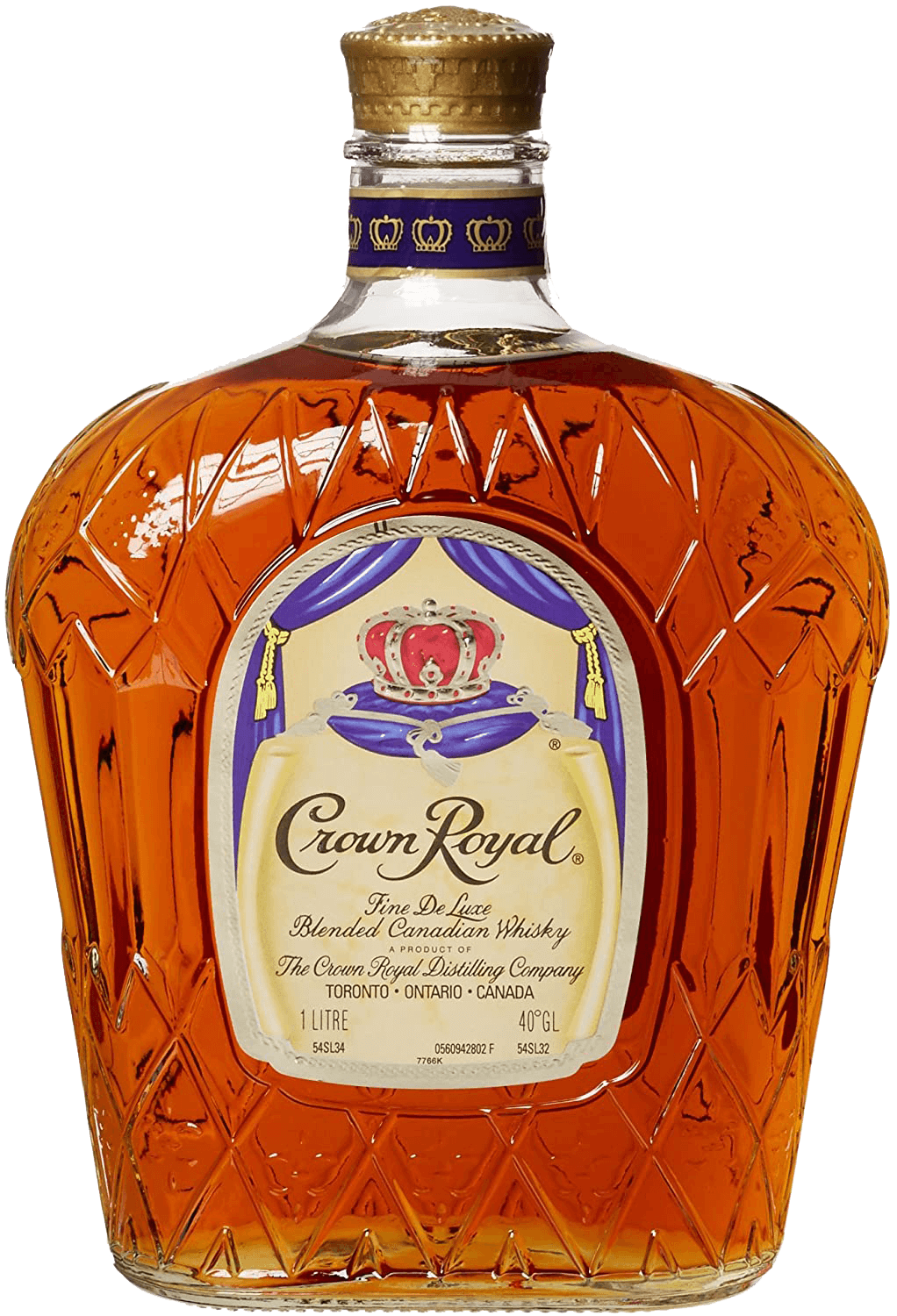 The longer review
This finely crafted whiskey is one of the smoothest that Canadian whiskey lovers have come to know and love since 1939.
Crown Royal Whiskey History
This whiskey was created in honor of King George VI and his wife Queen Elizabeth's visit in 1939. This was the first time reigning monarchs had visited Canada. They arrived in a boat and traveled the vast North American distance by train. The whiskey was an exceptionally generous entrepreneurial gift crafted for the Royal couple by Samuel Bronfman, president of The House of Seagram. The train carrying the monarchs was stocked with 10 cases of the royal blend, and rumors of the unrivaled whiskey fit for a king spread quickly.
The whiskey was sold in Canada until the 1960s, when it was introduced to international markets. Since then, it has been a top-selling Canadian whiskey.
Where is Crown Royal Whiskey made?
This blended Canadian whiskey is created by Seagram and owned by Diageo since 2000. Its production is done sorely in Gimli, Manitoba, while the blending is done in Amherstburg, Ontario.
Crown Royal's distillery is nestled on the edge of Lake Winnipeg in Gimli. The property stretches over three hundred and sixty scenic acres with fifty-one warehouses and one still house.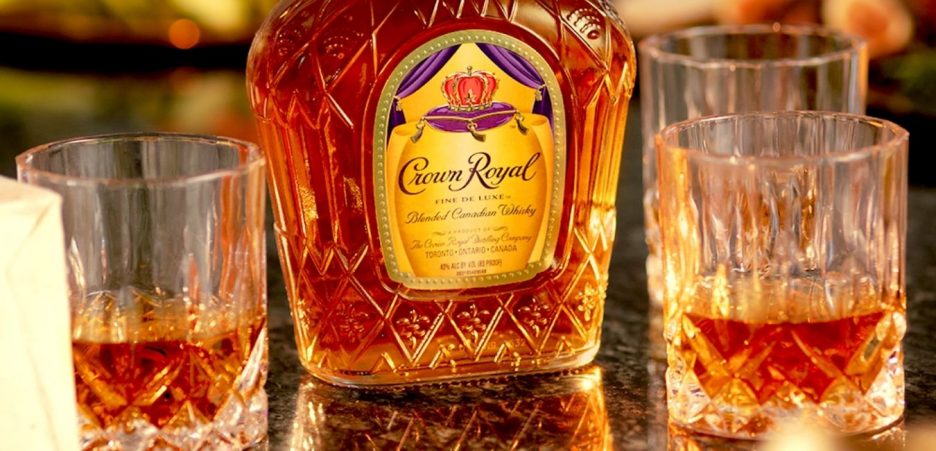 How is Crown Royal Whiskey made?
The production of Crown Royal uses 10,000 bushels of corn (64%), rye (31.5%), and barley (4.5%) daily. All these are sourced from Manitoba and surrounding provinces. Seven hundred fifty thousand imperial gallons of water naturally filtered through the limestone beneath the lake. The spirit is aged in oak barrels for at least three years.
Around 76 employees at the distillery help with distilling, maturing, blending, and running the distillery 24/7. They follow in the generations of family members who made Crown Royal before them. Years later today, and every drop of Crown Royal is crafted to meet the same uncompromising standards, making it the finest whiskey of all.
Crown Royal Whiskey variations
Crown Whiskey produces several blended whiskeys, and each is created using the finely-tuned skill that has become a signature for Canadian whiskey blenders. Some of the Crown Royal Whiskey variations include:
Crown Royal Deluxe - This is the most common expression available and is the standard for excellence for Canadian whiskey. It's an extraordinary blend of 50 different full-bodied Canadian whiskeys that is then aged until deemed acceptable.
Crown Royal Black - This signature expression is a rich and flavorful blend of Canadian whiskey. It's matured to perfection in charred oak barrels and blended at a higher proof for a richer texture and bold finish.
Crown Royal Blender's Mash - This variation showcases the warm vanilla and subtle oaky notes of the beloved corn-heavy whiskeys. Its famous smooth finish allows the whiskey to stand on its own.
Crown Royal Northern Harvest Rye - This variation combines the distinctive flavor of Canadian rye grain with the unmistakable smoothness of Crown Royal for a truly exceptional Canadian whiskey.
Crown Royal Wine Barrel Finished - This variation is finished in Cabernet Sauvignon wine barrels. The result is an intriguing new character that is still unmistakably Crown Royal.
Crown Royal Reserve - Thanks to its body and taste, this blend achieves exceptional depth. The end result is a creamy, rich, reserve-grade blend with sharp clove and cinnamon top points of rye.
Crown Royal XO - This elegant whiskey is a smooth expression of a deliciously balanced complex with hints of vanilla, spice, and rich dry fruit.
Crown Royal XR - This rare handcrafted unique blend comprises dried fruits and honey in harmonious balance with spicy notes of Canadian rye, finishing in a lovely, round taste of raisins, cocoa, and brown sugar.
Other Crown Royal Whiskey variations are Crown Royal Peach Flavored whiskey, Crown Royal Texas Mesquite, Crown Royal Salted Caramel Flavored whiskey, Crown Royal Vanilla, Crown Royal Regal Apple, Crown Royal Retired XR, Crown Royal Retired Honey, Crown Royal Retired Cornerstone, and Crown Royal Retired Maple. They all have great taste, but one thing that makes them stand out, even more is the purple-colored cloth bag with gold trim that every bottle comes wrapped in.

Tasting notes.
What to expect
Crown Royal Whiskey has amazing complexity and deep, robust flavors. It is full-bodied yet delicately smooth and creamy.
Smell
Corn dominates the nose, followed by notes of rye spice, vanilla, caramel sweetness, char, and oak. You can also smell some light notes of raw grain and brown sugar.
Color
When poured into a glass, the whiskey has a rich golden amber appearance.
Taste
You can taste perfectly balanced hints of vanilla, subtle spice, and rich dried fruit. The finish is long and lingering and quite smooth.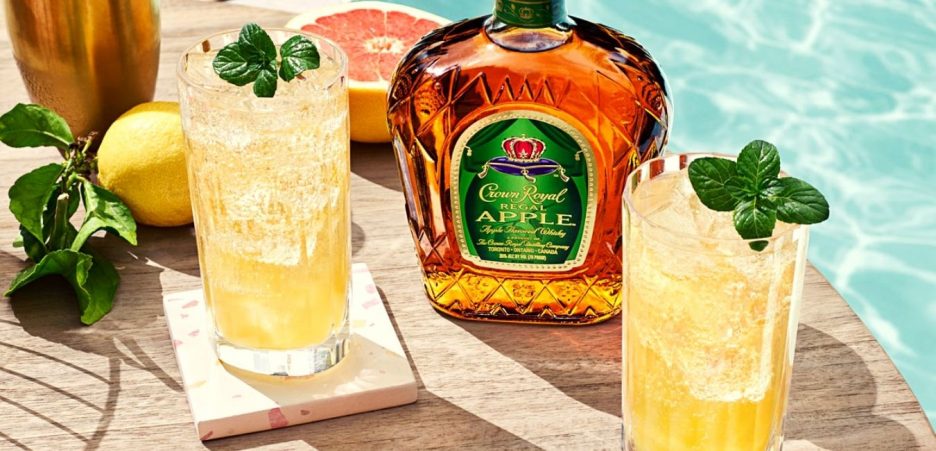 How to drink Crown Royal Whiskey
Sometimes the simplest drinks are the most sophisticated. Crown Royal Whiskey is a versatile drink that may be enjoyed in a couple of different ways. You can enjoy the balanced smoothness neat or in a cocktail. Keep exploring to find what works for you.
1. Neat
Serving Crown Royal Whiskey neat means that you enjoy it on its own without mixers and at room temperature. If you're trying it for the first time, this is the best way to try it.
Keep in mind that the type of glass you use might compromise the taste. For example, plastic tumbler glasses can taint the flavor of the whiskey. A specialty whiskey glass is the best option as the curvature of the glass concentrates the vapors and flavors for a great drinking experience.
2. A few drops of water
Adding a few drops of water has the effect of opening up the whiskey aromas and making it more enjoyable. This is helpful in opening up your palate so you can detect even the more subtle flavor notes that may be hard to detect at first.
This method minimizes the impact of each sip but still maintains the flavors.
3. With ice
This is an excellent option for those who don't enjoy their drink at room temperature. If you find the Crown Royal Whiskey taste too intense in its unadulterated form and like to keep it simple, serve the whiskey with ice. Take small sips and roll the whiskey around in your mouth to see which flavors you can discern.
Don't add too many ice cubes in the glass as they could over-dilute your drink. If you fear that ice cubes will dilute the flavors, you can add frozen whiskey stones instead.
4. In a cocktail
Crown Royal Whiskey tastes excellent mixed-in cocktails. If you feel that it tastes too strong undiluted, you can add other beverages like sodas to soften the whiskey's flavor. These beverages lighten the whiskey flavor and subdue the impact of the high alcohol content, making it taste pleasantly refreshing.
You can use whatever ingredients you have on hand in a cocktail, but some give better results than others.

The Whiskey Rocks verdict.
Is it good?
Generally speaking, Crown Royal is a Canadian whiskey that we strongly recommend to anyone out there who's looking for a smooth classic spirit. This whiskey is great for cocktails and may be used in all those cocktail recipes that don't specify a certain type of whiskey.
Crown Royal Whiskey is for you if you shop with a low price as the primary goal. This whiskey is way affordable for most people. If you're one who ranks whiskeys based on their price and uses that as a judge for quality, then Crown Royal Whiskey is not for you.
Also, if you enjoy unique mild flavors, go for Crown Royal Whiskey, but if you enjoy the bolder taste and stronger flavor, you should go for other whiskeys like Jack Daniels.
This post may contain affiliate links.
To help cover the costs to run this site, we include affiliate links to reputable whiskey suppliers at no additional cost to you, from which we may earn a small commission.
The links in question will primarily be found in the price comparison area of our articles. As a value-add, we don't just link. We also use software to find the best available prices.
Full disclosure/privacy policy