Buffalo Trace Bourbon review

Our verdict
Considering it shares the same recipe as bourbons like Eagle Rare, Buffalo Trace could easily fool a newcomer into thinking that it's an expensive bourbon. It's one of the most accessible bourbons around that offers a full and satisfying experience for a great price.

The longer review
Buffalo Trace Bourbon has somewhat unique beginnings. It only came about in 1999 when visitors to the newly-renovated Buffalo Trace Distillery asked the simple question of 'why there isn't a bourbon called Buffalo Trace?', ultimately leading to the creation of the Buffalo Trace bourbon. 
The Buffalo Trace namesake comes from the ancient buffalo used to carve paths through the wilderness and led American pioneers and explorers to new frontiers. One trail led the pioneers to the Kentucky River banks, where Buffalo Trace Distillery was founded. The distillery has been making bourbon whiskey the same way for over two centuries.
In honor of the buffalo and the pioneers who founded the distillery, they created a signature Buffalo Trace Kentucky Straight Bourbon Whiskey.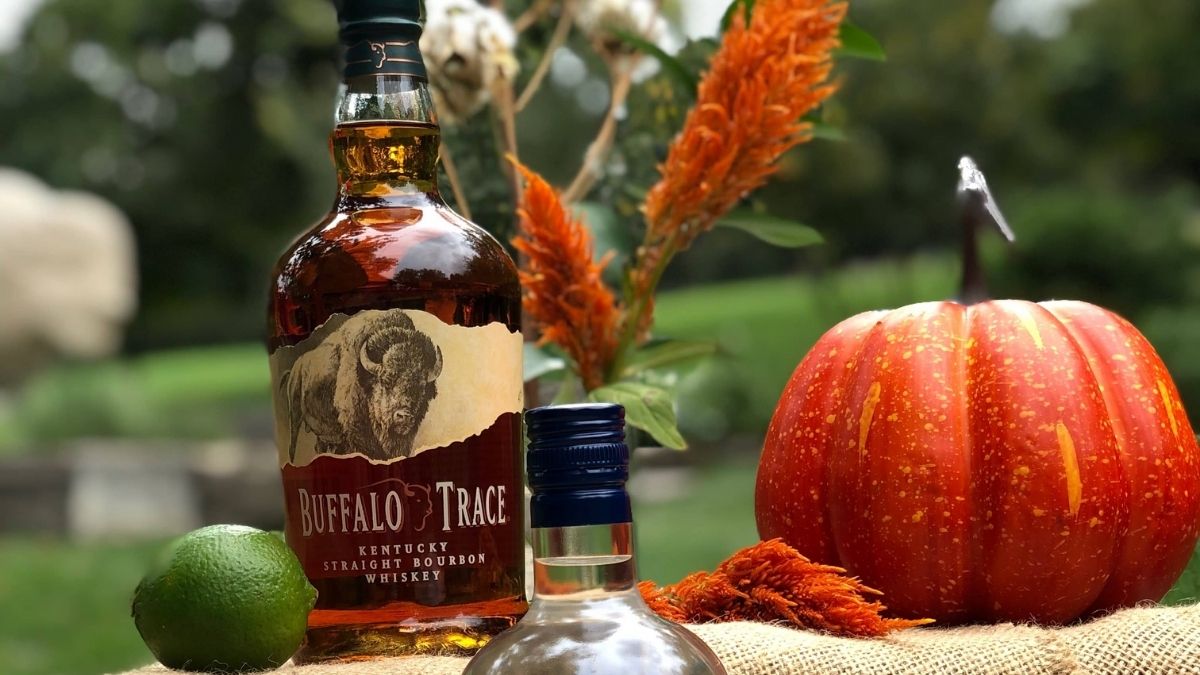 Buffalo Trace is distilled, aged, and bottled at the Buffalo Trace Distillery in Frankfort, Kentucky. The current owners are the Sazerac company, and has historically gone by many other names, including the George T. Stag Distillery and the Old Fire Copper Distillery.
The distillery has won many awards, making it one of the most decorated distilleries in the world. The awards include the 2020 Gold World Whiskies Award and the 2019 Double Gold award in the North American Bourbon and Whiskey Competition.
The distillery is still American family-owned and currently sprawls across 130 acres of land. Despite containing over four centuries of architecture, the entire distillery is still fully operational and produces an estimated 2,650,000 US gallons of whisky per year.
Who makes Buffalo Trace Bourbon?
Buffalo Trace Bourbon is made by the Sazerac Company, a privately held American alcoholic beverage company with headquarters in Metairie in New Orleans, Louisiana. However, its principal office is in Louisville, Kentucky. The bourbon itself is made in a distillery in Frankfort, Kentucky.
The exact process of making their bourbon is undisclosed, and the mashbill hasn't is unknown. However, it's thought to use rye as its secondary grain at less than 10%. Some people have estimated that the corn content of Buffalo Trace could be as high as 90%, resulting in a much sweeter bourbon.
Buffalo Trace is well-known for its master distillers. Harlen Wheatley is the current master distiller and has followed in the footsteps of some of the world's greatest such as Taylor, Stagg, Blanton, and Lee. His commitment to time-honored traditions and willingness to experiment with innovations has made him a legendary distiller of his time.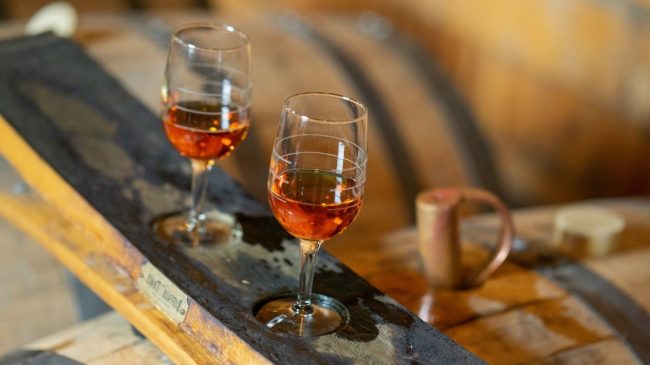 While the distillery is mainly known for bourbon, it also produces rye whiskey and vodka. The distillery also has many self-produced brands, including the namesake Buffalo Trace straight bourbon, and includes spirits under brands such as Sazerac, Old Taylor, Wheatley Vodka, and McAfee's Benchmark. Experimental products such as bourbon cream liqueurs and Single Oak Project have even come from the brand.
Buffalo Trace also produces one of the most prestigious bourbons on the market, Eagle Rare. Aged for at least ten years (there's even a 17-year version), Eagle Rare is extremely expensive and a unique experience that few will get to try.
According to Buffalo Trace, their bourbon is batched in no more than 40 barrels at a time. The bourbon is aged on the middle floors of different warehouses to expose it to more temperature changes throughout the year.
How to drink Buffalo Trace Bourbon?
Pouring a glass neat is a favorite way to enjoy Buffalo Trace Bourbon. While it's ideal to have it straight or with ice, a splash of water or two can help bring out the flavor. It's also not bad as a mixer, but we suggest sticking to ginger ale or club soda.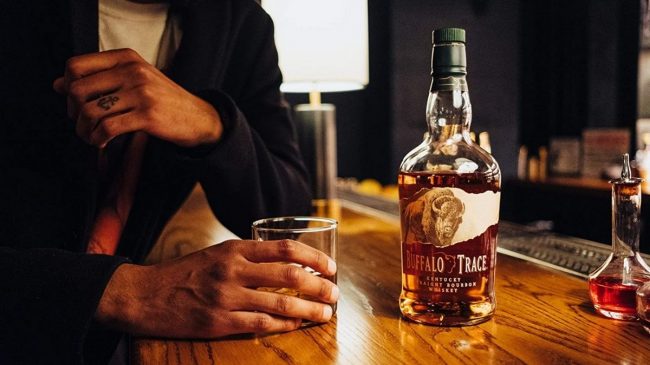 Using the bourbon as a mixer tends to get varying opinions. Buffalo Trace is full of flavor, and mixing it doesn't muddle the taste too much, but it does dilute some of the flavor profile if you add in too many different mixers. If you're looking for a versatile bourbon, then Buffalo Trace is an excellent price for what you get.
If you're strictly a bourbon sipper, Buffalo Trace gets a massive recommendation thanks to the quality and flavor. You're going to get excellent value out of a single bottle that you can often pick up for a mere $25.

Tasting notes.
What to expect
Smell
At first, you get an instant hit of vanilla, caramel, and honey in your nose. It's a delightful smell with balanced flavors that invite you to take a sip. Few bourbons manage such a great start; it's easy to enjoy and perfect for anyone new to drinking bourbon.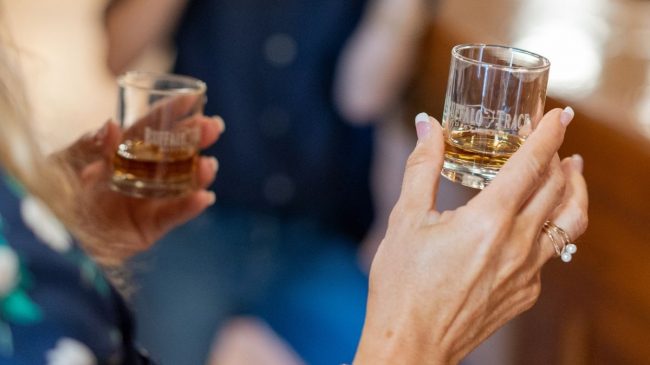 Colour
Buffalo Trace straight bourbon is a deep amber color.
Taste
The initial sip offers notes of vanilla, toffee, and brown sugar. This medley of sweetness can be a little overpowering for some, but it also makes it extremely palatable for new bourbon drinkers. 
Again, this isn't something that Buffalo Trace is going for–they're not trying to stand out with something unique. Instead, they've made a bourbon that tastes great, sticks to the basics, and focuses on value. As you finish your sip, you'll get a surprisingly well-developed flavor that fills your nose. You'll notice the oak is the most prominent component, but you'll also sense hints of toffee and cinnamon towards the end.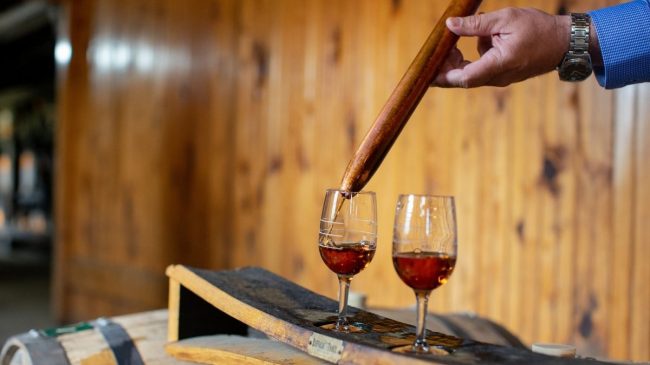 Overall, it's a very satisfying bourbon that certainly doesn't disappoint. It's full of sweetness, it doesn't pretend to be different, and it manages to shake off its "cheap" reputation with ease. Buffalo Trace is a relatively standard affair when it comes to its flavor profile, but we can't deny that it manages to do it exceptionally well. You're in for a treat with every sip, and it's a robust experience from start to finish.
Price of Buffalo Trace Bourbon
Buffalo Trace is surprisingly affordable at around $25 to $30 per bottle. Few bourbons manage to achieve such a balanced and extremely drinkable experience for this price.

The Whiskey Rocks verdict.
Is it good?
Buffalo Trace Bourbon doesn't claim to be unique. We know that shares a similar recipe as other bourbons such as Eagle Rare–it's just aged a little differently. What does make Buffalo Trace stand out is the fact that it's not a cheap-tasting bourbon.
Instead, it's a low-price 90 proof bourbon that somehow manages to stand up against more prominent names. You could probably trick many newcomers into believing that Buffalo Trace is a much more expensive bourbon.
Buffalo Trace is the perfect example of what a great value, robust and enjoyable bourbon should be. It's hard to make any complaints at this price point, and while it certainly doesn't stand out, we have to remember that it's not trying to be different. Buffalo Trace is just a great bourbon offered at a good value, and there's nothing you can complain about.
If you're looking for an easy-to-drink bourbon that is great on its own or even as a mixer, then you'd be hard-pressed to find something as accessible as Buffalo Trace. There's no questioning the quality of this bourbon and its ability to appeal to everyone from new bourbon drinkers to experienced tasters.
However, some people might find that Buffalo Trace is simply too plain and boring for their tastes. Some might even find it too sweet for their tastes. For experienced drinkers, this bourbon can seem a little plain and boring. While it's certainly satisfying, it's hard for Buffalo Trace to appeal to people with seasoned tastes. Thankfully, the Buffalo Trace brand has plenty of unique offerings under its name if you're looking to try something slightly different from its straight bourbon.
This post may contain affiliate links.
To help cover the costs to run this site, we include affiliate links to reputable whiskey suppliers at no additional cost to you, from which we may earn a small commission.
The links in question will primarily be found in the price comparison area of our articles. As a value-add, we don't just link. We also use software to find the best available prices.
Full disclosure/privacy policy