Black Velvet Whiskey Review

Our verdict
Black Velvet Whiskey is unique among blended whiskeys as the spirits are blended at distillation instead of at bottling. Since it came out in 1951, Black Velvet Whiskey has grown to be the second-largest Canadian whiskey in the world. It's now ranked second in Canadian whiskey exports behind Crown Royal.

The longer review
This Canadian whiskey brand originates in Salaberry-de-Valleyfield, a city in southwestern Quebec, produced at Schenley Industries. Black Velvet Whiskey was originally called Black Label, but Master Distiller Jack Napier renamed it after tasting it and realizing how smooth and rich it was. It developed in 1946 but was first introduced into the market in 1951.
Black Velvet was the only liquor given to Canadian submarine officers at Midway in World War II. During this time, the whiskey was held in low regard and was referred to as "Schenley's Black Death." However, the brand has a legacy that goes back almost a century before that – in 1857, the Gilbey brothers, Walter and Alfred, came home from Hertfordshire, England, after serving in the Crimean War.
In 1987, the original owner, Heublein, was sold to Grand Metropolitan, which later merged with Guinness in 1997 to form Diageo. In 1999 the distillery was sold to Constellation Brands (at that time called Canandaigua Brands), and two decades later, it was sold to Heaven Hill.
Where is Black Velvet Whiskey Made?
Black Velvet Whiskey is produced at the Black Velvet Distillery in Lethbridge, Alberta.
The very modern and fully automated (since 1991) distillery only requires two employees to run it 24/7. The distillery is surrounded by fields of rye and corn used to make this popular whiskey. It can produce between 8 and 10 train carloads of corn weekly. Its location at the edge of the Rocky Mountains provides the best conditions for whiskey production.
How is Black Velvet Whiskey Made?
Black Velvet Whiskey is made by mixing crystal clear Canadian water with high-quality grains i.e. rye, barley, and corn. Unlike most blends, the whiskeys that makeup Black Velvet are blended before being put into the barrel (blended at birth.) They're then married in premium ex-bourbon barrels and stored in the warehoused for about 3years. After maturation into a rich and smooth whiskey, it's bottled.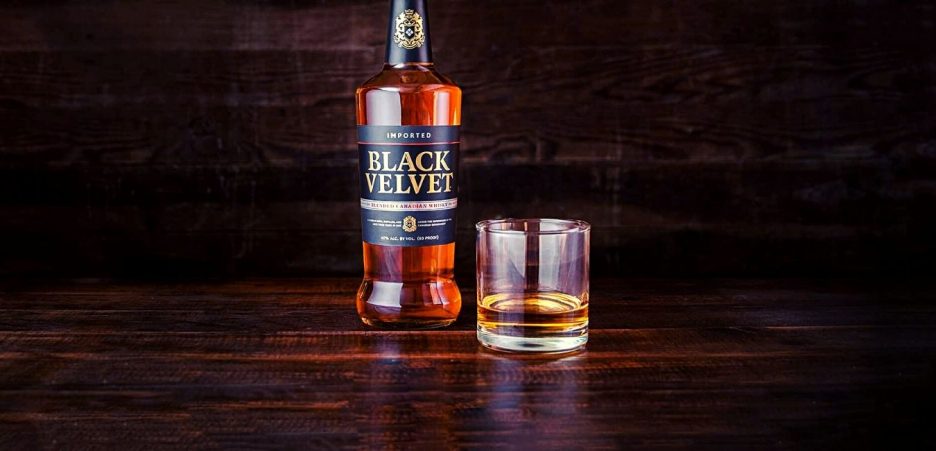 Black Velvet Whiskey Variations
Black Velvet produces four expressions that are primarily sold on the export market to the US. These releases have conquered the US market in the last years:
Black Velvet Original
This is the most famous offering. It has an amber color and smells sweet with a very subtle taste. Black Velvet Whiskey is soft and smooth like butterscotch. It has warm vanilla, caramel, and tropical coconut taste.
Black Velvet Reserve
Black Velvet Reserve was started in 1991 and is aged a minimum of 8 years. It has steadily grown in popularity due to its smooth taste from longer aging. Warm aromas like chocolate, nuts, and wood dominate with a hint of some subtle spice.
Black Velvet Toasted Caramel
This variant was introduced in 2012 and comes with a brown label. The whiskey is golden with warm amber flexes. The taste combines woody flavors with caramel and English toffee, while the nose is very intense and reminds you of warm buttery caramel.
Black Velvet Cinnamon Rush
This variant was introduced in 2013 and is the ideal whiskey for a cold winter day. Its aromas are spicy and smell like cinnamon sticks. The aftertaste is warm, spicy, and long-lasting.

Tasting notes.
What to expect
Black Velvet Whiskey is smooth, fruity, and rich in character.
Smell
Notes of vanilla and burnt sugar.
Color
The medium gold appearance is achieved from the maturation in ex-bourbon barrels.
Taste
As Black Velvet Whiskey hits the tongue, it's very sweet with heavy and borderline-overbearing notes of caramel predominating. The finish is long and spicy, heavy on the rye, along with the burnt toast that evolves into a light sweetness.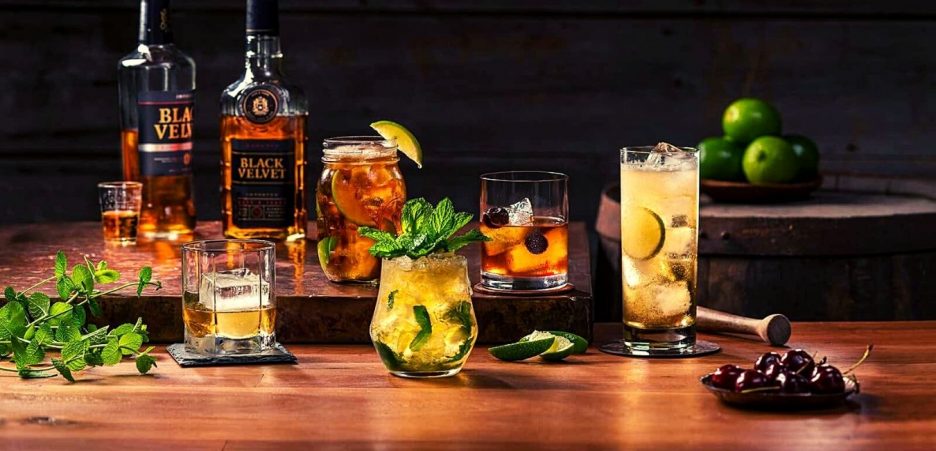 How to drink Black Velvet Whiskey
Black Velvet Whiskey most certainly is drinkable. Its flavor alternates between overly sweet and overly harsh, but it's all manageable. That's why it can be enjoyed in several ways:
Neat
Black Velvet Whiskey is never less than tolerable, even as a sipper. From your first sip, you can taste the balanced flavor making up the classic characteristics that are uniquely Black Velvet.
In cocktails
Black Velvet Whiskey offers versatile cocktail recipes. Black Velvet Whiskey lets the other ingredients do the heavy lifting as the main mixing ingredient in cocktails. It's well-suited for classic cocktails like the Old Fashioned and Whiskey Sour.

The Whiskey Rocks verdict.
Is it good?
The main reason Black Velvet Whiskey is popular is, without a doubt, its price. This is one of the most affordable whiskeys in the market at around $10. If price is the primary concern, then Black Velvet Whiskey delivers on its purpose and does it well. If you have a cocktail recipe that you'd like to try out but don't want to risk wasting expensive whiskey, use Black Velvet Whiskey for your trial run.
If you're a Canadian whiskey lover, you'll love how seamlessly it melts in your mouth. On the other hand, if you don't like whiskeys with harsh grain notes, we suggest that you stay away from Black Velvet Whiskey.
This post may contain affiliate links.
To help cover the costs to run this site, we include affiliate links to reputable whiskey suppliers at no additional cost to you, from which we may earn a small commission.
The links in question will primarily be found in the price comparison area of our articles. As a value-add, we don't just link. We also use software to find the best available prices.
Full disclosure/privacy policy