Ballantine's Scotch Whisky Review

Our verdict
Ballantine's has a core range that comprises a great range of Whiskeys. However, looking more closely at their Ballantine's 17 Year Old, it's easy to see just why they are so popular. This is a brilliant expression from a well-known and well-loved brand. It's one that you can easily have in your drinks cabinet as a staple of the blended genre.

The longer review
Some people say that the art of blending achieves the pinnacle of whisky perfection. Others will claim that it is a single malt. However, this doesn't take away from the fact the Ballantine's 17 is a favorite for many whiskey lovers, 
History of Ballantine's Whiskey
Established in 1827, Ballantine's started its journey in a grocery store, similar to other Scottish whiskeys. Ballantine's continued to gain interest and became highly successful across the next few decades, even gaining some Hindu Royal Family as loyal customers.
Queen Victoria granted them a Royal Warrant. Ballantine's first blended their flagship, Finest, in 1910. It has been on sale ever since, and the recipe remains unchanged, which has got to speak volumes. 
Today the brand is owned by Pernod Ricard. However, it has gained many accolades in its time, such as being the number 1 selling Scotch blend in Europe. 
Where is Ballantines Whiskey made?
George Ballantine was an entrepreneur who followed his own path to only producing whisky of the highest quality. It started as his grocery business in 1827. Production is in Scotland, the home of Scottish whisky. You will find that Ballantine's has one of the most extensive ranges of blended Scotch in today's market. 
Ballantine's are  Scotch through and through. This means that every drop of Ballantine's is produced in Scotland. It is expertly blended and bottled in Dumbarton using a unique selection of single malt and grain whiskies. These come from the four whisky regions of Scotland; Speyside, Islay, Highland, and Lowland.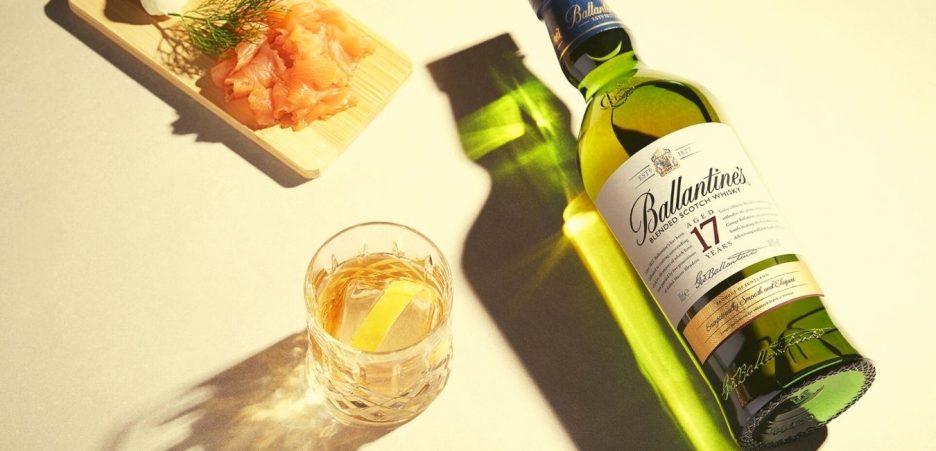 How is it made?
Following true Scottish tradition, Ballantine's Scotch whiskies are aged in oak casks. This provides an elegant style and a balanced and smooth taste. All the whiskies have a complex blend of single malts and grain whiskies. 
Ballantine's Whiskey variations 
• Ballantine's 30-Year-Old 
• Ballantine's 17-Year-Old 40% 
• Ballantine's Finest - 1970s 
• Ballantine's Finest 1L (Boxed) - 1970s 
• Ballantine's 12-Year-Old - 1980s 
• Ballantine's 17 Year Old - Signature Distillery Collection - Miltonduff 
• Ballantine's Finest (75cl) - 1980s · 
• Ballantine's 12 Year Old (94.5cl) - 1970s 
• Ballantine's Finest (1L) - mid-1990s 
• Ballantine's Finest - 1970s 

Tasting notes.
What to expect
Smell
This whiskey is jam-packed with flavor and opens with a nose of sweet caramel, vanilla, and wooded notes. You will also find a delicate smoky note that wafts through and mixes well with the sweeter notes. 
Colour 
Amber to deep gold (Caramel colored, Chill-filtered)
Taste
The palate is elegantly sweet. You will get caramel, vanilla, and extensive notes of honey in this smooth and mellow whiskey. The honey is earthy and thick, which gives you a charming orchard flavor. It ties in nicely with oak flavors, and you can even taste a slight hint of spice. A dash of cinnamon and nutmeg brings everything together for a perfect blend. It also provides a warming sensation, and it's not hard to see why this is a favorite for so many.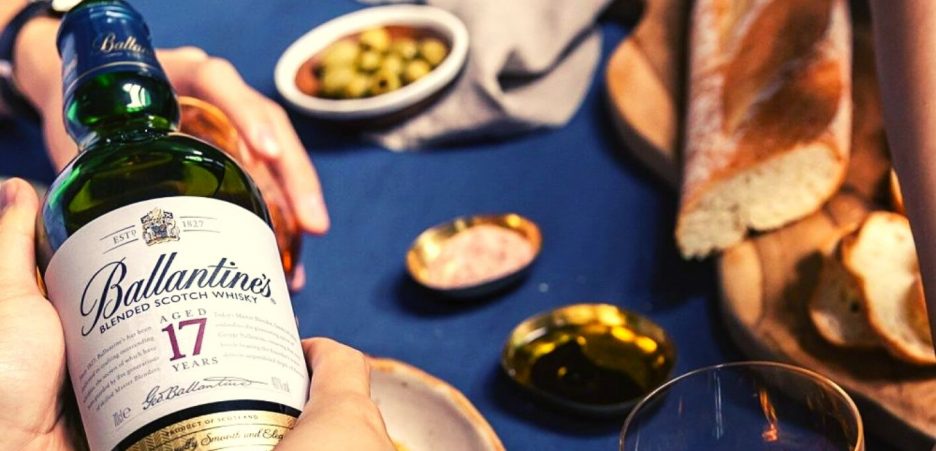 How to drink Ballantine's Whiskey?
Ballantine's Master Blender, Sandy Hyslop, suggests that the best way to enjoy Ballantine's is that precise way that you like it - whether it's with ice, in a cocktail, with water, or neat. There are many mixing ideas you can find online for you to try. 
The founder of Ballantines says the same, but if you want to find a good mix, try 25ml as it is the standard single measure. However, some cocktails may need a larger measure when the recipe calls for it, or you may want a slightly larger measure if you have it on the rocks. 
The important thing is you enjoy it responsibly. There is no wrong way to enjoy a taste of one of the favorites on the market. 

The Whiskey Rocks verdict.
Is it good?
One of the most impressive parts of Ballantines and one of the reasons it is so popular is the concentration of sweet dessert flavors without even the slightest bit of bitterness on the finish. But that's what you get when you choose a favorite of so many people. Of course, some would prefer there to be a more nutty taste, but with so many other expressions from Ballantines, it would be difficult not to find the right finish for you. 
You won't find any indication of "low brow" grain whisky. After 17 years, it has undoubtedly smoothed out. It adds the body and some hidden cereal flavors. There is a lack of creaminess, which may indicate that the grain whisky percentage in the blend is low, but this doesn't stop it from being a fantastic whiskey choice. It's a delicious whiskey, but it might not be considered exciting. 
Some people may not be sold, but there is no denying that this is a good whiskey. It has even being recommended by Jim Murray, who says, "One of the most beautiful, complex and stunningly structured whiskies ever created.  To the extent that for the last year, I have simply been unable to find a better whisky anywhere in the world.". Murray rated Ballantine's 17 years as the "Whisky of the Year" for 2011. Jim believes that Ballantine's 17 outshines all other whiskies, which is certainly something to be proud of. Ballantine's 17-year-old whiskey and many other expressions have only grown in popularity and improved in taste, smell, color, and finish.
This post may contain affiliate links.
To help cover the costs to run this site, we include affiliate links to reputable whiskey suppliers at no additional cost to you, from which we may earn a small commission.
The links in question will primarily be found in the price comparison area of our articles. As a value-add, we don't just link. We also use software to find the best available prices.
Full disclosure/privacy policy