Angel's Envy Bourbon Review

Our verdict
Angel's Envy Bourbon is brimming with flavors, including vanilla, toffee, and cinnamon. Produced by the Angel's Envy Distillery in Louisville, Kentucky, their bourbon is finished in specially imported port barrels to give it a unique taste. A slightly pricier whiskey, Angel's Envy has polarized the views of whiskey lovers. Still, it remains a good whiskey that stands out from the crowd.

The longer review
The distillery behind Angel's Envy Bourbon is steeped in history. With a heritage spanning over two centuries, their hand-finished spirits are inspired by one of the finest Master Distillers in history, Lincoln Henderson.  
The makers of Angel's Envy are fanatical in their quest for the perfect taste and check each barrel at every stage of the process. Only 8-12 barrels are hand-crafted at a time. 
With each batch aged up to 6 years, it is then finished off in French oak, ruby port barrels imported from Portugal to give it that unique taste. 
History of Angel's Envy Bourbon
The heritage of this bourbon is undeniable. Based on the knowledge of legendary distiller Lincoln Henderson. It is his son and grandsons who founded and ran the Angel's Envy distillery. Though the brand itself is young, the heritage and skills used to create their whiskey are not. And these two things combined give you a distillery that treasures the old ways but isn't afraid to do things differently either. 
The first batch of Angel's Envy Bourbon was released in 2011. It gets its name from the old term for the evaporation process. Each year a spirit is aged, about 5% is lost to evaporation. This was known as the 'Angel's share.' What is left is truly worthy of envy.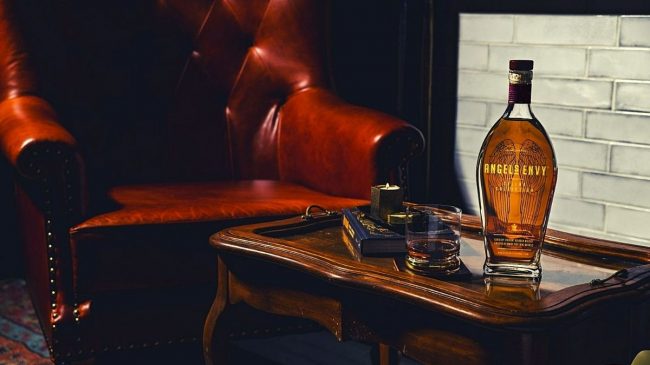 Where is Angel's Envy made? 
Each batch is made in the Louisville, Kentucky distillery. Though the distillery itself is young, it has already made a name for itself with the creative use of modern techniques and fanatical attention to quality. It manages to shed some of the old, stereotypical images of whiskey drinkers to appeal to a modern audience.
How is it made?
Each batch of Angel's Envy is aged six years before being finished in specially imported Port barrels for between three-six months. According to Angel's Envy themselves, this finishing 'creates a whiskey of unprecedented smoothness, sweetness, and balance.'
Angel's Envy Variations
Angel's Envy Finished Rye - This rye whiskey spends up to 18 months in specially imported Caribbean rum casks. The taste is a combination of sweet and spicy flavors and is 100% proof. 
Angel's Envy Cask Strength - With a long list of glowing recommendations and five-star reviews. Angel's Envy cask strength is a limited edition, which is subtly different every year. It tastes of salted chocolate, cherry, and orange alongside the oak flavor of the finishing barrel. It is over 120% proof. 
Tasting notes.
What to expect
Smell
Angel's Envy has a sweet smell, with initial notes of vanilla, maple syrup, and spices. More sensitive noses will also pick up hints of oaks, toasted nuts, and raisins. 
Color
A pleasant copper color with flashes of red and amber. The shade is redder than many other bourbons due to the six months in French oak port barrels. It certainly does stand out on a shelf with the well-designed bottle and would make a beautiful addition to your collection.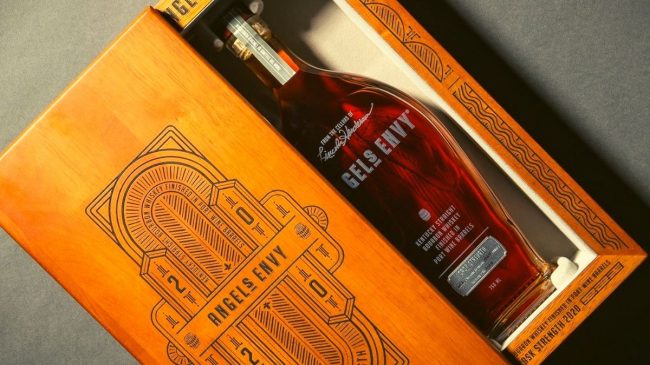 Taste
Angel's Envy is a clean, balanced drink that is very much on the sweeter side of the flavor scale. The vanilla taste you get from the nose remains strong and then continues alongside the oak from the port barrels and a hint of nuttiness and spices. The finish is relatively short but with no bitter aftertaste. The flavors are complex and likely to suit a sweeter palette.  
How to drink Angel's Envy Bourbon
The clean, light taste of Angel's Envy lends itself well to drinking neat, especially for those new to whiskey. Add a splash of water or soda if you want to dilute the sweetness. It also goes surprisingly well with a simple, good quality ginger ale. 
It's also versatile enough for a range of cocktails, including the iconic Old Fashioned (if you're channeling your inner Don Draper). Mineral water and sugar also work, or a Manhattan with a few dashes of Angostura Bitters and some sweet vermouth. 
The Whiskey Rocks verdict.
Is it good?
Angel's Envy is a bit of an outlier in the whiskey market. It's smooth, clean, and fresh, which it sees as positives rather unlike some of the more established distilleries. The flavors are sweet and lend themselves well to lighter cocktails or neat. 
It is perfect for those who do not like a strong, deep flavor or long finish. Angel's Envy has made this far more accessible to modern drinkers who weren't brought up on spirits (unless in a cocktail). 
A good whiskey should always be judged on its taste alone. Still, there's no doubt that Angel's Envy has its branding and marketing on point, appealing to both established whiskey drinkers and those new to it. 
Angel's Envy Bourbon and the distillery itself has its ardent supporters. Some prefer a deeper, richer taste and a much longer finish. If you're in that group, you'll be left disappointed by Angel's Envy Bourbon. 
It isn't the cheapest on the market either, with a 750ml bottle costing $50. This price tag might put casual whiskey drinkers off, leaving it undiscovered by many who would perhaps like it.
This post may contain affiliate links.
To help cover the costs to run this site, we include affiliate links to reputable whiskey suppliers at no additional cost to you, from which we may earn a small commission.
The links in question will primarily be found in the price comparison area of our articles. As a value-add, we don't just link. We also use software to find the best available prices.
Full disclosure/privacy policy